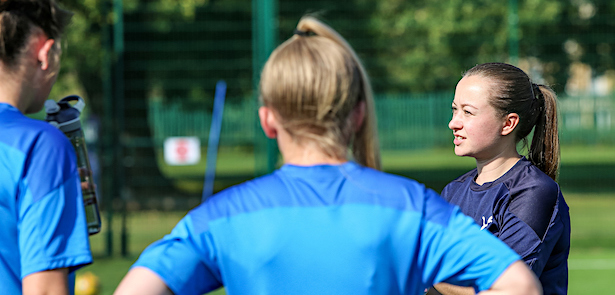 Some people are on the pitch! But it's not just those out on the field or track who are responsible for the win... The BSc (Hons) Sport and Exercise Science degree, delivered right on the doorstep at University Centre Peterborough (UCP), offers major career opportunities behind the scenes – and, thanks to an association with Peterborough United FC, takes students right to the heart of top-level pro sport.
As a youngster, Lee Waters seemed to have a promising competitive sports career ahead of him. 'I was part of the Junior GB Athletics Academy as a 400m runner,' says Lee. 'At the time I genuinely thought, as many teenagers do, that I was either going to be a professional footballer or senior GB athlete.'
A serious hamstring injury brought those dreams to an unexpected end. But was it all over? While competing may no longer have been on the cards, a career in sport was. In what Lee calls a 'voyage of discovery' he took a more academic route, and is now a Senior Fellow and Performance Psychologist at University Centre Peterborough, leading the module on Sports Psychology and lecturing in Sport and Exercise Science. 'Although it wasn't my intended route as a teenager I really love my roles as a senior sport lecturer and performance psychologist,' he says.
Now, thanks to Lee and others like him at UCP, others can explore alternative career options in sport via BSc (Hons) Sport and Exercise Science course. Some may want to make the switch from competing to helping others compete – whether at an early stage, like Lee, or as a second string to their bow after a competitive career. Some may simply be fascinated by the science itself, and what makes sportspeople tick – and win. Certainly Lee, who understands the sporting mind from the inside out, has never lost that fascination.
The kind of input he gives can be make-or-break for athletes, but it's not just about providing advice from the sidelines. 'The ultimate goal of any coach or performance psychologist should be to assist the athlete to become self-regulating,' he explains. 'What I mean by this is that the athlete should be placed into scenarios where they are able to develop not only the skill but the confidence to make their own decisions, and regulate their emotions whilst in training and competition situations. Sport is incredibly dynamic and if the athlete is consistently relying on what their coach informs them to do, they may not have the skills to be successful in it when it comes to pressure situations.'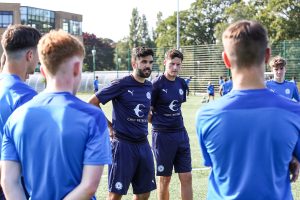 Sport, of course, is ultimately all about those high-pressure situations, and the degree provides access to people with plenty of experience of exactly that. Thanks to links established between Peterborough College and Peterborough United Football Club (PUFC) back in 2010, Lee has been involved in coaching people who are literally at the top of their game. Over the years UCP has provided guest lectures to PUFC, and performance analysis on the male first team. Since 2018, UCP has also been delivering coaching consultation, S&C (strength and conditioning) and psychological feedback to both male and female scholarship programmes at PUFC, as well as the Ladies first team. The partnership has proven to be very reciprocal with students being given the opportunity to gain vital work experience in a variety of sporting constructs.
A working example of the benefit of Lee's approach was the first ever session delivered to the Ladies. 'They were presented with a sprint technique session which none had ever encountered, and were encouraged to assess their own running technique and incorporate new key elements. The focus of this session however was not simply to work on sprint technique, it was to also assess their resilience, team spirit and motivation as it was a purposefully difficult session.' Sessions have continued in this trend and are predominantly orientated around 'contextual performance psychology' where players have been challenged to solve 'problems' in order to enhance their decision-making skills. 'I believe the saying "the fastest player is not the one who runs the fastest, but the one who solves the game's problems the fastest" is unequivocally true,' says Lee.
This connection with PUFC has led to other significant exchanges, not least via Peterborough United Foundation. The Foundation's Training & Development Manager, Jenna Lusk, explains: 'The relationship started when we reached out to University Centre Peterborough to help support our scholarship players and aid players' development across the four-corner model in areas such as sports psychology, strength and conditioning and flexibility sessions. This grew into establishing a great link within our Ladies' set up, where Lee has become an integral part of our Ladies' success and supports players further on and off the pitch.'
After many discussions around potentially losing young players when they go off to university, it also became apparent that here was an opportunity to provide a positive education athlete pathway. 'Male and female players can stay within our setup and have access to additional playing opportunities alongside gaining a valuable education, including a degree. This is where the partnership evolved into offering this fantastic, unique opportunity for players or those interested in the sport. We want to support players in reaching their full potential on and off the field and help give players the education and experience to aid their future careers.'
It's not by any means just about football, of course, and there is much to be learned by looking across different sports disciplines. 'UCP endeavours to give students experience in a variety of scenarios from sport, coaching and teaching. In the past we have exposed our students to rowing, athletics, rugby, basketball, ice hockey, volleyball and many more. It is a key part of our philosophy to learn from each environment's approach, analyse it and then execute your own practice.'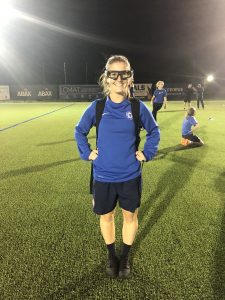 To aid this analysis, UCP has a variety of specialist equipment that students and athletes are exposed to. For example, the Tobii Pro 2 Eye Tracker system allows coaches and players to gain deep and objective insights into human behaviour by showing exactly what a person is looking at in real time as they move freely in any real-world setting (court, pitch or track). 'It allows us to understand how people interact with their environment,' says Lee, 'what catches their attention, drives their behaviour, and influences decision making. This mobile eye tracking system opens up entirely new opportunities for behavioural studies and is a unique and state-of-theart piece of technology. 'We also have Senaptic Strobe Goggles which allows vital vision training to take place, and a piece of technology called the Nexus-4 which essentially allows us to "see" our body and mind functioning. By using this technology as a psychologist and coach we are able to learn more about the individual's body-mind interface.'
All of this equips students for real careers in sport and related areas. Lee cites many graduates who have gone on to successful careers in this sector, whether working in sports development in locations worldwide – including Gibraltar, Dubai and Thailand – becoming professional sports psychologists and coaches, or starting up their own businesses as personal trainers or fitness instructors. Many have also gone on to further study, equipping them to teach in schools or access professional sport at an even higher level. As Lee's own example shows, there's much more to a successful and satisfying career in sport than simply competing on the field.
To find out more about the BSc (Hons) Sport and Exercise Science at University Centre Peterborough, go to: www.ucp.ac.uk
Leave a Reply