Where the wild things roam…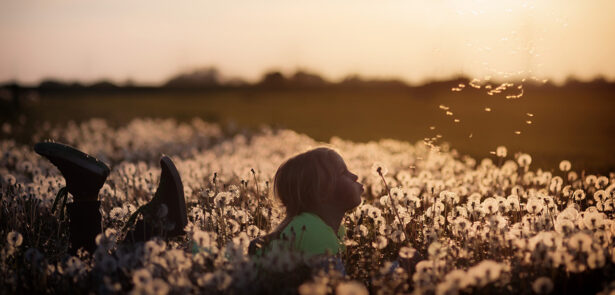 Children are spending less and less time outside. But what does this mean for our kids and how do we go about changing things? Laura Fanthorpe takes a look at the importance of outdoor play.
I don't remember the things I had from when I was a child. I really can't remember the toys, the clothes, or the possessions. Instead, what I do remember are the adventures in the great outdoors. Whether it was splashing in puddles, climbing trees, or having a butterfly land on my arm for the first time: these were the memory-making moments.
We all know that children today are spending more time indoors, often looking at screens, rather than playing outside. But, give me the children covered in mud and leaves any day. The out-in-all-weathers and the wild things. Bring me the bug-spotters, the grass-huggers, and those who have discovered the wonderment in living things.
In our busy lives juggling work, childcare, school runs, and household chores, it can be hard to make time for outside play. But, even when it feels difficult to fit in, time spent outdoors always manages to lift the mood. At this time of year – when the days start to lengthen, leaves break from buds, flowers peek out of the soil, and the days get warmer – we look forward to spending more time outside. So, why shouldn't our children feel the same?
Even a short walk in nature can do wonders for improving your day. Perhaps you've had a sleepless night or maybe your children are bickering between themselves and feeling grumpy. A change of scenery can often switch everyone's moods from irritable to engaged. Not only that, but time spent outdoors can make a world of difference to how you feel you are coping as a parent.
When the pandemic arrived, my son was just two years old. The resulting lockdown (and its enforced clearing of the social calendar and evaporation of childcare) gave us the time together for him to learn the seasons and describe the weather upon waking. It gave him the names and shapes and stories of all the wildflowers in our local woodlands. It also granted him bees, butterflies, ladybirds, and wriggly worms for close observation. I treasure that time still, despite the circumstances that caused it.
The pandemic enabled many people to start rediscovering a connection with the natural world. The RSPB's Recovering Together report provided clear evidence of public support for putting nature at the heart of our lives. 89% of those surveyed believed that increasing the amount of accessible nature-rich green space would improve people's health and happiness.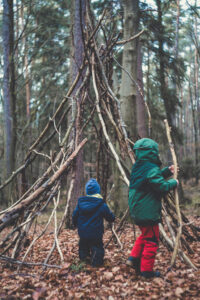 Exposure to nature has been linked to the wellbeing of children. Yet, research has shown that children spend 56% more time on technology than they do playing outside. Many children are spending just the smallest fraction of the day outside, far less than their parents did when growing up. So how can we make outdoor play a part of our everyday lives?
Managing to get coats on and children out of the house without a meltdown can sometimes feel like an achievement in itself. But, whether it's a pram walk with your newborn, taking your toddler to the park, or exploring local woodlands as a family, there are plenty of opportunities to build outdoor time into your daily routine.
There are massive benefits in getting out in the garden or exploring local parks, woodlands and the countryside. Outdoor play provides fantastic learning opportunities and can benefit children's mental and physical wellbeing. Being outside provides an amazing sensory experience for small children. From looking at leaves moving in the breeze, to smelling the scent of freshly-cut grass, or listening to cries of red kites overhead – it's an opportunity to discover new worlds.
Ellie Askham is an Instructor at Tinder Sticks CIC, a not-for-profit organisation, and learning partner for Forestry England at Fineshade Wood, which aims to build outdoor confidence using nature connection and bushcraft. She explains that 'Spending time outside allows children the freedom to follow their own development needs, and the ability to build resilience and take risks in an age-appropriate supported way. Through doing this they build confidence in themselves and develop skills to work with others. Being outside in nature has such a restorative effect on all of us and children are no different.'
Outdoor play can potentially encourage kids to take calculated risks and become more confident. They can test their abilities and learn their limits. The increased space outside lends itself well to group activities, so children can develop their social and emotional skills too.
Ellie continues, 'My interest in outdoor learning really stemmed from my three girls and watching them explore the outdoor world. I saw first-hand the benefits of forest school in building resilience and just having so much fun. I wanted to make a difference to other children in the same way and to support parents to enable this too, so I embarked on becoming a forest school leader. I haven't looked back since!
'There is something magical about a woodland with its tall trees, pathways to explore and of course, mud! Children fully embrace the magic and love nothing more than to use their imaginations to take them on adventures with their friends. Being in a woodland is calming and grounding.'
In terms of physical development, being outdoors is a great place for little ones to practise crawling or toddling further. With older children, there's more space and freedom to move around and to develop their abilities in running, jumping and climbing than they could ever achieve indoors. Getting active in this way can help form healthy habits for life.
Participation in physical activity outdoors can have a significant impact on the emotional wellbeing of children: boosting self-esteem and lowering anxiety. Time spent in nature provides children with the opportunity to switch off and give their brains a break from everyday life.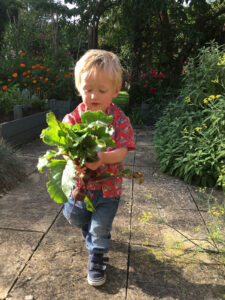 Getting outdoors has an additional benefit. It exposes us to sunlight, which helps our bodies to create vitamin D, which is crucial for development. Vitamin D helps to keep our bones, muscles, and teeth healthy. It is also associated with the production of serotonin, which is essential for stabilising our mood and keeping us feeling happy.
Outdoor play can affect how long it takes for kids to start feeling drowsy at night. Exposure to sunlight helps programme our brain's 'inner clock'. When we get more sunlight, our brains become better at recognising the natural rhythms of day and night. Fresh air, exercise, and sunshine during the day are a great combination for encouraging better nighttime sleep.
Giving children access to the natural world is vitally important, especially when that connection seems to be disappearing. Studies have found that British primary school children find it easier to name their favourite Pokémon character than a hare or an oak tree. In addition, the Oxford Junior Dictionary previously removed wildlife words such as acorn, bluebell and kingfisher, because they were no longer used enough by children.
Anna Thompson, Education and Activities Manager at Nene Park Trust in Peterborough, explains, 'Outdoor play is essential for children's holistic development. Outdoor play provides a valuable opportunity for children to learn, grow, and thrive in a natural environment, which is essential for their overall health and wellbeing. In addition, when children are given the opportunity to explore and play outdoors, they can develop a sense of belonging and appreciation for the natural world which will lead to them growing up as passionate and responsible custodians of our natural heritage.'
Studies suggest hands-on exploration helps young children learn new words, especially for movements and textures, because they gain greater understanding of how things work. Also, children who foster an appreciation of nature are more likely to become environmentally-aware adults who understand that our natural landscapes need protecting.
Ellie, from Tinder Sticks CIC, adds, 'Connection with nature helps children to build an understanding of the world around them, and a love for wildlife and habitats. This is something that has never been more important in light of the nature emergency and climate change. Children are the future of the world.'
Railworld Wildlife Haven is a great example of a green space, in the heart of Peterborough, that focuses on educating children about the importance of environmental action. Brian Pearce, Volunteer & Trustee, explains, 'It's music to my ears when I hear children talking about their discovery of nature at Railworld. We always say that we built the place for children to experience the countryside in the city. We love the questions, the interest, and the sense of exploration. One child believed a newt was a crocodile! Another showed me their site map and said they were an explorer. It makes it all worthwhile. We feel like families turn up because they have an interest in railways, and they discover an interest in nature along the way.'
So how do we get children excited by outdoor play and the environment around them? Firstly, we can lead by example. We need to show them that it's all right to get wet, dirty, and messy, and that there's nothing to be afraid of with snails and worms and other bugs. In fact, they're fascinating! The outdoors presents an ever-changing environment where children (and adults!) can have fun, be spontaneous, and let their imaginations run wild. Whether it's building a den, playing pooh sticks, or searching for wildlife tracks – there's no limit but their own imagination! What could be better than that?
Explore our local sites
Peterborough has a reputation as a city that's filled with lots of green spaces. So, this spring, why not plan a few trips to explore our local landscapes?
Learn about where food comes from by getting involved with a local community garden. The Green Backyard is a vibrant community growing project in the heart of Peterborough, Olive Branch Community Garden is situated in the Dogsthorpe and Welland area, while Westraven Community Garden offers a wealth of wildlife in the Westwood and Ravensthorpe area. You can also explore food and farming on a visit to Sacrewell Farm near Thornhaugh.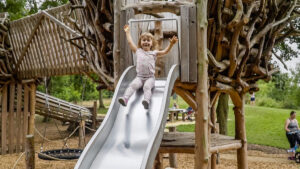 Peterborough has a great number of parks and open green spaces. Of course, there's Nene Park, which offers a wide choice of recreational activities for local residents and visitors to the city. Don't forget about Central Park and the Embankment too, where you can enjoy a walk along the river Nene.
If you want to help your children discover a love of nature, then it's definitely worth heading to Railworld Wildlife Haven. Volunteers, with the help of companies, groups and individuals, have transformed a derelict coal yard into an inner-city green space. Take a look at the website for the Wildlife Trust for Beds, Cambs & Northants to discover further wild places that are being protected and restored in the region.
If you head just outside the city into the surrounding landscape, Burghley House & Gardens is a well-known destination with beautiful meandering gardens and parkland. If it's woodland you're after, then Bytham Spinney is a wonderful community play space that is free to visit all year round.
Find out more
Adventure play at Burghley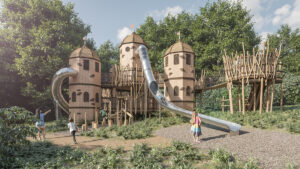 For 2023, an area of the Burghley House Estate grounds will open to the public for the first time after being transformed into a woodland adventure play attraction accessed through a separate entrance, the formerly hidden stone arch, Queen Elizabeth Gate.
This new play area features a multi- level play tower with three impressive tall spires with 'pepper pot' roof detailing, reflecting the distinctive architecture of Burghley – as well as walkways, bridges, and lookout towers.
Set to open on 29th April 2023, the new attraction will be called Hide and Secrets and features a new Burghley character, Cecil the Mole, and a series of play zones leading to the Hidden Towers play structure – with two enormous slides and a rope bridge that crosses a craggy gorge. There will also be a separate toddler area, and the attraction has been designed with accessibility in mind.
The play area will include a family- friendly refreshment cabin called 'The Muddy Mole' and there will be toilets and baby changing facilities. Separate tickets will be available for the new attraction, which will include access to the Garden of Surprises and Sculpture Garden.
For full details visit www.burghley.co.uk or phone 01780 752451.
Extra inspiration
Leave a Reply