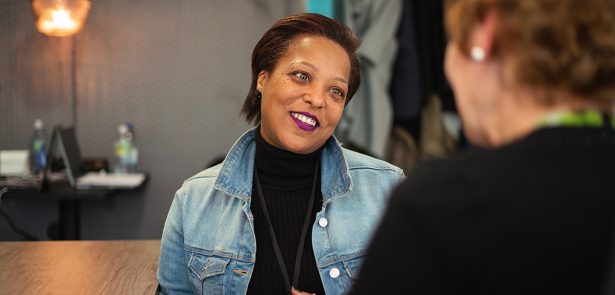 There can be all kinds of challenges when it comes to securing good, regular employment – but some of us have more challenges than most. That's where Shaw Trust comes in. Wherever anyone is disadvantaged in their opportunities, qualifications or skills, Shaw Trust can help level the playing field. The Moment talks to Assistant Director of Skills, James Davies, about what's on offer and how it's helping people in the Peterborough area.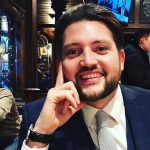 First of all, tell us what Shaw Trust is and what you do within it…
Shaw Trust is one of the largest charities in the UK, employing more than 3,000 colleagues across the UK. We are a major not-for-profit provider of public services, focusing on care, education, work and wellbeing. We've come a long way since we started in 1982 in the village of Shaw in Wiltshire, finding jobs for disabled people. Today, we are a complex and diverse charity committed to employment as the core pathway to a better life. For us, being part of the solution is about creating the conditions for this to happen, advocating and delivering services that make a real difference. We work with commissioners, employers and other partners to deliver public services
of the highest quality which are tailored to the needs of those we help and have lasting social value. We innovate to create better futures for people and communities, and challenge inequality and break down barriers to inclusion and social mobility.
Shaw Trust delivers some of the Department for Work and Pensions' largest employability programmes across the UK, predominantly across central England and the Southeast, and that includes the East of England region. So, we deliver apprenticeships, traineeships and other learning and skills, with programmes and offers to people all around the UK. We have an innovation arm, so we help to win grant funding for other organisations that are doing some fantastic work across the world. We have social enterprises that provide employment opportunities and internship opportunities for people with very complex backgrounds, disabilities and health conditions; helping disadvantaged groups to find good employment. We also have a number of charity shops across the UK. So, yes, lots of different arms to Shaw Trust!
I've worked at Shaw Trust for just over nine years and started as an Employment Advisor in Portsmouth in 2013. My job then was to support people with disabilities and health conditions to get into work,so I was meeting people on a regular basis trying to help them upskill and learn the employability skills they needed to get past interviews and into jobs. And then, over the last nine years, I've moved through several roles within Shaw Trust. My role is now as the Assistant Director of Skills within Ixion, a Grade 1 Ofsted Outstanding provider of learning and skills and part of Shaw Trust's education directorate.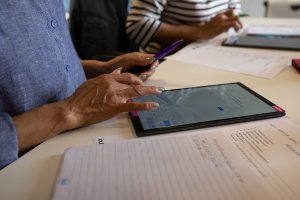 What is Shaw Trust doing locally?
We've delivered contracts across Peterborough and Cambridgeshire for a number of years; earlier this year, Ixion won a contract with the Cambridgeshire and Peterborough Combined Authority which has enabled us to deliver a wide range of skills, courses and qualifications to people who are out of work, or in work but wanting to progress, across the region. These range from warehouse and logistics courses, to retail, customer service, all the way through to digital skills, digital product design, and higher-level construction roles. We've also recently launched what we call the Upskilling Cambridgeshire Multiply Programme, which is focused on helping people to learn practical day-to-day mathematics. That might be parents of children who perhaps didn't have the best experience in school, and are now finding themselves in a position where the children need support with their homework. We're also helping ex-offenders that have come from prison, or who are on licence or on probation, to learn practical maths to apply to their lives. That's a community integration programme as well, bringing people from different backgrounds together and teaching them how maths can be useful in their day-to-day lives.
So, in essence, it's aiming to plug the gaps, wherever they're needed?
Absolutely. Any disadvantaged group is really who we are there to support. And our main objective as an organisation is to help people facing disadvantage enjoy the best chance in life, to find a way into fulfilling work and to build a strong sense of personal wellbeing. Our Strategic Directive outlines our ambition and commitment to deliver high-quality services to the people we support, taking us up to 2030. It includes lots of different things around growth, tackling unemployment, inequality and moving towards a carbon neutral economy. It's really all about upskilling people and helping them find employment at the end of it. All of our learning and skills programmes are focused on that. The Upskilling Cambridgeshire programme that we're currently delivering has the goal of moving people into one of two positive progression routes: either into Further Education, so they can continue their education journey and gain qualifications at a higher level, or to move immediately into work. So it's plugging the gap between where they're at now and where they need to be to secure employment.
One of the things that we've done which has been very successful is link up with lots of very large organisations – and some local organisations – across the country, in different areas where we operate, and they give us specific guides on what people need to succeed in roles within their organisation. A good example is Amazon. So they might say to us 'These are the sorts of things that people tend to struggle with in the first few months of a role within a distribution centre. If you can embed these skills within your generic retail and customer service course, we'll offer a guaranteed interview to every single person that passes that course.' So then there's an opportunity of work for people afterwards. So, some programmes offer qualifications that equip people to move in their own direction, and some will be specifically aimed at trying to secure people employment with organisations that have got vacancies in that area right now – learning practical skills that they need to get the job with that organisation, over perhaps one or two weeks. A lot of them are very short courses that prepare people for that interview, and these have been very successful for us and where we find a high level of engagement.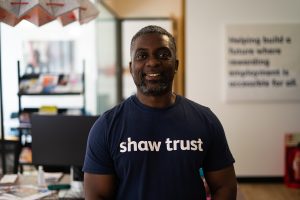 What kinds of needs do you find in those different areas?
As you move outside of the main areas of Cambridge and Peterborough, one of the biggest barriers for people tends to be the need to travel to work and the lack of employment opportunities that exist in rural areas. But there's a fantastic government scheme that many may not be aware of called Access to Work, for people with disabilities and health conditions that prevent them from being able to get to work via public transport or drive themselves. If individuals meet the qualifying criteria and have their application approved, The Department for Work and Pensions will provide transportation from home to their workplace. It's a really good scheme, which opens up a number of opportunities for people that otherwise wouldn't be available.
In Peterborough itself, the job market is quite similar to lots of other towns that we work in of a similar size, but then there are other things that are specific to the surrounding area – animal husbandry, for instance, and agri-tech. We work with some big organisations recruiting nationally – Amazon, for instance. But it might also be the case that we go and speak specifically with an employer of a smaller organisation or farm and say 'Can we design something that's tailored for what you need, to connect some people around the local area that might be keen to come and work in your farm or in your small business?' As you've probably gathered, a lot of the people that we support tend to be out of work, but not everybody. There are some people who are in work on low pay who want to change their lives and find a better job, or improve their circumstances with their current employer.
How and where might people find out about what's on offer?
We have a team who go out and find people through existing local charities, specialist referral organisations, schools or colleges. There are lots of brilliant charities across Peterborough and Cambridgeshire; they might focus on homelessness, for instance, or on supporting people who have experience of living in an abusive relationship. It might be young people who have left care, it could be ex-offenders or people who are engaging with the probation service. So, lots of the people we support will initially be engaging with an organisation and doing some work with them. Then, because of the size and scale of the organisation that we are, we're able to fund some programmes that these other charities and organisations wouldn't otherwise be able to offer. We spend
a lot of time working with those local partners, finding out how we can put something together specifically for the people they're supporting. Or perhaps there's something that we're already providing that they would like to be able to offer. We also connect through Job Centres, and we have lots of ties with the Department for Work and Pensions.
We do a lot of social media advertising, as well – on Instagram and TikTok, and lots of other different social media sites which young people potentially are able to access – but we'll also drop flyers around community hubs and community groups to reach those people that aren't engaging with other services in the area.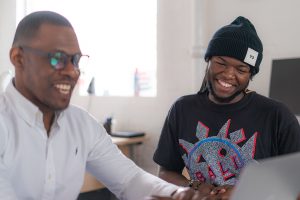 What happens when someone comes wanting to pursue a course?
Once people have found a programme or a course that suits or interests them, they'd have an initial call with one of our team to talk them through what to expect – what the length of the course is, any eligibility criteria, whether it's the right thing for them or whether there's something else that we're doing that actually they'd be better suited for. Once it's agreed which course they want to go on or which qualification they want to attain, we would then introduce them to the enrolment team who would do the paperwork with them – and once they start with that, they'd also have an opportunity to meet their tutor and learning mentor.
How and where do your classes happen?
We deliver some of our classes face to face, and we'll use different community hubs across any region that we operate in. We have an office in Peterborough City Centre, and one in Cambridge, as well as a couple of satellite hubs in Wisbech and Huntingdonshire. So, there is an opportunity to do some classes face-to-face, but for those that have got access to IT, we will potentially run something on Microsoft Teams or Zoom. There are some programmes which also provide participants with a tablet to allow them to engage with online delivery, and they will be able to take that away as a tangible outcome from the programme, along with their qualification, once they finish. Not all programmes have got the funding to be able to do that, but some do.
How often do classes take place?
Some classes may be a half day or one day a week, or it might be full-time, five days a week, depending on how we think it's best to deliver that programme and how people are going to be able to get what they need out of it most effectively. And they'll have a learner mentor. We have a Health and Wellbeing team member attached to each of the classes to support participants with any challenges or issues that they're having that might stop them completing the course, or prevent them from focusing on the classes or attending. Then, as they come towards the end, they start to spend more time with one of our team, a Progressions Officer, and it's their job to try and identify future employment or education opportunities for people once they finish. Some of our programmes, as I mentioned, will have a guaranteed interview with an employer, but some will be more open ended. So the Progression Officer would work with them to ascertain what they want to get out of it at the end, develop their CV with them, help with some interview techniques, and perhaps support them with job searching online. Each of the programmes has a different tracking period, the length of time we stay in touch with the person completing the programme, attached to it – some might be a month, some might be six months – but it can be up to six months that we continue to support somebody to achieve their desired goal, once they finish a qualification.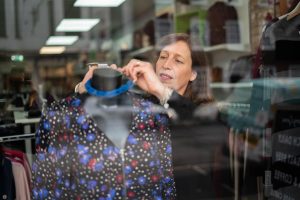 How did COVID affect the way you do things?
We were an entirely face-to-face organisation pre-COVID, and then all of a sudden, because COVID came around, Teams became a thing, Zoom became a thing. It's been good to engage as a team and meet people more often without having to get on a train. And it's been interesting for our learners, because it's definitely highlighted the concerns with digital poverty, which is why we've tried to include the opportunity for people to get a tablet or some sort of device. Now, we have established more of a hybrid model for our delivery. So we recognised that there were a number of people that really missed the opportunity to be seen face-to-face and to engage in a classroom environment, sharing ideas. Some people feel a bit more comfortable with that. But there are people on the other side of that spectrum, who would probably never have been able to engage because they either have physical mobility issues that impact on their ability to get out and join a class at one of our centres, or they've got anxiety or mental health conditions which make it difficult to go out in public or travel on public transport. So, all of a sudden, those people had an opportunity to access a provision that was specifically tailored and catered for online delivery. So, over the last 12 months we've been trying to find the right balance, just trying to blend and flex for the needs. But I would say there have been lots of positives in the movement towards more online delivery or more of a hybrid model.
Can you give an example of that?
Yes – it can be really difficult for people with Asperger's syndrome, or who are neurodiverse, to be able to identify when is the right time to speak in a class or group of people. But when you see everybody else go on mute, and there is the opportunity to raise your hand by pressing a button, it becomes much easier to identify when it's your turn, when it's an appropriate time to interject. There are people for whom this has been life changing, and actually what we want to try and do is make our classrooms as inclusive as possible – to try and replicate some of the advantages you would have with Teams within a classroom, because it makes it more accessible for people with a disability or health condition. And that's the goal really, as an organisation; to try and help people with disabilities and health conditions, whether mental or physical. Making it accessible and inclusive for all is what it's about.
We like to try and build the best relationship we possibly can with anybody that we support in our programmes, so that they can tell us what's really preventing them from moving forward and getting into a job. And once we understand what that is, if it's something that we can financially support, we will, whether it's the cost of a bus to one of our centres, or providing them with a tablet, or a short-term WiFi package. Whatever is in the best interest of the person. That's what we do, and that's why we have such high levels of engagement.
TO FIND OUT MORE, VISIT: WWW.IXIONHOLDINGS.COM/UPSKILLING-CAMBRIDGESHIRE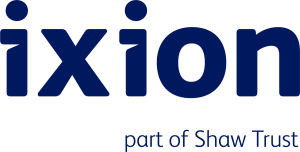 Leave a Reply