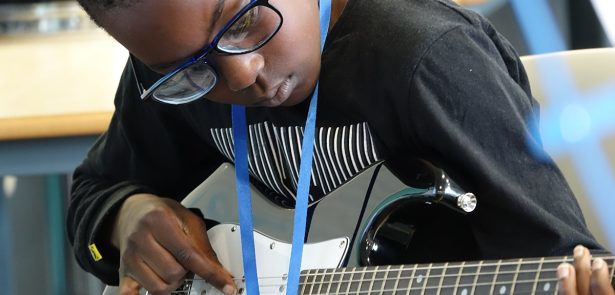 Peterborough Music Hub's mission is to provide opportunities for all young people to play and experience music, no matter what their circumstances or background. One of the many dedicated people helping them towards that goal is Jack Johnson, Inclusion Development Officer for Cambridgeshire Music. The Moment talked to him about his role in Peterborough and how music can make a difference.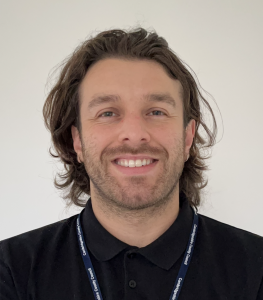 First of all, can you tell us a bit about what you do?
I'm the Inclusion Development Officer for Peterborough, but I also work across Cambridgeshire Music Hub, and Norfolk Music Hub in the same role. That, in short, involves providing or increasing accessible opportunities in music for diverse young people in and around Peterborough. The idea, first and foremost, is to develop our 'youth voice' system, so we can actually understand what is relevant. I think, often, there's a danger of coming up with a project that seems a great idea, but isn't truly representative of or relevant to the people that we want to engage with – and that means those people aren't going to join those sessions. So the idea is to get enough youth voice and co-development from those young people to produce something that is for them, and co-developed by them. Something that we're very keen to explore is areas of deprivation and the different characteristics of the young people that live there, and how we can actually provide some sort of music, arts and culture for them. The youth voice can help provide measurable data. If we can write in a funding application that we've spoken to a group of young people with specific characteristics and backgrounds, or from a particular area of deprivation or socio-economic status – then we have solid data which will help secure funding for that particular community or group. So there's a lot to it, but it's exciting. I don't know about you, but when I was a kid you could learn recorder at school and that was about it! So I think the youth voice – finding out what people actually want – is a really positive way to progress.
Music is under pressure in education – are we in danger of seriously undervaluing music?
Music is not compulsory throughout the entirety of school, so that's what we're up against. I should just say, first and foremost, I'm a musician. I don't come from any background around diversity and inclusion; I've just had lots of experience working with a diverse group of young people and finding ways to meet those needs. It's been difficult to see the schools that I've worked in saying they can't offer something any more. From my experience of teaching, the positive wellbeing outcomes of music are hugely overlooked. But I think it's vitally important. Music is obviously a huge part of my life – also a huge part of my son's life; he really embraces music and it is something that I know means a lot to him. And I think that's something we need to focus on. As a society, even as a culture, I think that's something we should be really pushing towards: positive wellbeing outcomes, and socialising through music. This is something that can make a huge difference, but I think a lot of young people miss that opportunity.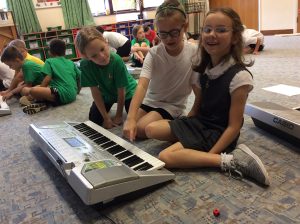 Has COVID and the lockdown experience had an impact on that?
I think there's been more of an understanding about mental health in young people since COVID, partly because there's been more of a push to measure it. The results are awful, to be honest. I would say it's a crisis, the number of young people that have experienced mental health difficulties since COVID has risen dramatically. Music, arts and culture can be an outlet for that. It really can help in so many different ways. I mentioned positive wellbeing outcomes, socialising – and there's a lot of research outlining the benefits of music there. But also, there's just enjoyment. Having fun! Every young person has the opportunity to play a sport at school, and that is a social environment, but often that opportunity isn't available for music. We need to make music a part of our culture again. For instance, my grandparents are very musical, they learned to play piano and sing through their local community. I think that's what we need now, maybe a focus on community music for that reason – an inclusive space where everybody can go, even just to listen. You don't have to get involved physically but can experience music- making in person.
Are you finding that this is something young people really want?
I speak to a lot of young people through the youth voice mechanism and, you know, there are a few who say they don't really care. Just recently I was speaking to a group of young people who were not in education or employment, and this young person said 'I don't care about music at all. It's just not for me.' Then we got talking, and they mentioned how they listen to the radio every night before they go to bed. And we chatted about what they listen to and what channels they liked, and I said 'That is music! That is how you experience music, as part of your routine, part of your life!' They didn't even realise how much music meant to them until we got talking.
You go into schools to talk to young people. Does that allow you to engage with young people across social, economic and ethnic boundaries?
The idea, initially, was not to go into schools. There are many youth advisory boards in Peterborough and around the county, and my initial plan was to visit, and speak to the young people that already attend. What I found was that the young people that attend are normally friends, and from similar socio-economic backgrounds. It's hard to get a level playing field of what diverse young people want, but yes, in a school it's completely diverse. So that was a real factor for me. And all the schools that I've approached have been really accommodating and really want it. Unfortunately, as we know, a lot of this revolves around money, and school budgets are very tight, especially with the energy crisis at the moment. Music, often, is the one that gets cut. But they still want these conversations, and they want us to be able to obtain this data to apply for funding that will benefit local communities. So it's great that they're willing to get me in talking about arts, culture and music.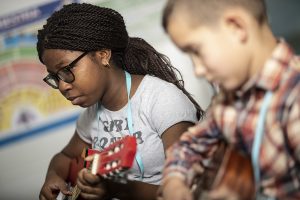 What do those consultations involve, in practical terms?
When I go into the school, the meetings would have been set so there's already a group of young people who've been asked to attend. We sit down, I often play some songs – I've got a tiny little guitar I bring in just for a bit of a laugh, but also to get them to feel it's informal. I don't want this to be a chore! I want it to be something that they enjoy doing and talking about – developing ideas, and saying what arts and culture means to them. So, I have a list of questions about what they think arts and culture is, if they partake in any sort of music activity, what they do in their free time, if they like gaming, and if they're aware that music plays a huge part of gaming, as well as film. I maybe ask them questions about what musical activity they want to be engaged with, if any. It's always very different, always interesting. Often the conversations go in different directions. And it's wonderful.
Some are rather cynical about the notion of 'diversity' and dismiss it as pure box ticking. What do you say to them?
There is a danger that it can just be ticking boxes, but we need to ensure that we genuinely offer authentic musical activities and representation throughout our organisation and engagement. We
need to make sure that they're authentic by actively involving representatives from local communities, ensuring that we are relevant and provide knowledgeable work. Music, I think, should be a community thing – and I think if we can involve as many communities as possible, it'd be such a rich body of work. I think it'd be quite lovely.
Welcome aboard!
Peterborough Music Hub is delighted to welcome music specialist and teacher Rachel Moorhouse to its Board
With 30 years music teaching experience in Peterborough, Rachel is a true champion of local music education and an ideal addition to the Peterborough Music Hub team.
A pianist and cellist, and currently a full-time teacher at William Law School, she has been a music specialist since 2004, teaching all children from EYFS to Year 6 class music lessons. Her activities include differentiated weekly singing practices, leading and preparing productions, concerts, school celebrations and special musical events for the wider community and other schools. The latter has included singing events for Peterborough schools, shared concerts and joint performances.
'Underpinning all my work and teaching experiences is my philosophy that music should be for all,' she says. In fact, she has been involved with Peterborough Music Hub in some capacity from its very conception, supporting its work with unflagging enthusiasm and energy.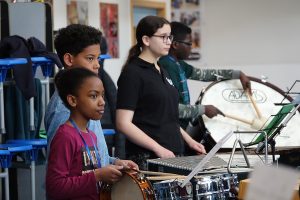 More recently her role as SLE (Specialist Leader in Education) for music in Peterborough has enabled her to visit other schools to give advice, complete three termly secondments (funded by the Music Hub) to develop music in Peterborough. Now, through her closer involvement with Peterborough Music Hub, she has even more opportunity to make a difference.
'As I have had the privilege of teaching a subject which I care deeply about for a substantial length of time, I think it is only right that I pass on my experience and knowledge in our current educational system where I feel music is undervalued and under-skilled. I hope that through encouraging others, the opportunities children receive will stimulate them to engage in music – in whatever form they enjoy. Good quality music education for all can have a great impact in many other areas of the curriculum, as well as the development of the 'whole' child.'
peterboroughmusichub.org.uk
www.cambridgeshiremusic.org.uk
Don't miss The Snowman concert, 6 Dec @ the New Theatre!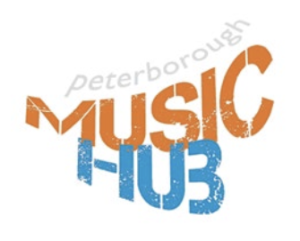 Leave a Reply