Access to Higher Education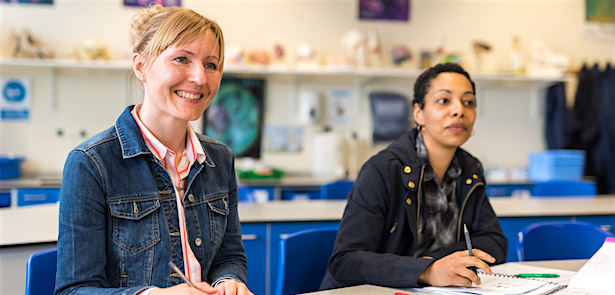 With University Centre Peterborough (UCP) on the cusp of evolving into Peterborough's first fully independent university, more people than ever are looking to the city to study for a degree. But what if you're doing so without having gained the necessary qualifications? Don't panic! Peterborough Regional College (PRC) has the answer...
Higher Education in Peterborough is in the most dynamic phase the city has ever seen, with its degree offering set to expand dramatically over the next few years. That means more young students coming to study, and – crucially – more of Peterborough's own young people staying, so the city retains more skilled individuals than ever before. Good news for the economy of the city.
But what about those who only now are feeling inspired to pursue a degree, but who left school without having secured the exam results they need? The Access to Higher Education course offered Peterborough Regional College is geared for just these people, providing the bridge between their current level of qualification and that necessary to apply for degree course.
And this is not just about recent school leavers, of course; many people develop the urge to study or become better qualified later in life (around a third of students at UCP are mature students – i.e. aged 21 or over) and doing so can transform career prospects. Again, this is not only great news for them, but another boost for the economy of city and its attractiveness to potential employers.
Even better news is that if you progress from this course to a degree course at UCP your Access to HE course fee waived. So, what have you got to lose?
Overview of the course
If you have the ambition to go to university but lack the qualifications to get you there, or have taken a break in education, the Access to Higher Education course is a fantastic solution as the course provides a qualification equivalent to A-levels and prepares you for studying a degree.
The Access to Higher Education course at Peterborough Regional College is specifically designed for motivated individuals aged 19 and over who wish to progress in their career, go on to study at degree level or simply extend their knowledge after being out of formal education for some time.
Students will learn in a motivated, collaborative and hardworking environment with experienced lecturers who provide fantastic support and guidance throughout the year one course. All courses cover HE study skills.
There are six different Access to HE routes at Peterborough Regional College which you can choose from:
Access to HE Humanities and Social Science
Access to HE Science
Access to HE Computing
Access to HE Business
Access to HE Professional Social Care
Access to HE Engineering
For more information about these specific courses please see the courses section on www.peterborough.ac.uk
---
Progression to University Centre Peterborough
If you progress to University Centre Peterborough (UCP) after completing the Access to HE course and successfully complete an undergraduate degree, the tuition fees for the Access to HE will be waived.
We have illustrated which Access to HE courses can lead to degrees available at University Centre Peterborough.
Every year, UCP has students who have successfully gained a first class honours degree after completing an Access to HE qualification beforehand as the course focusses on preparing students before embarking on a higher education course.
Access to HE Humanities and Social Science can progress to:
BA (Hons) Archaeology and Landscape History
BA (Hons) Criminology
BA (Hons) English Literature
BA (Hons) Media Production
BA (Hons) Journalism
BA (Hons) Performing Arts
BA (Hons) Psychosocial Studies
FdA Public Service
BA (Hons) Sociology
Access to HE Science can progress to:
FdSc Bioscience
BSc (Hons) Bioscience
FdSc Crime and Investigative Studies
BSc (Hons) Crime and Investigative Studies
BSc (Hons) Sports Coaching and Physical Education
Access to HE Business can progress to:
BSc (Hons) Accounting and Finance
BSc (Hons) Business Management
FdA Digital Marketing and Communications
BA (Hons) Digital Marketing and Communications
BA (Hons) Journalism
Access to HE Computing can progress to:
FdSc Computing and Information Systems
BSc (Hons) Computing and Information Systems
FdA Digital Arts

Access to HE Professional Social Care can progress to:
FdA Early Years, Playwork and Education
BA (Hons) Psychosocial Studies
BA (Hons) Sociology
Access to HE Engineering can progress to:
BEng (Hons) Electrical and Electronic Control Systems Engineering
BEng (Hons) Mechanical and Manufacturing Engineering
Leave a Reply