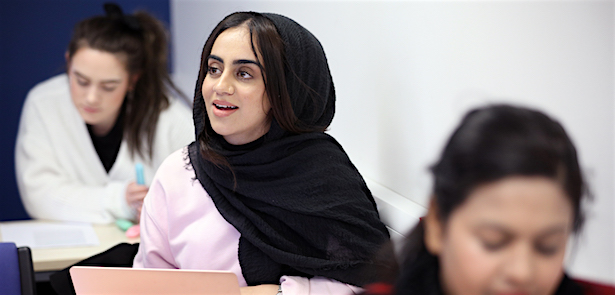 Normally, this is the time of year when those looking to start a degree in September can find a place through the process known as 'Clearing'. It's hardly been a normal year, of course – but at University Centre Peterborough (UCP) measures are now in place to ensure it's business as usual.
Undoubtedly one of the toughest aspects of the pandemic – aside from the virus itself – has been the uncertainty. Not only have businesses and institutions been forced to close their doors and furlough staff – they have done so with no clear idea of exactly how or when normal service can be resumed. For those planning to head to university in September 2020, it can be an uncertain time, raising issues of travel, safety and whether they can even study at all.
Fortunately, universities have proved impressively adaptable, rapidly switching to online delivery for the latter part of the 2019-20 academic year to ensure existing students – not least those completing their critical final year – suffered no detriment to their studies. Last issue we reported on how UCP was helping its final-year students, both on-campus and off. For the new academic year, it has built on that experience to keep new students safe whilst continuing to deliver courses to the same pre-COVID standard.
If you're based in the Peterborough area, this could be music to your ears. While teaching itself has adapted to the guidance from the OfS (Office for Students), Public Health England (PHE) and the DfE (Department of Education) to provide seamless delivery, many prospective students are understandably far more reluctant to travel significant distances. UCP has always taken pride in being a university that serves its local community, and now that looks like it could really come into its own, offering those wishing to stay close to home – and even live at home – the opportunity to do so without missing out on their studies. It's not just about school leavers of course. Mature students have always been a key component of the student body, and this could also be good news for those whose careers have been affected by COVID-19, and who may consider using this opportunity to pursue further study or have a change of career direction.
Until such time as it is safe to return to face-to-face delivery UCP is taking what is known as a 'blended learning' approach, which basically means tuition will be a combination of face-to-face teaching (following any current social distancing measures) and online delivery. UCP's smaller class sizes – which have always meant higher levels of individual support from lecturers – are proving highly advantageous to the implementation of social distancing. UCP has also been consulting with prospective students on their preferences and have published responses in the form of an FAQ on its website.
Applying through Clearing
Of course, some things remain unchanged. As in previous years, you can still apply to University Centre Peterborough through Clearing if you've not yet applied, don't have a place confirmed or you've changed your mind about the course or where you want to study. While many out there may – understandably – be feeling reluctant to commit in the current climate, one of UCP's key messages is 'Don't wait'. Clearing started on 6 July 2020 and you can apply before you get your results, so you are advised to apply as early as possible to secure a place on the course, so you can arrange your student finances and relax knowing your place is confirmed.
If you've not yet applied and want to find out if you meet the entry requirements based on predicted or actual grades, UCP are still helping students with 1:1 advice and support so you can book a virtual appointment with a member of staff.
There will be many students who are deciding to change their plans about moving away to study a degree and want to study closer to home which is where Clearing can help and the process is quick and simple. To change your course to UCP, firstly contact their admission team to check if they can offer you a place, then you can release yourself into Clearing via UCAS Track and then select University Centre Peterborough as your Clearing choice.
When students get their A-level and BTEC results on 13 August, sometimes they can be better or worse than expected, but do not worry as you may still get a place on a degree course. Before you make any decisions, always contact the admissions department at the university first as they are there to help.
Benefits of studying locally
Students who study in Peterborough can also benefit from UCP's lower tuition fees compared to other universities. You can apply for a maintenance loan of up to £9,203 per year and there are cash bursaries worth up to £1,500. As the majority of courses are studied as two full days a week plus there are part-time study options, you can really fit studying a degree around family, work or personal commitments as well as keeping the need for travel to an absolute minimum.
UCP is also fortunate to have arguably the UK's finest graduation venue right on its doorstep: Peterborough Cathedral – one of the most stunning and historic buildings in the UK. With the Cathedral having just announced its reopening at the time of writing, it really is business as usual for 2020/21.
What does 'blended learning' mean for me?
Blended learning is a combination of face-to-face teaching and online learning. Due to the Coronavirus pandemic, universities and higher education institutions are restricted by the number of students who can safely be on campus at the same time.
As UCP is a smaller institution, it has been able to allow students to come onto campus for one day of face-to-face teaching per week and the other day of the week will be delivered via online learning (for courses studied two full days a week). The method of this will depend on the course you are studying and the university centre will communicate with you further before your course starts.
In March 2020 when we entered lockdown, UCP were able to transition to this method of learning so all students could continue with their course without disruption.
Contact the Admissions team on or by submitting the Clearing Callback Form on the UCP website at: www.ucp.ac.uk/clearing2020
---
WHAT YOU CAN EXPECT FROM UCP IN 2020/21
From September 2020, UCP will deliver a blended learning approach which means it will be a combination of face-to-face teaching (following social distancing measures) and online delivery.
Students will receive a timetabled programme of study whether it is accessed on-site or online.
UCP will continue to provide a supportive and student-centred approach.
UCP will provide academic support and pastoral support, so you feel confident in transitioning into higher education in these unusual and unforeseen circumstances.
UCP will provide reliable forms of assessment and feedback so that you have a record of your achievements and are clear about your academic progress and what you must do to improve and achieve your goals.
UCP will provide access to suitable study resources to enable you to explore your subject and develop your knowledge.
UCP will develop your digital literacy and confidence in studying online through bespoke training sessions.
UCP will continue to provide additional opportunities for engaging in course-related and extracurricular activities for the benefit of all students.
UCP will ensure that assessment tasks will be identical for all students, irrespective of the mode of delivery undertaken by individual students.
Where the demands of developing and accessing skills cannot be met due to circumstances beyond the control of UCP (e.g. constraints imposed by social distancing and difficulties with travelling to campus in person), reasonable and accessible alternative approaches will be explored in consultation with you, awarding and professional bodies.
Leave a Reply