There's a great future in the past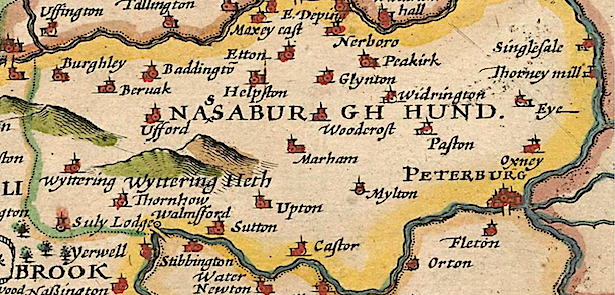 Thanks largely to the stunning discoveries at Flag Fen and Must Farm, the Peterborough area has become renowned for its archaeology. But did you know that you can study the subject at University Centre Peterborough? Mature student Paul Hales did exactly that, and is now on the verge of becoming a professional archaeologist –a mere 50 years after he first dreamed of it…
For Peterborian Paul Hales, archaeology was an early dream. A very early dream. 'When I was about six or seven, I used to tell people I wanted to be an archaeologist. I thought it was all machetes and lost cities in the jungle…'
That notion, he explains, was fuelled by a book called How and Why: Lost Cities. In it, he recalls, was a picture of an adventurer hacking his way through the dense jungles of Central America in true Indiana Jones style to discover the crumbling, overgrown stones of an ancient civilisation. 'I thought it was all that sort of thing,' he says. 'What a great job to have!'
Like so many who harbour outlandish career ambitions in their youth (astronaut, pop star, secret agent…) he put those thoughts aside and settled down to something more practical. 'I got a job in IT because there were no other jobs at the time.' He had not been to university, and got what he describes as 'some poor A-levels'. 'I worked in IT for absolutely ages, from the age of 18 through to a couple of years back.'
It was then – almost 50 years after first having that dream – that everything changed. 'I have two adult sons,' he explains. 'When I was researching my first son's student loan repayments, it dawned on me that I could go to university and get a loan and probably not ever have to pay the loan back…' He also realised that it was something he very much wanted to do. 'I really wanted to go to university because I haven't ever been and, slightly arrogantly,I thought I was smart enough to get a degree. I just hadn't got one. So then I started looking and then I found archaeology at University Centre Peterborough… Suddenly, there I am, 55 years old, and I'm going to go to university!'
Paul had in fact just gone part-time from his job in Cambridge, having been made redundant from his previous job in Peterborough. That had provided some financial stability and it seemed the ideal time to take the plunge. 'All the threads came together rather perfectly on a course I really loved.'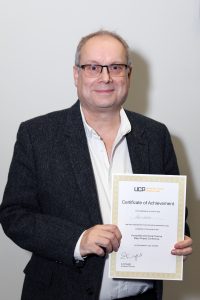 Paul clearly loved his time at uni. 'UCP is not like other universities. It's a small campus, with plenty of mature students. And I went to every single lecture, and to every extra-curricular event there was for archaeology. I was the only person who went to everything.' He has since been on digs, recorded finds as an archaeological volunteer for Nenescape, been behind the scenes at the British Museum (twice), attended the Portable Antiquities Scheme (PAS) conference at the Key Theatre and gained his degree, completing his final year major project on the surviving ridge and furrow fields in Peterborough.
The connection with PAS had come about through his volunteering for Nenescape, which had in turn been recommended by his tutor – UCP course leader for Archaeology and History, Andrew Hatton (known to all as Bob). Trained in archaeology and prehistory, Bob Hatton has a wealth of hands-on archaeological experience at sites all over the UK and beyond – including Flag Fen.
'Bob mentioned that there was this new programme kicking off. Something to do with the River Nene. He mentioned it was in its early days and if anyone was interested, there was the website.' Paul went along to the induction, became interested, and when he was required to do work placement, Nenescape provided the ideal opportunity for field experience – as well as introducing him to PAS, which allowed him to handle other real artefacts. Among those he encountered at the British Museum was the Shropshire Bulla – an amazing Bronze Age gold pendant discovered by a detectorist in 2018, and which had star billing on the front page of Current Archaeology magazine. 'The workmanship was incredible – and I was holding it!'
And there was more to come. 'I've done a community dig on the A14 – like, real archaeology with a mattock and a shovel and a wheelbarrow, so that was interesting. That went into the portfolio. I've also done some geophysical surveying with Dr Stephen Upex up at Durobrivae.' On that occasion the weather was unfortunately 'really miserable – it was raining hard and the nettles were knee- high!' But none of this seems to have dampened his enthusiasm. 'I really loved it all, loved it rather too much, because now I'm missing it like hell!'
All of this began in the classroom at UCP. 'Without Bob mentioning Nenescape,I wouldn't have known about Nenescape and I wouldn't have gone to the British Museum, and I wouldn't have handled the Shropshire Bulla, and I wouldn't have got such a great mark on the assignment…'
For Paul though, graduating isn't the end, it's the beginning of a whole new chapter – both personally and professionally. He has recently been accepted onto a trainee scheme run by Oxford Archaeology, one of the leading excavation and heritage management organisations in the country.
'My original plan was to go back and get a job in IT,' says Paul. Instead, he decided to go for it and apply to Oxford Archaeology. 'I applied for that back in March, they offered me the job the same day and I was really pleased. Needless to say, I then stopped looking for jobs in IT and have sort of had the slightly smug feeling – there I am, about to graduate, and I've got a job to go to!'
As a graduate trainee with Oxford Archaeology Paul will participate in a 24-week scheme, and if successful will be offered a permanent role as an archaeologist. 'So there we go,' he says, 'that's my seven-year-old dream coming true when I'm 58 years old!'
---
BA (Hons) History and Archaeology
Are you interested in the past and how it shapes the future? Are you fascinated by the history of your environment – of the buildings and landscapes that comprise it and the laws and institutions that animate it? Do you view the present as continuous with the past or do you see the past as a series of more or less violent ruptures leading up to the present? Are you passionate about the historical world and its importance for understanding the present? Are you interested in a career in the Heritage Industries – in a fast developing sector that contributes more to the UK economy than the Agricultural and Aerospace industries combined?
If so UCP's BA (Hons) History and Archaeology course may be for you. The course is a unique combination of history and archaeology modules designed to create an integral course that supports students that want to pursue careers in either discipline.
UCP have aimed to create a course that at one and the same time satisfies the intellectual curiosity of history/archaeology students while providing the best possible opportunity for progression into the graduate jobs market in education and teaching or the heritage sector.
The course was developed in consultation with academics and industry professionals to ensure that the skills with which our students graduate align as closely as possible with the skills required by industry.
During your studies you will have the opportunity to undertake a work placement with one of a range of heritage organisations in the city and wider region. These include Peterborough City Council, Headland Archaeology, Oxford East Archaeology and Historic England.
The greater Peterborough area is steeped in history which includes Bronze Age sites at Flag Fen and Must Farm as well as the Peterborough Cathedral which is over 900 years old.
The courses at University Centre Peterborough are studied in smaller class sizes compared with other universities – a typical class size is under 30 students.
Full-time 3 years (2 full days a week over two semesters per year)
Part-time 4 years (1-2 full days a week over two semesters per year)
To find out more about this and other courses, go to: www.ucp.ac.uk
Leave a Reply