UCP: Peterborough graduates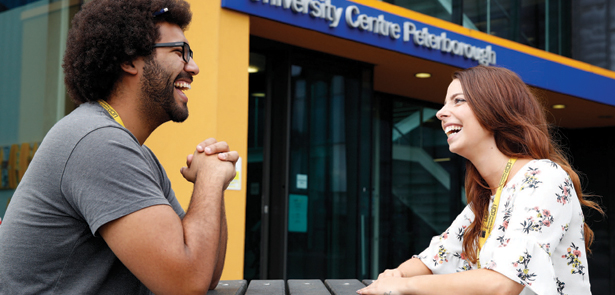 The best people to talk about the student experience are students themselves. We talked to two students as they were completing their final year at UCP to find how it had gone, how they got there and what it meant to them. Both are Peterborians but from very different disciplines: Aaron is a mature student in his 20s who studied Integrated Engineering whilst working at Zeiss Cambridge. Holly came soon after leaving school to study Performing Arts but also made the most of work experience opportunities that came her way whilst studying full-time. These are their stories...
So, we're catching you both at the end of your time at UCP. Can you sum up where you are right now and what your courses involved?
Holly: I've just finished a three-year BA Hons in Performing Arts. It's all about movement, acting, body and voice. We do a dance module within that, but it's really more about physical theatre, expression through the body and different styles of acting – naturalistic and non-naturalistic – looking at different practitioners. So far, the assessments I have had are looking promising!
Aaron: I've been studying Integrated Engineering part-time one day a week – three years part-time to upgrade my HNC to a degree at UCP. The dissertation is in, and I've done my final exams.
Going back to before your studies, what made you choose UCP?
Holly: I was actually working at the time. I had got an apprenticeship working in a school, and the school had an open day for the university. I was interested in the Performing Arts course and discovered that I could work whilst studying, so that's what I ended up doing.
Aaron: I started on an apprenticeship with Zeiss Cambridge, and then did an HNC at Peterborough Regional College. I got a distinction, so from there got sponsored by the graduate scheme to complete my degree at UCP. The Integrated Engineering course was a great fit for my role and the technology I'm dealing with.
And what technology is that..?
Aaron: At Zeiss Cambridge we manufacture scanning electron microscopes, and my job as a Development Engineer for sustainability covers electrical parts, mechanical parts and software. This can range from obsolescence of components to quality issues. We get involved in the 8D process and fault-finding quite a lot – that's primarily my role, sustaining parts and making sure we're keeping the products out in the field working and up-to-date. It's quite intense!
What's next for both of you?
Holly: The possibilities from this course are quite varied. A few of my peers are aiming to be actors of different kinds. One wants to be a TV actor, one wants to be on stage, one wants to be a director, one wants to write. I want to continue to teach or work as a drama therapist.
Aaron: I managed to secure a position in the company where I've been working towards a full-time post, and from here my company will also sponsor me further to do a Masters if I find the right course.
So, for both of you, your careers have essentially begun before graduating?
Holly: At one point I had three jobs alongside my studies! I cut that down to two… I was working as a teaching assistant, and in my last year was a learning mentor, and then was also Comedy and Drama teacher at the Pauline Quirke Academy of Performing Arts. I've only been there a year but already have been asked to direct a PQA performance to go into Her Majesty's Theatre. To get something like that when you come out of uni is incredible!
How did that opportunity come about?
Holly: PQA were coming to Peterborough, and my lecturer told our group about it and recommended it as a great opportunity, so two of us applied – and I became a teacher and she became a teaching assistant. I don't think I would be as confident in my job or would even have applied if my lecturer hadn't encouraged me to go for it.
Was the flexibility offered by UCP a deciding factor for you?
Holly: If UCP hadn't offered this course I'd have to have gone somewhere other than Peterborough. But I also wanted to work and get experience whilst I was studying, so I could come straight out and get a job. That was the plan! UCP definitely made that easier. I had work three days a week, but my studies were fitted into Mondays and Fridays and the rest was free.
Aaron: I was only in one day a week, but the tutors have been great in terms of guidance about deadlines and assignments, and are always available. I really relied on their support to help me through it.
Because UCP is small it also has smaller class sizes. Did that make a difference?
Aaron: Our classes ranged from 10-15 people throughout my time there and there was a lot of focus on on-to-one tuition. You never found yourself not understanding something or leaving the class without an answer.
Holly: Smaller classes definitely mean you get better quality time with your lecturer. You especially need that one-to-one contact at dissertation time, but it's hard to get that if you're in a class of 30. It also makes you gel better with your classmates, which is fundamental with Performing Arts. Your trust in them is potentially half your marks. If they forget their lines or forget to catch you on stage you can end up going wrong and it can really affect your grade.
So, overall a positive experience..?
Aaron: I'd certainly study there again if the opportunity arose.
Holly: UCP is small, but it never feels small. University is also about the experience and the friends you make – and I have made friends for life.
To find out more, visit: www.ucp.ac.uk
Leave a Reply