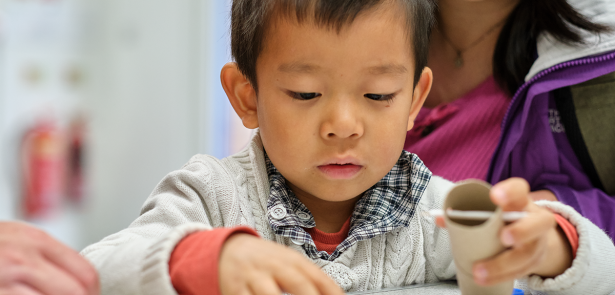 This summer, the regional charity Cambridge Science Centre is bringing special PopUpScience events to Peterborough and Cambridge – fun ways to bring STEM into the community and engage with children from 7-13 years to help get them into science. To find out more about what's in store and how the centre aims to inspire and enthuse a new generation of scientists and engineers, The Moment talked to the founding CEO of the centre, Dr. Chris Lennard.
Cambridge Science Centre is running both events in Peterborough and Cambridge – can you tell us what that is and why it came about?
Cambridge Science Centre is a place for young people and families to get hands-on with science, so they experience science as an immersive environment, surrounded by people who love science and can talk about it until the cows come home! Chatting about science to the public is what we at Cambridge Science Centre live for, and the passion of our science communicators inspires young people and families. When we set up the Cambridge Science Centre, we recognised that the large traditional hands-on science centres that you can find in big cities throughout the UK offer life-changing experiences, but most people have to travel a long way to get to one. We wanted to ensure that everyone could access wonderful, immersive, hands- on science environments. So, the Cambridge Science Centre was designed as a small-format, portable science centre that delivers the same rich, immersive experience as the big science centres do. But we can fit inside of
a shop, and that means we can pop up a Cambridge Science Centre almost anywhere.
Consequently, when you are out shopping with your family, you can just stumble across us and have some fun with science! You don't have to organise an entire weekend around a visit to Cambridge Science Centre. We take the full science centre experience out to you.
So, people can just happen upon it?
That's exactly right. And we want people to happen upon science at unexpected moments – that's what science is. Science is understanding the world around you, and so we want it to be integrated as part of what you see and do day-to-day. And that's why these pop-ups such as we're having in Queensgate shopping centre are such a fantastic opportunity for us, but also a very good representation of what we believe our greatest strength is as an organisation.
What is your background, and how did you come to be doing this?
I used to work in mobile phone technology, first in the USA and then moving to the UK. But I am originally Australian. The opportunity I had to travel the world as an engineer, I feel, must be credited to my parents, who were both teachers. When I was young, they recognised the importance of getting me involved in all kinds of science, engineering, and creative experiences. It was that rich exposure to so many amazing people and ideas that helped me find out what inspired me and that then motivated me to study to become an electronic engineer. In 2010, reflecting on my life, I decided it was time to make a career change and give something back. I wanted every child to have experiences like those that inspired me early on, because those memorable moments shape a lifetime. That gave me the initial idea of the small-format Cambridge Science Centre. That idea provided the spark, but it was finding an outstanding team of like-minded engineering and science communicators in Cambridge that took that idea from concept into reality.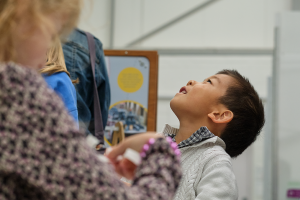 How important a role does Cambridge have to play in this? Obviously, it has a well-established reputation for science worldwide…
In a way, the reputation of Cambridge is what started it all. One day in early January 2011, I was on a train back to Cambridge returning from a visit to Newcastle, and I got to thinking about how I'd just been to the big Centre for Life science centre there (a great place, incidentally). And yet, here I was – on a train to Cambridge, a world-leading centre of science that had inspired me as a child in Australia – and Cambridge itself had no hands-on science centre. That just didn't make sense to me. That's really what started the whole thing.
I later learned that there had been various efforts to set up a science centre in Cambridge for about
25 years before we came along. But our portable small-format science centre business model caught the eye of Dr. David Cleevely CBE, our Chair and a lead entrepreneur and business angel in Cambridge. He activated his network of Cambridge business angels to secure our seed funding and get Cambridge Science Centre off the ground. He felt it was the first time he'd seen a business model for a science centre in Cambridge that made sense: one where our immersive experiences were taken out into schools and communities that had the least access to enriching hands-on science.
Although there was no permanent science centre in Cambridge before us, Cambridge Science Centre is built on some extraordinary hands-on science heritage. The city is also home to Cambridge Hands-On Science (CHaOS) – an incredible group of young undergraduates who do science outreach in East Anglia and beyond every summer – and there was the Cambridge Science Festival, one of the largest STEM festivals in the UK. But those events and organisations can't offer hands-on science all year round, nor on-demand for communities and schools. That's where Cambridge Science Centre comes in.
So, what's going to be happening at the PopUpScience events?
We'll have a range of hands-on exhibits that allow people to experience and explore scientific ideas. Young people and families can engage with these fascinating exhibits at their own pace or chat with our knowledgeable science communicators who are on hand to answer any tricky questions our visitors may come up with. And from time to time, our science communicators will be doing some science busking as well, right there at the bottom of the escalators. I'm sure that everyone's familiar with music busking, but our activities will mix fun, creativity and surprise with intriguing science.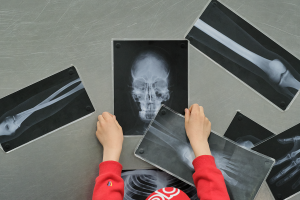 We use the word 'science' as if it's a very simple thing, but it's a massive subject. How do you narrow that down? Do you have activities that cover key areas of science – biology, physics, chemistry?
Our exhibits are all physical in nature, but you can still learn a lot about different sciences from them, like learning about your own biology. An example is our 'mixing of light' exhibit, where you can use red, green, and blue lights to create other colours of the rainbow: cyan, yellow, magenta, and white. So, the natural question is whether that set of three primary colours is a fundamental property of light, or is it something to do with us? It turns out it's our biology that is on show in this exhibit. Our eyes have only three types of colour-sensing photoreceptors, or cone cells: red, green, and blue. When we see white, that means that all three types of cones are being energised by the light we see. On the other hand, birds have four single-cone cells, so they see more colour definition than us. And that is why they are often so good at picking the best ripe fruit out of the garden before we can get to it!
Obviously this is geared primarily to children, but do parents get involved?
Oh, definitely! Sometimes we have to remind the parents that the kids want to play too! There are always things that the parents find that they learn on our exhibit floor. Some exhibits can seem quite simple at first, but when you start to explore them, you can often be surprised and learn something new. They are also spaces to share experiences; I can give you a lovely example. We have one exhibit that shows what the world looks like if you have different forms of colour-blindness. There was one instance when some children in a family group were playing with the exhibit, and one of their grandparents said, 'That's the way I see the world…'. Until then, the children never knew that their grandparent was colourblind or even what that meant. And now they both knew what it meant and could relate that to someone close to them. Sometimes these exhibits can create these really powerful moments of connection. That is one of the things which I truly love about the centre.
Do some people come with misconceptions or negative ideas about science?
Some people may have had a negative experience with science learning in school and think that science is not necessarily for them. But one of the things that we want people to understand is that no one understands all aspects of the sciences. Science is too broad and deep a field for any one person to hold it all in their head. Individuals – even professional scientists – understand different aspects of the sciences, and science today is often done by people working together. Science is nothing to be afraid of, and your level of knowledge in a field is never something to be ashamed of. What we want to show our visitors is that everyone can learn new and interesting things about the world around them during a visit to Cambridge Science Centre. And even if you don't regard yourself to be a scientist, you can support your children in learning science both in the centre and at home. The science communicators themselves are quite open that, sometimes, even they might have to go and ask another communicator about something. That's what science is about. It's about constantly learning, sharing knowledge and not being scared that you don't know everything. The wonder of science is about discovery. That's what we really want to instil through these exhibits.
This approach obviously appeals to the young – is there a relationship between play and experiment?
Very much so – because once you get into the concept of play, you don't mind making mistakes. It's just about trying things out. And that applies equally well to adults, too. One of the reasons adults love the Science Centre is that they can just let go of things for a bit and share an enjoyable experience with their kids: you don't have to be "all-knowing". That relaxed attitude creates a receptive non-critical environment for learning.
Has COVID changed attitudes toward science?
There have been some interesting recent studies that show that people post-COVID seem to be more receptive to learning about science. This is probably because everyone saw policy and public-health guidance being driven by scientific data. We all benefited from the incredibly fast development of COVID vaccines which have helped society return to a state of normality. This increased interest in science is a positive sign, but it has to also be recognised that the entire COVID period set back some young people as much as nine months in their learning of sciences. That deficit will take a long time to be built back up. At the Cambridge Science Centre, we want to help address that deficit by providing as rich a learning environment and as many opportunities as possible for hands-on science engagement. And, certainly, the demand for our services is there. The number of outreach visits to schools is significantly higher today than it was in 2019, and we had thousands of visitors to our Grand Arcade pop-up in Central Cambridge over Easter. There's been a fantastic rebound in desire for hands-on science and person-to-person interaction since the worst of the pandemic.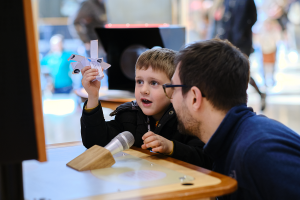 What do you hope people will take away from the pop-up experience in Peterborough?
I think the main thing for us is that they feel they've learned something interesting and that was fun to do, and that they would take that interest home and explore it a bit more in their own time. Our ideal situation is that visitors get home and think to themselves: 'You know, that thing we did at the Cambridge Science Centre today was fascinating. I think I'm going to Google that…' That could be the start of something much bigger.
What are your plans for the future?
We are looking at ramping up our outreach over the next couple of years. The key thing is to ensure that we are able to get out to audiences that are less advantaged. So we want to put a major emphasis on ensuring that anyone in East Anglia has regular access to this form of hands-
on science. In my ideal world, everyone has as much a chance to stumble on what inspires them in the sciences and engineering as I did when I was young. We also want to work with communities to ensure that what we deliver takes on some of the persona of each local environment. We want to build on the Cambridge science heritage, but we don't want to say it has to be done the Cambridge way. Cambridge has phenomenal skills and science to plug into this, but in the end, our business model is about supporting communities and listening to their needs. So that's where we're headed as an organisation: Cambridge science at the heart, but services shaped by the communities that we serve.
"I wanted to support the Cambridge Science Centre because there was no science centre in the east of England. Our future depends on science, technology and engineering. All children should be able to work out for themselves whether science is something they want to get involved in, and without something like Cambridge Science Centre they may never get the chance. I can still remember my first visit to the Science Museum in London and I can honestly say it changed my life. I want every child to have that opportunity."
– Dr David Cleevely CBE, Chair, Cambridge Science Centre
POPUPSCIENCE – PETERBOROUGH
13-21 Aug
Queensgate Shopping Centre, Peterborough
FREE to attend
POPUPSCIENCE – CAMBRIDGE
23 July-31 Aug
Grand Arcade, Cambridge
FREE to attend
Leave a Reply