PCYM are really going places!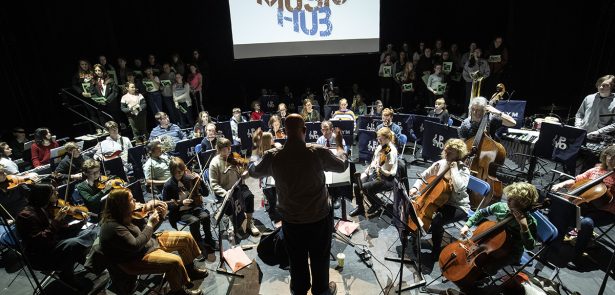 Peterborough Centre for Young Musicians (PCYM), supported by Peterborough Music Hub, has always been about more than just music lessons. Since it opened in 2016 it's been giving the city's young people the chance to play, perform and enjoy music as well as equipping them with valuable life skills and the chance to make new friends. But it's also set many young people on a career path, providing the first step on an amazing journey. The Moment talked to two PCYM alumni, both of whom have gone on to study music in two of the UK's most respected schools. Carolina is in her second year at BIMM (British and Irish Modern Music Institute) and Matthew has just accepted a place at the Royal College of Music.
You're both setting out on the first phase your music careers, but let's start by looking beyond that… Where do you hope to be in five to ten years time?
M: Broadly, performing! There's a lot of different aspects that I'm quite interested in, so maybe West End or film music. Perhaps some solo stuff as well.
C: I either want to write music for other people, or play keyboards in pit bands on the West End, which is why I chose the joint honours so I could go down either one of those routes.
Playing in a pit band is something we don't often hear about. Why that, particularly?
C: One year, for a school production, the music teacher asked if I wanted to play in the pit band. I said yes and just really enjoyed doing it. Then, when I was in PCYM, we did The Snowman performance. That was almost like being in a pit band, because the film was playing in the background and we were playing along with it live.
How and why did you start with PCYM?
C: I think it was around year nine or 10. PCYM was linked to my school, Bushfield, and they recommended that I go because after GCSE my school didn't offer A-level music, but if I went to PCYM I could still get the same step from GCSE to uni, using what I'd learned at PCYM.
M: I started about four years ago. My drum teacher teaches there. When we moved here I got him as my drum teacher and he was like 'Why don't you come along to PCYM?' It was just really nice to be around other people who were also really interested in playing music. I don't really get that at school, because it's got a very small music department. And then there are the opportunities to play with people as well. You wouldn't really get that anywhere else.
Did PCYM take you in completely new directions?
C: When I was in PCYM I decided to learn the cello as well. I used to borrow the cello from PCYM – because they have instruments that they can loan out to students. The reason for learning the cello was that when I read about being in pit bands, they always said that it was best to have two instruments, to be able to play more than one thing in the pit. I just chose the cello because I thought it paired nicely with the piano.
M: I was just playing the drum kit before that, and going into PCYM opened up a whole new range of orchestral stuff – and world percussion as well. At PCYM I'm really lucky to have access to such a wide range of instruments.
The ensembles – jazz, piano and percussion – are quite a significant part of PCYM. Tell me about those…
C: I chose to be in the percussion ensemble, to work on my sight reading, because I was quite poor at that, but also I thought it would just be different from doing piano, and would give me more experience. When I first joined PCYM, I wasn't classically orientated at all, I just played pop piano. So at first, PCYM was a bit of a shock, because lots of people there were classically trained and classically orientated, which wasn't my style at all. But being around people who were classically orientated was good, because it gave me confidence to be able to speak to other musicians, other than just pop. Classical students know more about the theory as well, which was good. I wasn't very good at theory, but those other students could help me out. I also didn't really sing before, but I then joined the choir and it helped me with my confidence in singing. It was good, pushing me out of my comfort zone.
M: I got into PYO (Peterborough Youth Orchestra) through PCYM. They do a summer course and a winter course, and those are probably the biggest things that I've played in. But then, also, we've done a few orchestral things bringing in all the different departments for one big piece. The percussion teacher, Martin Bright, is a composer as well, so he'd written a piece – Reed Sway – which was involving all these instruments and got us to learn it. I think that was the first time I'd played a piece of music with lots of different percussion instruments.
Has this experience changed the way you think about music?
C: Yes! Before, it was all pop – the same four chords and the same chord progressions. After going to PCYM and learning about theory and what goes on behind different types of music, I took ideas from what we did and was able to write different types of music, not just the standard pop song, which I think was good. It's given me more to work with.
M: I think it's definitely broadened the sort of music that I'm into.
There's a real emphasis on performance at PCYM. Does that help build confidence?
M: Yeah, that really helps. Because you're not forced to do things. It's just small things like playing in your ensemble, and then people maybe getting singled out to play their part. That just builds up the confidence. I wasn't a full-on rock drummer. To begin with I was often quite quiet, so it took quite a while for me to find that confidence in music.
C: Before, the only performances I'd done were in the pit band, so no one could see me! And then after I joined PCYM and was in the percussion ensemble, we'd do a performance about once a month, at the end of the day. With that, everyone was looking at me because we were right
at the front. I couldn't hide behind anyone. But I think that helped to make me more confident to perform. I wasn't on my own, but I had an important role, so if I went wrong, you'd be able to tell! Towards the end, I was really enjoying performances with the percussion ensemble and the choir. Singing in front of people was a big thing for me. I think all that also made me more confident to perform by myself.
What have been some of your favourite moments?
M: Probably those moments when you're playing in an orchestral piece, and you just get something that really sounds nice with the music – like a big cymbal crash. I really like big cymbal crashes! There's also the singing classes and musicianship classes as well, that I think have made me so much better as a musician.
C: For The Snowman, I was playing the piano as well as being part of the percussion. Me and my friend basically opened the whole performance on the piano, so if we were out of time it would throw the entire orchestra out! That was something I'd never done before, following a conductor. But it was good – a good experience. I really enjoyed that day.
Contact if your child is interested in finding out more about making music at PCYM.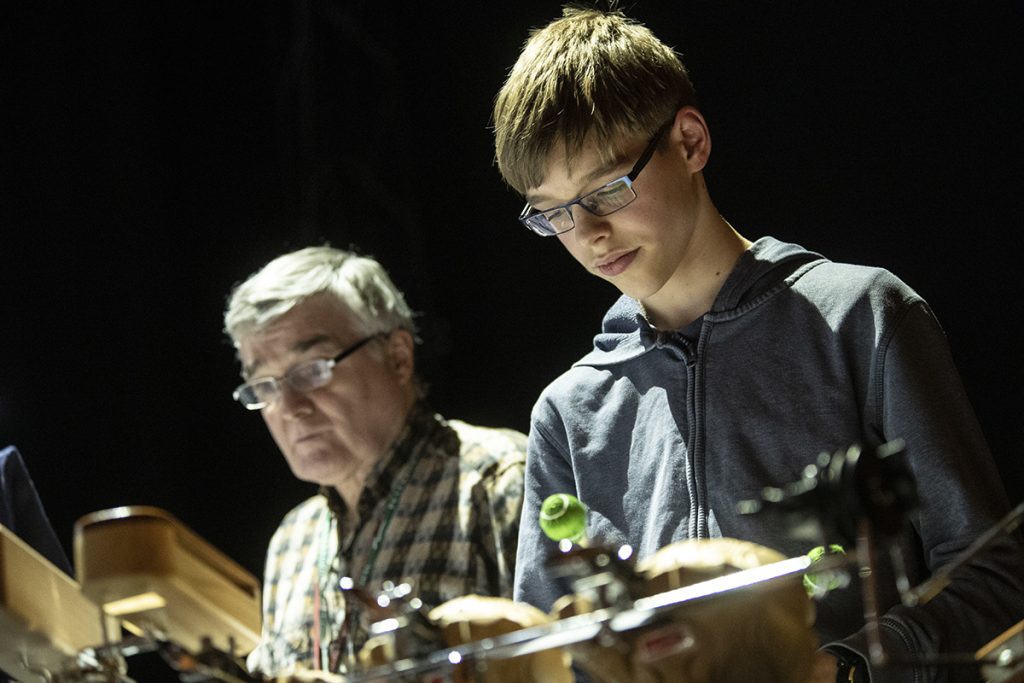 First steps on a musical journey
PCYM is a close partner of the Guildhall School of Music & Drama and its links with the world-renowned conservatoire provides wonderful opportunities for members looking to attend further training and enter professional music careers. It works with junior and senior level wind, brass, piano, guitar, percussion and singing ensembles, as well as special classes for very young players.
The Saturday morning sessions take place at Ormiston Bushfield Academy in Orton during term time. The Centre – opened in October 2016 – provides sessions for the city's young musicians, aged five to 18.
Saturday sessions are operating as normal but with additional cleaning, hand sanitising, mask wearing by those aged 11+ and reduced parents in the building. PCYM continue to monitor the situation and follow guidance as and when it changes.
About the Saturday sessions
PCYM's half-day Saturday classes are open to all, regardless of ability
The 3hrs 15 minute sessions include a one- to-one instrumental lesson, music theory class, playing in an ensemble and a short performance
Ensembles include string groups, percussion and a jazz ensemble
The music played crosses all genres and styles and is taught by professional, performing musicians
All children get the chance to play in ensembles, go on amazing musical trips and perform live in some extraordinary venues
PCYM also hosts regular visits by musicians from the Guildhall, London's most prestigious music school
FREE instrument loan available. The first trial session is also completely FREE, and financial assistance is available for those unable to pay
Costs
If children are aged seven-plus and are not already learning an instrument, fees are £31 a week.
If they're already learning an instrument (e.g. if they have lessons at school) it is £15 a week, and if they're under the age of seven – from reception to Year Two – then it's just £5 a week.
Peterborough Music Hub also provides financial assistance if costs are a problem for parents. Contact for details.
For further details, visit www.pcym.org.uk
About PCYM
The Peterborough Centre for Young Musicians (PCYM) is a joint initiative between Peterborough Music Hub, Ormiston Bushfield Academy and the Guildhall School of Music & Drama.
The Guildhall School is now the largest provider of high quality training for talented young musicians in the country and with the introduction of PCYM, Peterborough's young instrumentalists will have the opportunity to train locally in association with one of the world's leading conservatoires.
Admission is based on engagement, enthusiasm and musical potential and the centre is aimed at children and young people aged seven to 18 years. Acceptance will be based on musical potential with bursaries available for eligible applicants. A beginner curriculum is available for those
aged five to seven and an early years programme for three to four year olds.
The centre seeks to attract talented young musicians in the earliest stages of learning who are able to demonstrate a technical and musical fluency. They will be welcomed alongside more experienced players at all stages of learning.
PCYM will offer a comprehensive package of training, developing key skills in regular practice, instrumental and vocal technique, musical analysis and performance.
A programme of lunchtime recitals will feature across the year and offer those all-important performance opportunities where pupils can display their growing confidence and experience – entertaining Peterborough in the process.
PCYM is part of an ongoing strategy to create a regional musical profile for the city and make Peterborough the destination for the best in music tuition and performance skills. It offers the perfect environment for creative excellence and a superb foundation for higher education training options and professional music careers in the future.
Leave a Reply