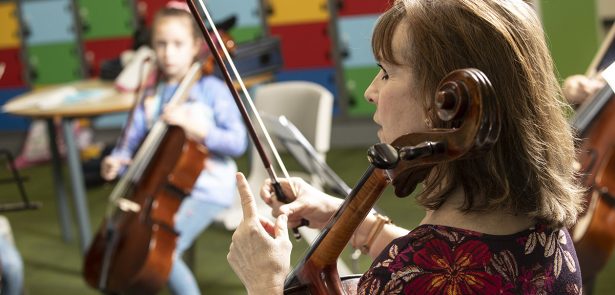 Most parents know that schools use so-called 'peripatetic' music teachers – freelance professionals who come in and teach specialist instruments, one- to-one. But did you know that Peterborough Music Hub also provides whole-class music teachers to bring new musical experiences into schools? The Moment talked to one such teacher, Donna Barnes, about what it involves, and why she loves it.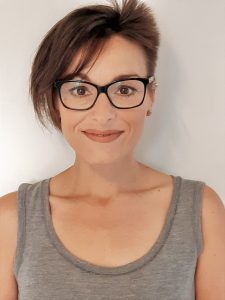 First of all, can you explain what you do?
Well, I'm a whole-class instrumental teacher, specialising in percussion and ukulele, so I'm a little bit different from the peripatetic teachers who would go in and do private lessons. Most schools invest in a team of peripatetic teachers who do individual lessons for children in specialist instruments, but my job is to go in and to teach all of the children at the same time. With the new modern music curriculum there's been quite an uptake, as the government has suggested that at least one year group should be having whole class music instrumental tuition in schools. That could be anything from a class of 30 learning the violin all at the same time – which is not my bag – to a class of 30 learning how to samba drum together, which is one of the instruments that I teach. There's also ukulele, which is hugely popular at the moment, and a really accessible instrument for little hands. And we don't have to be playing A Sailor Went To Sea, Sea, Sea! I've got two of my students at the moment at Gunthorpe Primary School learning Ed Sheeran's Bad Habits and Another Brick In The Wall by Pink Floyd. It's very adaptable to the children and what they are interested in. If you can tap into their own musical interest, they'll invest in it a lot more. In Year 6 they don't want to sing so much, so we do the 'cooler' stuff – lots of percussion games. You've
got to tailor the lesson to make sure those children – and the school – get the most out of their 10 weeks. It's a big investment for the schools, too.
What is a typical day's teaching for you?
A typical day in a typical week would start with me going to, say, Hampton Hargate Primary School in the morning, and doing three hour-long classes of Year 4 samba tuition, then I get in my car and go over to Thorpe Primary School to teach two classes of ukulele in the afternoon. It will be whatever the school wants. I'm lucky enough at the moment to be in a position that I'm doing samba and ukulele at Gunthorpe for years 2-6, and I have especially enjoyed teaching the younger ones! And it's great fun with all the different levels of ability. Some children will never have picked up an instrument before, while some children will be doing grades, but even if the children are used to playing an instrument, they're probably not used to playing with lots of other people. And having that real team element and working together as a band is a huge thing – being able to listen to other people play, and having the confidence to stand up and play in front of people or just play one little thing on your own. There are huge benefits to all of that.
How does Peterborough Music Hub fit into this?
I'm actually employed by the Music Hub on a freelance basis. So, if the school take up the instrumental tuition, Music Hub funds all the instruments, and I will turn up two weeks before we start with a huge samba kit or with 30 ukuleles tuned and ready for the children to play. Then they get the lessons planned by me, perhaps using a music scheme that Music Hub has provided. But everything's there, so the children literally just have to turn up and the teachers in the school don't have to do anything before or after. I even provide the assessment as well.
So, it's taking the strain off the school a bit…
It is. But it also does much more, because when those students look back, it's one of those things that I hope is a highlight of the year for children. And very often it's children that aren't the most academically gifted who will suddenly show a spark of confidence teachers haven't seen before, and come to the front of the class and do something that they've never had the opportunity to do. During lockdown, a lot of children missed school productions and assemblies, and they've also missed out on that confidence-building that we take for granted as they go through the school year. Hopefully this is going some way to building that confidence back up – and playing together is a
big part of that.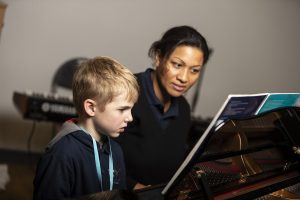 At the end of every term, schools will come together, and we will all play to each other. So in July, all the children will come and they will stand on a stage, and for many that's the first time they've ever stood on a stage. The teacher will be with them, they will perform, they will have to behave as an audience too, and appreciate somebody else's taste in music. It's certainly something of a celebration at the end of the term for them to be able to show what they've achieved, and be proud of what they've accomplished. And if they find they really like it, they can go on to play with others at the Saturday sessions at Peterborough Centre for Young Musicians (PCYM), which is also run by Peterborough Music Hub.
How does the experience change them?
Often, it taps into a side of creativity that they didn't know they had. And hopefully it takes the mystery out of music. Unfortunately, some of these TV programmes like X Factor, give people the idea there's a quick fix to becoming famous. But playing an instrument instills a lot of self-discipline, and you only have to look at the statistics about children who play an instrument and their educational outcome to see the wider benefits. That's why Music Hub is there – to provide music for all children, regardless of circumstances or background. And that's certainly why I'm there, to make sure that children who would never normally pick up an instrument get that opportunity. It's not necessarily to create the best musicians in the world, although there will be some who go on to excel at it; it's for them to have a real sense of confidence and pride about themselves and think 'I'm good at this…' That's 100% the reason that I do the job. It's just that first moment when they're in their own world, playing and just loving it, and you can see in their eyes that they just haven't got a care in the world. And it's wonderful to see what they achieve. From week one to week 10, the blossoming and the progression is quite something.
Peterborough Music Hub is Recruiting!
We are recruiting music teachers to work on a self-employed basis from September 2022.
We welcome applications from all areas of specialism, including music technology.
Work may include individual/ group tuition as well as whole-class instrumental teaching.
We are looking for creative and committed teachers who are able to demonstrate a high level of proficiency in music tuition. Previous teaching experience, good literacy and IT skills are essential, as is a commitment to reflective practice and professional development.
Attractive rates of pay in line with the MU
Peterborough City Council Enhanced DBS checks
Safeguarding training provided
PD and progressional development
opportunities
Supportive network of colleagues
Leave a Reply