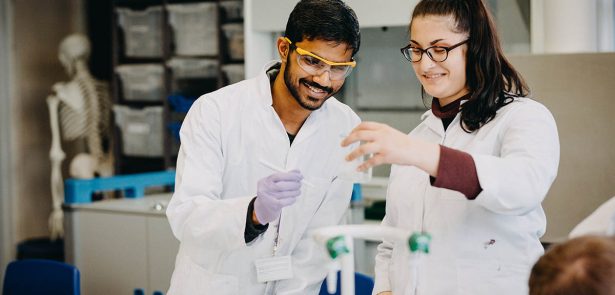 Peterborough College and Stamford College have been on a recruitment drive to attract new teaching staff to their vocational FE courses – and if you're an industry professional looking for a change, a challenge, or a chance to make a difference, this could be for you. We talked to project manager Kim Cooke to find out more.
Can you tell us about the recruitment project and how it came about?
This whole project is about capacity building for Inspire Education Group (IEG) – that's the education group that encompasses Stamford College, Peterborough College and University Centre Peterborough. I worked at Peterborough College from 2002 to 2006, so it's really good to come back and help manage the capacity building project. Essentially, the Cambridgeshire and Peterborough Combined Authority awarded IEG funding to promote innovative ways to recruit technical staff and attract industry experts to work in further education, and all of the activities, campaigns and events that are growing out of this project and planned over the next six months are being funded by their adult education budget. We were very lucky to get that. But IEG wrote a bid, they were successful – and here I am!
What were you doing prior to this?
I've spent 22 years in education and skills, and I've taught in every college locally. I've been a head teacher at a pupil referral unit where all the pupils are excluded from school. And then, for two and a half years I wrote stage one of the University of Peterborough project. So, I'm a qualified further education teacher, but also massively interested in, and passionate about, running big projects – and generally my projects are capital builds, but I have also worked extensively in further education (FE) within a variety of roles and know the industry very well. So, when this project went live, I said yes, without hesitation.
What's different about this project?
With many employers and businesses, including the FE sector, struggling to recruit skilled experts, both Stamford and Peterborough Colleges decided to tackle this issue by thinking outside the box and developing innovative and creative ways to recruit staff. What I've learned over the last few years is that the pandemic's had a huge influence on what people want to do, and while there certainly are opportunities in education, some of the potential new teaching staff who are applying to teach or to find out more about FE are saying 'Actually, I don't think that works for my lifestyle…'. So, we're getting a bit of pushback – partly, I think, from the last two years of people reflecting, evaluating, and thinking about what they really want to do and their work/life balance. But, actually for me, teaching in FE was the work/life balance; I was able to bring up three children, have 9 weeks holiday, and progress within teaching and deliver learning. Not to mention the added bonus of job security and a good pension. Further education is a wonderful place to be. It's really rewarding working with young adults and can be incredibly flexible – but this project is about making that work for our next generation of teachers and getting the message of that opportunity across to them. This project gives us the brief to be creative and innovative, and the first phase of the campaign is called Teach Your Trade, with other events and campaigns to follow.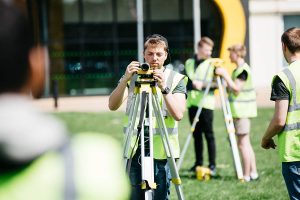 What's the main aim?
It's all about attracting industry experts into the classroom. Can we compete with a plumber who earns £70-80K a year? No – but actually, we don't even want to compete with that. People come into teaching to transfer their knowledge and their skills for a host of reasons other than monetary ones. It's about giving something back and making a difference, sharing your knowledge and experience and in this last couple of years people's thinking has definitely shifted towards that. People also want to spend more time with their family, and that's what teaching or teaching in FE gives you. It also gives you a career, job prospects and progression routes; it offers opportunities to learn, grow and develop and much, much more.
What kind of response have you had so far?
Teach Your Trade was launched at the end of February, and we ran two recruitment campaigns, one in Stamford, and one in Peterborough. And although the recruitment events weren't attended in great numbers, the people who did come through the door were spot on. You don't need 30 people to turn up if those who attend are the right people. Those we had through the door at Stamford all came with teaching qualifications, and had been thinking about teaching within their career over the last 10 years. So, we welcomed them with open arms! It was slightly different in Peterborough; of the eight people we had, one or two had teaching qualifications, but most were straight from industry, wanting to get into teaching carpentry, bricklaying and engineering – all of the trades where we had the skills gaps. So that was incredible, that we could get eight people through the door and be able to look at placing all of them on different teaching and support programmes. It may be that they don't all go straight into teaching – it may be entering the teaching and learning route as a technician, an assessor or working as learning support – but it puts them on a career pathway that allows them to progress at their own pace through various qualifications, courses and programmes including their teaching qualifications.
The other thing that has happened, two years on having come through this pandemic, is that learning and delivering knowledge is changing. It's much more about digital skills, and one of the project strands I'm working on is about emerging technologies. Online learning became a necessity to keep courses going, to keep students on their learning journey and deliver learning in innovative ways embracing technologies and digital skills to succeed in a changing market. It gives us choices for future delivery as blended/hybrid learning becomes more common place within curricula.
What kinds of people are you looking for?
We're looking for a well-rounded person. They've got to be an excellent communicator. They've got to be organised. They have got to be confident and passionate about sharing their skills and knowledge with the next generation of workers. Although this may seem daunting, one thing I really want to get across is that we are here to train and support them through the next steps. As I said, from our initial campaigns we received about 18 enquiries, and the amazing thing is that everybody who came through the door is someone we can work with. But that's just the start of their journey.
Essentially, they fall into different categories. There are people that we can work with straight away, who have teaching qualifications and can start as lecturers. Then there are people maybe not ready to be a lecturer right away, but perhaps a technician or an assessor in those skilled areas – and we've got job vacancies for those. We work with them at their pace, supporting them if they want to progress. Then there's also a group of people who may come forward who we don't have vacancies for at the moment; therefore, it's important to keep communicating with them and offer introductory to FE teaching programmes.
What we're currently offering those that are ready to start is a kind of work trial, work shadowing and also masterclass opportunity, and this is helping to keep our teaching up to date and industry relevant, because the new people coming in from trade actually support the updating of our existing lecturers. A real-life example of this happened at Stamford, with a potential new staff member arranging to talk to students about charging and servicing electric cars. Existing tutors learn new processes and practices from industry experts entering the world of further education teaching. This knowledge transfer is key to keeping courses relevant and up to date and forms part of our existing staff members' continued professional development (CPD).
For those that are interested, but who we maybe can't accommodate right now, we're organising an Introduction to FE Teaching programme. That will run one evening a term or more frequently, as interested people keep contacting me, so we can gather a group of people and have an informal chat about the world of FE. We want to keep those people involved, because we don't know what vacancies are going to be coming up and when new courses are coming on stream due to increase in student demand. We need to ensure that everyone is fully supported – and the support package is so important. So, when you get started we will offer you a subject mentor, or a buddy. We will also offer you the support of a Quality Teaching and Learning Lead. The reality is, this project enables us to create innovative and engaging teacher training programmes and gives us the opportunity to nurture these new staff members and to develop our own.
How do people know that their expertise and experience is something that you'll want?
I'm so pleased you asked me this question… I've just had an experience that demonstrates this. There is another scheme we're running called Turning Point Internship. A potential new staff member has been assigned to this programme who is at a turning point in her career, and has been thinking about going into teaching. But she asked 'What do I teach?' I asked her to send me her CV, and it turned out she had spent 20 years in a commercial business environment (sales and marketing). So, straight away, I'm thinking 'You're a business tutor'. And then when you read further, over the last few years she has run her own photography business. So, I'm also thinking 'Media/Photography'… And on this particular programme that we are piloting in collaboration with Growth Works with Skills, which is funded by the Cambridgeshire and Peterborough Combined Authority, she has the opportunity to work with the college, on a 12-week, paid work placement. It's full-time, and she'll do a full induction, she'll meet her subject coach, she'll meet her teaching and learning mentor. She'll also study Level 2 digital skills qualifications, because as I've said, a lot of classroom delivery is through blended learning approaches – a mix of face-to-face and online.
When she's completed this course, she may decide she doesn't want to be an FE lecturer, but perhaps a student mentor, or a quality assessor, or someone who works in exams – because that's the other thing that people don't appreciate when you think about FE colleges; we have a whole host of job opportunities and vacancies from office, admin, quality, exams invigilators, data coordinators, estates and facilities roles, to name but a few. And if you're in the further education college environment on a programme such as the Turning Point Internship you could actually work in the business department, then go and work in the media and photography department, then maybe move on to student services – so, you can actually give yourself a variety of different opportunities.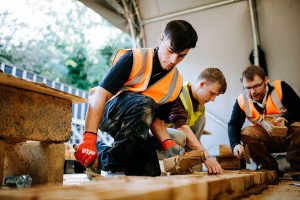 What's next?
Well, we've got various campaigns moving forward. As I mentioned, we've got Teach Your Trade, we've got Turning Point, as well as Introduction to Teaching. And then after Easter, I'm starting the Share Skills, Transform Lives campaign. This is really an expansion of Teach Your Trade, because so many people came forward from other vocational areas. So, that's about widening the recruitment events to other curriculum areas and vocational sectors. And then a big project I'm working on for May/ June is Diversity in Construction. That doesn't just mean women, but also ethnic groups. Then our big event in June is called What's New in Industry: Green Skills and Emerging Technologies. That will be a CPD event for new and existing staff, as well as an employer engagement, business-focussed event to find out what is new in industry within green skills and emerging technologies. Stamford College are having a brand-new construction centre opening in May, and at Peterborough, we have put in place plans to develop a Centre for Green Technology where we can start developing classroom delivery in a different way and deliver the skills of the future. This is all supporting the construction industry while training students and staff to work towards a Net Zero carbon agenda, to tackle climate change. I've also got a careers event for attracting and working with ex-service personnel – people that have been in the Army, Navy and the RAF, who often make brilliant instructors and teachers due to their disciplined and orderly approaches as well as their wealth of technical skills knowledge gained on the day job. We want more people to be attracted to working in the FE sector – and also to help keep these valuable skills in the local area to support economic growth and community regeneration.
Work in FE – you know you want to!
For more information call Kim on 07960 621 923
IEG.AC.UK
PETERBOROUGH.AC.UK
STAMFORD.AC.UK
"The Teach Your Trade events at both Stamford and Peterborough College have far exceeded our initial expectations. The overall response to the call to arms from our local and regional tradespeople has been tremendous. It just goes to show that, with everything that has happened with the pandemic, our local tradespeople are keen and are exploring and engaging with us about a possible career change. We have already had a number of tradespeople taking up new roles within the organisation and we are excited about our future planned dates and further talks with our local industry experts. Our supported teaching programmes and mentors are already working with some of our new staff and supporting their transition. Our local industry experts bring a wealth of knowledge and experience and will certainly add value to the organisation especially in the different trade departments. Overall it's been a fantastic start to a new initiative for the Inspire Education Group."
Gary McPartland
Assistant Principal-Curriculum (Study Programmes/T Levels)
IEG Group
Leave a Reply