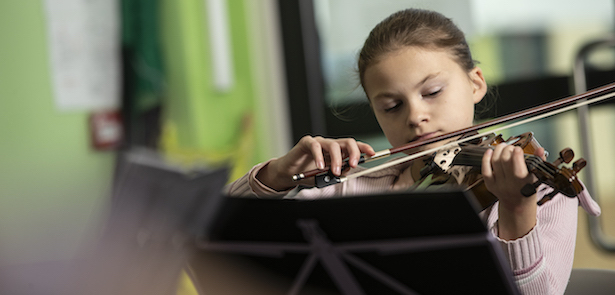 Along with the rest of the country, the Peterborough Centre for Young Musicians (PCYM) had to close its physical doors to students during lockdown. This was not the end of the story though, with the music living on through new and exciting avenues. With the new term, PCYM will be continuing to teach, entertain and inspire young people through music and musicianship – online at first, with a return to PCYM's full Saturday music sessions at Ormiston Bushfield Academy in coronavirus-safe conditions as circumstances permit, hopefully after half term. The pandemic has shown just how much music matters to us, with people singing and playing from windows and balconies and sharing virtual performances worldwide – so this issue, in anticipation of the long-awaited return we decided to look back at all the inspiring PCYM people we have spoken to over the years, and find out what music means to them and why PCYM matters.
The parent's view: more than just a music lesson
Back in January, before coronavirus hit, we spoke to Joanna Cadman – a parent of two children attending Saturday classes – about the PCYM experience, how it has changed them and why it is much more than just learning an instrument…
How did you first get involved with PCYM's Saturday music classes?
My son Edward is ten and he started with the Music Hub on the Saturday mornings at PCYM just over two years ago now. He had just started playing the clarinet through school and we wanted something else for him to expand into. And so we contacted PCYM. That was our first experience – and it was such a good one that we decided to continue with them. Now our daughter Olivia, who is six, has started taking violin lessons with them as well, having already done Music Starts Here with them.
Was that first session also the first time she'd actually got her hands on a violin?
Yes! She is quite small for her age as well, so for that lesson they had to organize quite a small violin – she's on an eighth size violin. So, you know they have really gone out of their way for her, but they're brilliant like that. She came away absolutely loving everything she'd done, and couldn't wait to get home and get it out and show everybody – show her dad, show her brother, tell all her friends about it at school. And the teacher that she's got, Leon, was just great with her as well. He really instilled in her that she has to do a little bit of practice, but also understands the need to have fun. So, she absolutely loved it. And she's still like that. She still comes away bouncing. She skips in and she skips out!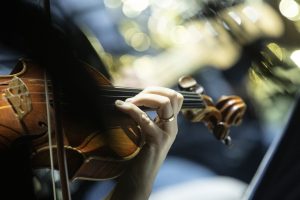 It's a large group of new people – was that daunting for either of them?
No, not at all – and it's interesting because they both take something else from it, certainly our youngest, Olivia. Both of her sessions are actually next door to each other, so she comes out of one and she goes straight into the next one. The teacher stands there and points them in the right direction, but once it's been a couple of weeks they know what they're doing, and they're doing it for themselves. They make friends really quickly as well. The teachers are great for that, doing little games at the beginning so they get to know each other. Edward, who is now 10 going on 11, loves it, because we just drop him off and he does his own thing, and that's his first bit of independence. He's got to go from room to room, he's got to pick up all his stuff. That's exactly what he's going to get next year when he goes up to secondary school, but he loves the fact that he's doing all that a year early.
Have they made friends through those sessions?
Yes, both of them have – in fact, Olivia has now made a couple of friends in her sessions who she sees outside of PCYM. Edward's made friends there, too – and across the age ranges as well, because it's not just nine and ten-year-olds that he hangs out with. They are in mixed groups according to their ability for their instruments, rather than age, so he's actually made friends across the board. And it's lovely to see because he goes in and he'd be hanging out with some slightly older girls and some slightly younger boys, and they're all talking about the same thing. It's a fabulous leveller, it really is.
Does it also introduce a little bit of healthy competition, having mixed ages?
When Edward started he had very little experience – he'd been playing the clarinet for only about three months. Now he's like an old hand! But there was somebody that came into his particular group recently who, although they were a lower grade than him, they had a different skill. They had always played in groups, where there was a lot of counting involved and they were actually a lot better than him at that. And it really took him back a little bit, you know – he came away saying 'Wow, I've really got to work on this…' It's done in a really nice way, but it does give them something to think about. They like to work towards things as well, such as when they do performances. Edward was involved in the Peterborough Cathedral performance for the Moon exhibition, and when there's a performance coming up he often comes away saying 'I want to do my best… Can I do a bit of extra practice?' That really gives them an insight into other areas and other opportunities.
How did he respond to performing in Peterborough Cathedral? That must be a bit scary!
That was a lightbulb moment for him. He came away from that with such a buzz. He was nervous going into it, no doubt about it – that was the first time he'd actually played in an orchestra with everybody around him – but just sitting up there with everybody else in the group, with all of your friends, makes it less scary in the first place, because everybody is in it together. And afterwards he said: 'I get it… I really understand why people enjoy performing.' He said it was just one of the best things he'd ever done. He's never looked back from then. It has given him a degree of confidence that's palpable. You know, you can really see him growing, and it's so great to see that.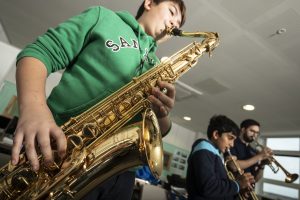 Would you say it's changed him in ways beyond just his musical ability?
Yes, we've definitely noticed a level of confidence in Edward that he didn't have before. And also wider knowledge because they do those three elements, you know – the singing, the music theory and the ensemble group playing. We've actually found his knowledge across the board has improved so much that he's more confident taking things on outside of PCYM. At school he's just done a reading in front of everyone, which two years ago I'd never have thought he could have done. It gives him that level of confidence more than anything. Plus he's got a whole set of friends who are outside of school, which makes him realize that his music is something that can be long-term and not just something that's going to happen until 18 and then stop.
What's the next step for him?
We're hoping that our next step is going to be for him to take part in Peterborough Youth Orchestra. I think their youngest is nine, but they go all the way up to the 18-year-olds. He seems to relate to children across all the ages, and I guess it just comes back to music being something they all have in common and that they are all passionate about.
What would you say to parents who are considering it?
We're constantly trying to sell it to people because we just completely believe in it. We just try and tell them how wonderful they are, how accommodating they are, about the level of expertise they bring in as well – not only with their own teachers but the musicians they have coming up from the Guildhall. The students coming from there, you know… they aspire! You don't get that in school or other places. They really do bring in some expertise that wouldn't be accessible in any other way. And going down to the opera in London recently, as well, that provides them with more than just a music lesson. They're actually giving them such a wide breadth of different experiences. We're just keen to stress that for us as a family it's been absolutely amazing. You know, they're supportive, they're friendly, they're helpful, it's pitched at the right level… Olivia just thinks everybody should go along to PCYM because you get so much out of it. The whole thing is done in such a fun way, I don't think they actually realise that they are learning!
---
The teachers' view: why is music important?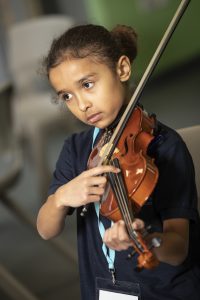 Rachel Moorhouse, SLE and Music Coordinator at William Law Church of England Primary School:
'I often get asked about it because it's under pressure in the curriculum at the moment, but there is a lot of research out there showing that music can help educate a child in a variety of different ways, right across the curriculum. It's a way of expressing ourselves, it's a way of gaining confidence, it's a way of creating a whole human being – and we have to give them the opportunity to be creative. But also I think one of the underlying things is simply that music is fun. It is a curriculum subject and every school should do it, but children learn through having fun, so it's education through enjoyment. If you have a happy child, they will learn more.
'If you think about life in general, we are surrounded by music, and while most children may not go on to play in an orchestra or be a pop star – although we've had people from William Law who have gone on to play in orchestras – there are lots of different entry levels for music. Someone has to be the foley artist on a film, or create music for adverts, or for apps. It's all around us all the time. And it doesn't have to be part of a career to be worthwhile, either; joining a choir and going out singing in later life is a fantastic stress relief and gets you to meet other people socially. So, it's all about creating a well rounded, happy human being.'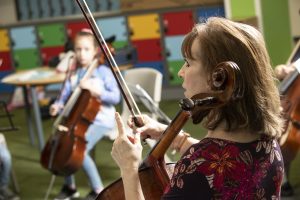 Diane Roberts, Music Coordinator at Woodston Primary School:
"Music is just amazing for self worth and confidence. Also being part of a team – because there are three group activities: 74 children in the choir, a 15-piece woodwind and brass ensemble, and an eight-piece string ensemble. I think it's just brilliant for the rhythm side and for counting; a lot of mathematicians are also musicians and it's quite common for musicians to excel in those subjects. Also, there's a need to go home and practice, so it's good for timekeeping and being responsible – both in relation to the practice itself but also looking after their instruments. Plus, especially with singing, it just makes them feel good! They could have had a rubbish morning, but have a good sing-song and the endorphins get going! We have a lot of non-native English speakers, but music is like a common language, so it brings everyone to the same level. Even autistic children are often happy to come to the front and sing.
"I think one of the highlights, which I've introduced during my teaching, has been the Young Voices experience. To see children walk into a massive arena with live music and famous people singing, like Tony Hadley or Stacey Solomon, and for them to become part of it – the excitement is just wonderful. But there are the smaller things too. Just today we had an assembly at school and we have a little boy – who started two years ago and who would not speak to anybody – who sang a solo in front of the school. Moments like that are incredible."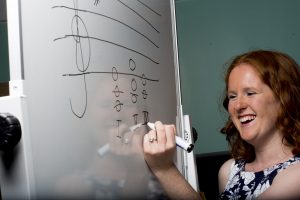 Kirsten Goldthorp, PCYM Centre Manager:
"It's a chance to meet people who share that love of music, rather than just those who happen to be at your local school. That means people from different backgrounds, different cultures, and with different musical interests. I know students who have met up in the school holidays to make music together and attend festivals together, so it definitely creates lasting bonds and friendships. There's also good research to show that children who learn music properly will gain a year in their academic studies compared to those who don't. There are wellbeing benefits, too, with singing releasing endorphins which gives students not only enjoyment but focused downtime, so they're not simply stressing over exams."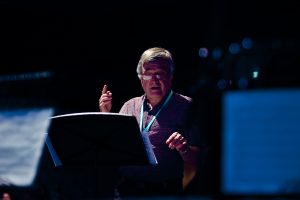 Martin Bright, composer and PCYM teacher:
"One of the things that Kirsten Goldthorp has done at PCYM is that she has staffed it with professional players who have a wide range of experience and skills, so the students are working with real musicians. I think that's a really big benefit, and perhaps one of the reasons why it's picking up so well. The way we work, is fun. But it's also a proper professional style environment, so they get to see the way it is for real. And it's the little things, sometimes. In a professional rehearsal environment, if somebody is being directed and the others aren't being asked to play, they're not talking or playing their instruments, they're sitting quietly listening. And we do that too. We run it the same way with the little ones as you would with a professional orchestra. It's about expectations, and because we hone them at that early age they see how it really is. And there are so many personal skills that music – and ensemble playing especially – contributes to. I can certainly see how the members of my ensembles have come on in leaps and bounds in terms of social skills, as well as musical skills. They make new friends with common interests outside of school. But giving them that additional musical experience on a Saturday will bring them on in school as well."
---
Keeping the rhythm going…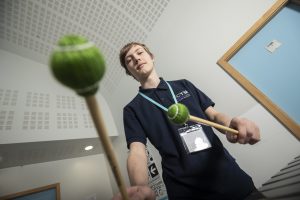 Despite the break in face-to-face teaching, instrument lessons have continued for the majority with lessons taking place online via video link. It allows students to continue with face-to-face learning with their teacher and keep a routine of learning and progressing. Whilst a steep learning curve for parents and teachers alike, the response has been hugely positive. One parent stated: 'That was brilliant! We thought it worked really well, happy for teaching his online lessons to continue!'
It's not just online lessons that have taken place though. Ensembles, singing and musicianship have all continued with challenges and activities shared with students, and feedback readily available. A vast array of online resources has been compiled and shared with all, to give limitless ideas for music making at home. Even some music grade exams have taken place via video! Teachers have created a forum to share and be inspired by sharing music that means something to them and discussing their love of different genres and styles. Many are spending the time at home creating new music, learning new instruments and dedicating time to some good old fashioned practice!
"I love music and it's been my dream to learn to play piano and violin pretty much for my whole adult life. As a child I never realized I had an interest in playing instruments unfortunately. I started learning a bit of violin before lockdown when my daughters started taking lessons. During lockdown I have gone through the entire book 1 and am progressing very quickly. I can't put the violin down. And in between I am leaning a piece of music on the keyboard too. I am thoroughly enjoying lockdown because it is giving me the opportunity to let my dreams come true!"
– Anna, Parent of two PCYM Students
"I grew up playing music, listening to music and going to classical and jazz concerts. It was a strong connection between me and my late father — especially jazz. I went on to study music and then play professionally for many years. I now focus on teaching individuals and ensembles, which I hugely enjoy. At the beginning of the lockdown I had a list of arrangements and compositions I wanted to work on. I have been spending much time at my piano working on these. I have no idea when I will get to hear them come to life in ensembles – but it is something to look forward to. I was amazed to find that it was okay to teach my saxophone and oboe students online. Technology is not my thing – hence the many hours with manuscript paper and pen instead of a computer. However, I've yet to figure out how to make a video longer than a minute for Instagram! As a family together all of the time we listen to all the varying musical tastes. We have CDs, YouTube and radio as well as films and all that they contain. Music is all around us in its many styles. At this time the world has slowed down a bit, so perhaps while we feel we have more time, we can discover more of music we know and music we don't yet know. Of course, for our PCYM students there should be so much more opportunity to practise. Many of you have siblings (and parents) who are musical – some at PCYM with you and some involved in music elsewhere. Perhaps we could see some family groups making music …."
– Pauline, Teacher at PCYM
"I am a teacher at PCYM but I also perform music (difficult at the moment because orchestras and ensembles can't get together). So, as well as teaching my lessons online, I have been keeping up with my own family more than usual. One thing I have done is to video a song which all the children in my extended family can learn and sing. I think they have enjoyed spending a few minutes listening, singing along and even making up a new verse or two to 'Drunken Sailor' or drawing a picture to do with the song. Yesterday, my little niece sent a video of herself playing the strings of the egg slicer from the kitchen. So I sent one back of me using the egg poaching cups from the egg poacher like coconut shells, to make the sound of horses' hooves! What other kitchen instruments can you find?"
– Kate, Teacher at PCYM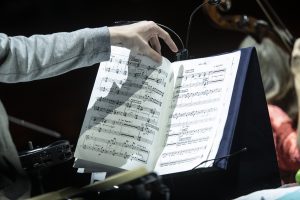 Of course we all look forward to meeting again in person to share the love and passion for music making together. When things return to normal PCYM will continue to welcome new students age 5-18 on any instrument and of any standard (beginner to grade 8+) to come along for a free trial and find out more.
Contact if your child is interested in finding out more about making music at PCYM either during or after the lockdown.
---
First steps on a musical journey
PCYM is a division of the Guildhall School of Music & Drama and its links with the world-renowned conservatoire provides wonderful opportunities for members looking to attend further training and enter professional music careers. When possible – coronavirus notwithstanding – the Centre operates out of Ormiston Bushfield Academy in Orton on Saturday mornings during term time. The Centre – opened in October 2016 – provides sessions for the city's young musicians, aged 5-18. It works with junior and senior level wind, brass, piano, guitar, percussion and singing ensembles, as well as special classes for very young players.
For further details, visit www.pcym.org.uk
Leave a Reply