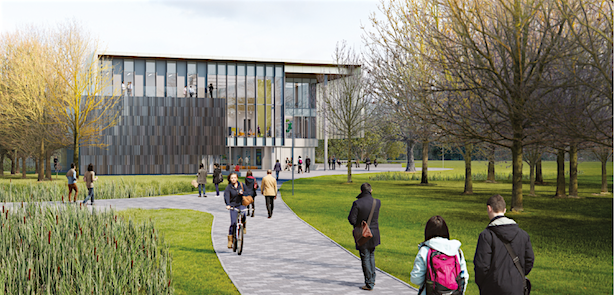 ARU Peterborough is approaching a pivotal milestone in the development of the new University. Due to open its doors to the first student intake in September 2022, it is now busy creating a distinctive offering in what has long been a cold spot for progression to higher education, engaging with local employers, further education stakeholders, prospective students and schools to create a relevant, employability-focused, tech savvy, innovative curriculum. The Moment discussed progress with Fiona McGonigle, Business Engagement and Innovation Lead for ARU Peterborough.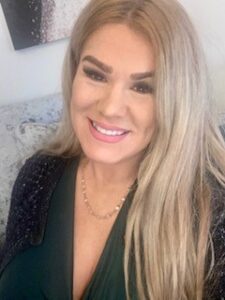 Creating a new university from scratch is a huge task. How do you approach that, and what is your own role within that process?
I worked at the Combined Authority up until recently, who were developing the university project for just over two years before I joined Anglia Ruskin University (ARU) in November 2020. Therefore, I've been very familiar with this project and the ambitions to deliver a university for Peterborough. I was responsible for skills and careers education and was at the forefront of being aware of what was coming via policy meetings with the Department for Education, and new initiatives I was involved in developing and launching. I'm bringing that experience to ARU Peterborough, as the Business Engagement and Innovation Lead with strong links with business, the Further Education (FE) and skills sector, regional and national partners. We have a dedicated team led by the inaugural Principal, Professor Ross Renton, with extensive support and expertise from the wider team at ARU. As many are probably aware, ARU has a strong presence in Cambridge and Chelmsford, and a campus in London, but they have had a smaller footprint in Peterborough. The faculty of Health, Education Medicine and Social Care, based at Guild House on Oundle Road, has an excellent reputation, but we need to build on their success across other sectors. I've worked extensively in the skills and Further Education sector for over 12 years – I used to work for an FE college, I worked for the LEP and then the Combined Authority – therefore I am keen to bring in that FE element to make it a more expanded and collaborative offer from our FE sector, connecting to the multiple programmes, such as T Levels and retraining programmes. Traditionally, Higher Education (HE) can be quite separate from what's happening in the FE sector and we want to alter that. I want us to be the place where the likes of Oatly, who have recently announced they are opening their first UK factory in Peterborough, and other companies relocating or building new sites here come to for their skills needs.
Creating a new university really starts with an idea of what that university ought to be. How do you arrive at that vision – and has the pandemic had an impact on it?
It is predicted that the pandemic will cause fundamental changes in the labour market. Potentially there could be significantly higher rates of unemployed, which will mean people will be looking to change career. The education and training landscape has changed, especially with regard to adult participation. Apprenticeships have also slowed because many businesses will be focusing on surviving the impact of the pandemic. We want to support businesses to do some horizon scanning, to look beyond the skills they need now and consider what types of skills they need in the future. Those people who need to change careers may need a new qualification, therefore might look to top up with CPD or a degree. There may be employees within companies who are feeling a bit uncertain, who maybe want to move into managerial positions or into something that gives them that extra string to their bow. What we're hearing when we're hosting Sector Interest Groups is businesses want all-rounders – people who are flexible and can come in with multiple skills, as opposed to just the job that they were hired to do. We're all expected now to be a lot more agile, therefore we're keen to be a university that hears that and responds to it. Many of the businesses we're talking to are thinking ahead and realise they need to address their skills shortages now. I spoke to a couple of companies at our recent engineering Sector Interest Group who are going to make sure their adverts to attract talent include our entry criteria for certain types of qualifications, linked with the university, so that they can go straight into doing a degree or degree apprenticeship, which is brilliant. It's great to know that when we open our doors in 18 months, we have this commitment from businesses who are eager to upskill their workforce. Universities are also known for spin-off startups, and we want to cultivate that as well – to incubate some of those ideas and businesses that are just starting off on their journeys. We have a hashtag we're using which is #BeTheFirst. That can mean a few things. Be the first student at the university. Be the first business to invest in your talent and draw skills from the university. Be the first in your family. We want to reach out to a community of people who would never think of going to university. Because ARU Peterborough will be on their doorstep, we hope it will encourage more people to believe it is within their reach. There's a lot of work to do to achieve this, but a big part of my role will be speaking to businesses and community groups such as Peterborough Citizens UK to reach people who are not necessarily connected with a school, college or business. We want to show our doors are wide open and we want to offer life chances to all. If we can ignite something in people who wouldn't have considered going to university before, to show it's possible, that would be truly fantastic.
You've said that the skills base to the curriculum is targeting those who are unemployed or underemployed. Does that mean there will be a more mature (i.e. older) student body?
We will be supporting several routes to apply to ARU Peterborough, to reach different groups, including those who have been economically affected by the pandemic. There's the familiar route of students coming in from the local schools, after their A levels. Staying local is something that makes that attractive – there's none of the expense of moving away from home, which will be in the mindset of a lot of people. We're also working very closely with schools and colleges. We've recently held an event for schools and FE colleges looking at the courses we're currently developing. It's vital that schools and colleges are on board and believe in what we are offering, as they play an important role in recommending future opportunities to their students. The student body will also include employees who want to upskill, retrain, and move up the ladder to a better paid job. This could be through a degree apprenticeship, a traditional degree or CPD. It will also include individuals who might be employed, perhaps doing part time jobs, or they could be a mum or dad at home – we are giving them a stepping stone. There will be multiple pathways to join ARU Peterborough and we're exploring all of them to power Peterborough's skills-led recovery post-pandemic.
The university you're describing is obviously very localised, very specific to Peterborough and its needs – but how does that localisation translate into attracting new talent to Peterborough?
I don't see boundaries with businesses, and it is the same for a university. This is a university for the region. St Neots, Fenland, and Huntingdon are all Higher Education cold spots, and it's a lot easier to get to Peterborough from many of these places than Cambridge, so it's likely to be more accessible. Peterborough has also been fortunate with recent announcements that companies will be relocating here, and my role involves speaking with them. In fact, Oatly was announced in March a couple of weeks ago. The name of the company had been under wraps, but I had already been in discussions with the Integrated Food Projects team helping Oatly move to Peterborough before I even knew who it was! They've been very supportive of our curriculum design process, because that team will also be recruiting from the Peterborough area. The team at the new McCormick factory and innovation centre at Peterborough Gateway in Peterborough, have also been brilliant to work with and have contributed greatly to our course developments. Many of their senior team have been involved in different Sector Interest Groups, as their areas of interest spans several of our courses. Large employers such as Caterpillar Perkins have also been fully involved in the course design process. We have been very fortunate to have ongoing input from their senior team and engineers, as well as discussions about Caterpillar Foundation and how ARU Peterborough can get involved. ARU Peterborough has a role to play in attracting those and many other businesses and then creating the talent and retaining the talent in the area to increase the higher skilled population locally. As we expand out, we'll be seen as a university that people from the wider region make their first-choice university. The first thing a company will ask our inward investment teams are: 'What's the local labour market like for attracting the employees we need? What are the skills available? Are the FE and HE institutions well placed to support our needs?' I have been part of those conversations, to ensure we meet those demands. We won't be able to create progression from colleges and schools to the university if we don't appropriately align what they are doing, so we're working with them. That's the exciting part, making sure that people can see that there's progression, there's access, and there's availability of jobs at the end of it. We will be an employment-focused university, and we want as many of our graduates to be landing jobs straight away. Therefore, having strong links and relationships with businesses across the region is paramount to realising that ambition.
In a sense, this university is being set up like a company, looking at the local needs but also the broader market and the potential for future growth. Is it fair to say this also helps it to avoid duplication and instead to complement other educational establishments that are already here?
That's totally fair, because that's what we are setting out to achieve. We want to ensure we're putting a curriculum together that has elements unique to Peterborough and the surrounding region. Many of the courses that we're developing are new to ARU. For example, agri-tech isn't taught at any of our other campuses. We've had to do a lot more work on these new courses, particularly to understand what the demand is, hence the Sector Interest Groups that we've been hosting for the last couple of months. Brexit will also be a factor in attracting new employees into certain sectors. In the agri-tech sector, for example, there's likely to be a slowdown of talent from the continent, so it's important that this region grows its own talent. That's why we will be at the forefront of speaking to businesses that may be affected by these changes. I've seen examples over the years of people that have come from the EU, working in sectors such as hospitality needing additional qualifications, as a university we can help them upskill to get a higher paid job. Therefore, it's about working well with what we've got, but also ensuring we focus on young people coming from schools and colleges, working with teachers, educators, and careers advisors to promote the 'careers of the future'. In some of the really exciting growth sectors, the types of careers available are not widely known about. Robust and readily available sector careers guidance, instead of the traditional schools' careers advisors, will play a really important role in this.
In terms of a curriculum and syllabus, what stage are things at right now?
We are currently in the midst of what's called CDI, which is Course Design Intensive, and the word intensive is true to the name! This is going to be one of the fastest opening universities in the UK, as we're going to be delivering it in less than two years. We kicked it off with the business and education roundtables in January for awareness raising, and buy-in from local businesses, education, and member organisations. We set up five Sector Interest Groups in Engineering, Data and Analytical Science, Agritech and Sustainability, Gaming, and Business and Management with Entrepreneurship and Innovation. We had over 70 businesses and stakeholders contributing to these sets of Sector Interest Groups, giving their thoughts on the potential curriculum, and their valuable industry knowledge as co-creators. We took their feedback where the course leads added some additions to modules and after three weeks, invited the SIGs again and presented them with a 'you said, we did' for further input. The soft skills conversation comes up a lot, as does digital transformation and artificial intelligence. We'll ensure that we have those as modules that students can choose. We've had really positive feedback from businesses, stakeholders and course leads. It's been an interesting and exciting process to be part of and we are keen to continue this level of industry engagement.
Is there a point that you're looking forward to when you will think 'Job done…'?
In some projects it can be difficult to measure success if there aren't tangible outcomes. ARU Peterborough will be very different. I look forward to seeing the rich talent we attract and retain in the area. That moment will really come in 2025, when the first cohort of graduates go into jobs. There is also the creation of a new network that will bring business, FE, HE and partners together. The success of this will be measured through the engagement and opportunities that this network creates for ARU, in areas such as talent, innovation, and research. It will also give those who are part of the network the opportunity to collaborate and be part of the region's driving force on improving skills. That's the bit I'm excited to see happening – being able to say 'Do you remember that time I had a conversation with you when you said you needed graduates or apprentices, because you've got a changing workforce? And now look – you've got a culture of graduates and apprentices coming through your business…' These businesses have been part of the journey with us, at the end of the journey there's talent, there are enhanced skills, the businesses can become more productive, they can grow, and the graduates going into those businesses can get good quality jobs. It's about seeing our economy grow and Peterborough becoming a rich city, culturally and economically. It's not seen as this thriving city in comparison to London or Cambridge, but with a university culture comes a student culture. This then generates talented graduates who find employment in local companies, put down roots here, and help to grow the local economy.
---
GET INVOLVED
ARU Peterborough will be launching a new network, connecting business, academia, schools, FE colleges, community groups, regional and national networks…. If you would like to be part of the network get in contact.
Be part of the discussion, #BeTheFirst – get in touch Fiona McGonigle:
---
THANKS FROM ARU
We would like to extend a huge thank you to all the businesses, education leaders and stakeholders who have contributed to the university course design and developments. Your industry knowledge and wealth of experience is greatly appreciated. We are thrilled in having you as part of our university journey, culture, and growing network.
Leave a Reply