V for Victory | Marshall Volvo of Peterborough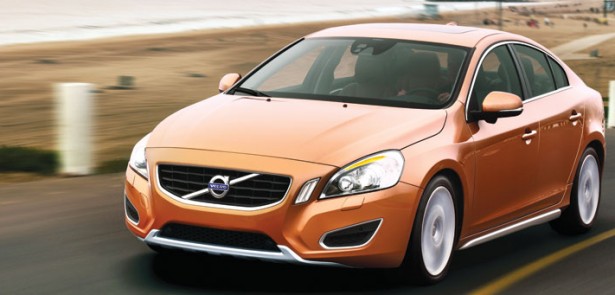 With its current range of exciting cars – such as the S60, V60 and V70 – and another one on the way, Volvo is changing. We talk to Peterborough's official dealer for the Swedish marque about these changes and about its own
Every dealer gets excited when the manufacturer it's linked with introduces a new car. Interest grows, publicity is increased and sales should improve. However, with manufacturers saturating every market this is often for cars that simply replace exiting models.
So imagine how Daniel Cooper, General Manager of Peterborough's Volvo dealership, Marshall, must be feeling. In less than 12 months the Swedish company will launch a brand new car in a market it hasn't been involved with for 15 years – a five-door family hatchback.
'It will be huge for Volvo' says Cooper excitedly. 'It hasn't been in this market for a long time.'
Yet to be unveiled or even named ('Although in my view' he says 'it will be the V40 since V for Volvo represents versatile') he was lucky enough to see a pre production model at Volvo's Gothenburg headquarters earlier in the year. 'It's absolutely stunning' he enthuses 'looking a little like a small V60.'

This new car will be the latest and perhaps most significant in Volvo's reincarnation. Once square, slab-sided and popular with accountants, the Swedish company is now producing good-looking and exciting cars, cars such as the C30 coupe, the recent XC60 SUV, last year's S60 saloon and V60 estate that went on sale earlier in 2011. 'Volvo has got away from the flat cap, pipe and slippers image' the dealership's Sales Controller, Andy Heftel says. 'Its now a really interesting and funky brand.'
Volvo hopes the new car will take the company much more into the mainstream, as Cooper explains. 'The last time Volvo had a hatchback – the 440 – the company sold 80,000 cars in the UK. We're doing about 35,000 at the moment. Volvo wants to push onto 60,000 next year and this new model will help them.'
As part of the Marshall Group – which has recently become Volvo's largest chain of dealers with six – it's clear Peterborough will be part of these ambitions. 'We will be extremely busy' says Cooper. 'We are gearing ourselves up already. We have four sales people plus Andy as the Sales Controller. We are ready for that influx as the business starts coming through.'
However, this wasn't always the case. The Swedish company's presence in the city has seen some major changes over the past decade, having had three different dealers in that time. Stability finally came in 2004 when Marshall took over.
'Volvo owners have had a lot to get used to over that period of time but we're stable now. Our customers are becoming a lot more aware of where we are.'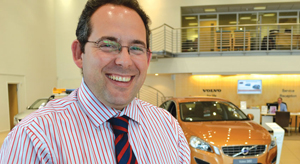 But even after the incumbent dealership took control, the Volvo side was left very much on its own and despite the new, exciting cars the company was starting to produce, Peterborough wasn't reaching its potential. And so 18 months ago Cooper was instated as the General Manager.
The same position he'd held for some time at Marshall Jaguar next door (he still does, running the two together) he brought with him a wealth of experience and has turned the dealership around.
'Because of my background with Jaguar and its high levels of customer service, we've geared what we now do at Volvo around that. And guess what? That's what people want. If you deliver the right level of service they will continue to deal with you. That's very important to me. I'm not in this business to sell one car. I want to sell you a car and then continue that relationship into servicing and beyond.'
Cooper has brought in new staff, including four sales people and Heftel – another Marshall long-term staff member – as his new Sales Controller. These changes weren't rocket science – the right people giving the right level of customer service – but it's working.
Our market share is above national average
'Our market share is now above national average' says Cooper proudly. 'The last 10 months we've turned this business around. We've done that by focus and by bringing the right people in. The sales structure has changed considerably over the past 12 months.'
The final piece of Cooper's restructuring jigsaw was recently appointing a highly experienced service manager and ensuring there's the same level of customer service here as in the sales department. In Cooper's view that starts with the initial phone call.
'The service reception has the hardest job. Their callers may have a car that's broken down, has an issue or they simply need to book a service. Most people won't know what we do for a service. All they see is an invoice.'
So what has Cooper introduced to make servicing easier for Volvo's customers?
'We'll either collect the car from their work or home or the customer can drop it off and drive away in a courtesy car. Alternatively they can stay here and use the free Wi-Fi for work or simply have a coffee and read the paper. And whilst they're here our sales staff can – if the customer wants – show them the new range. The differences between a modern Volvo and a four-year old example are huge.'
So with an enthusiastic General Manager, a new sales team, an experienced service manager plus an exciting new model to show once and for all the brand has changed, Marshall Volvo of Peterborough's future looks set to be V. exciting.
[youtube=https://www.youtube.com/watch?v=4ouLiD9x1os&w=615&h=415]
Marshall Volvo of Peterborough
Volvo House, 7 Mallory Road, Peterborough, Cambridgeshire, PE1 5AU
Sales: 0844 3349487
Service: 0844 5437848
www.marshallweb.co.uk
Leave a Reply