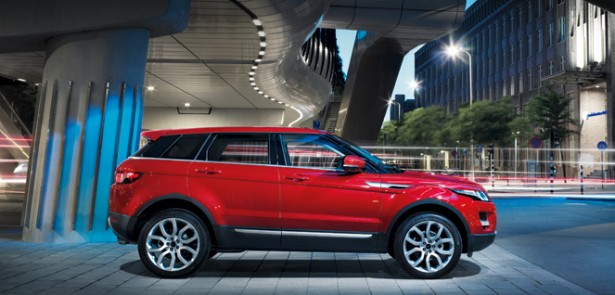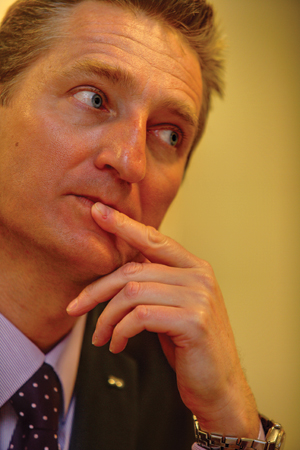 There's a definite sense of excitement at Marshall Land Rover, Peterborough's sole approved dealership of the famous 4×4 manufacturer. But according to its General Manager, Phil Lucas, the reason is simple. 'It's because of the forthcoming Range Rover Evoque' he says. 'Low and sleek, it's unlike any other car the company has produced before. And, with it being smaller and lighter than previous models, it will offer class leading running costs. Put these together and you have a winning combination.'
As a result, the car is causing a great deal of interest. Despite not going on sale until summer 2011, Land Rover's dealers – including Marshall – are already taking deposits for the car on an almost daily basis. 'The anticipation is that half the year's supply will have already been sold by the time the car reaches the forecourts.'
Bearing in mind the negative feelings towards SUVs in recent years due to their apparent thirst and size, that's an astounding statistic for a 4×4. Yet the Evoque isn't the first Land Rover to have sensible running costs. 'People simply don't realise how much its products have moved on regarding emissions and economy' Lucas told us. 'Look at the Freelander. Many would assume its fuel consumption figures are in the twenties or early thirties and yet it's into the forties now.'
That's not the only thing that's helping change people's perceptions of SUVs. 'The previous two winters that saw the UK experience some difficult weather conditions made people realise there's still a place for Land Rover's products. It remains the genuine article for tough driving conditions.'
Not that Lucas ever doubted this. A Land Rover man through and through, he has been associated with the brand for 19 years, mainly at Marshall's Cambridge site. After starting as a salesman, he worked his way up to General Manager, the role he took over at Peterborough in early 2011. After the majority of his career spent at one location, why the change? 'Peterborough is a different challenge. It's a bigger operation and so it's important that the person at the top has a lot of Land Rover experience to maximise it's huge potential.'
'Marshall is still a family owned business and it's very customer focused.'
Peterborough is one of five Land Rover dealerships owned by Marshall (the others being in Bedford, Cambridge, Lincoln and Melton Mowbray) but it's importance stems from its many and varied operations. As well as new and used retail sales, it is the only official UK supplier to military personnel that operate abroad. There's also a massive fleet department, supplying cars on a national and not just local basis.
'Thanks to selling over 1000 units a year, in terms of absolute volume of new cars' says Lucas 'Marshall of Peterborough is the largest Land Rover dealership in the UK.' Even in this economically troubled climate, it's not just the smaller models that company is selling. 'The heavier metal – such as the Range Rover and its Sport sibling – are still popular with the fleet business where as the retail side is more about Freelander 2 and Discovery 4.'
Despite the big number of cars sold, the smaller Cambridge site actually sells more to retail customers than Peterborough. This is something Lucas is keen to redress. 'Thanks to the success of the fleet and military parts of the business they have potentially overshadowed the retail side. But that's why I'm here. I have a new team in place and we're all absolutely committed to make this part of the company grow.'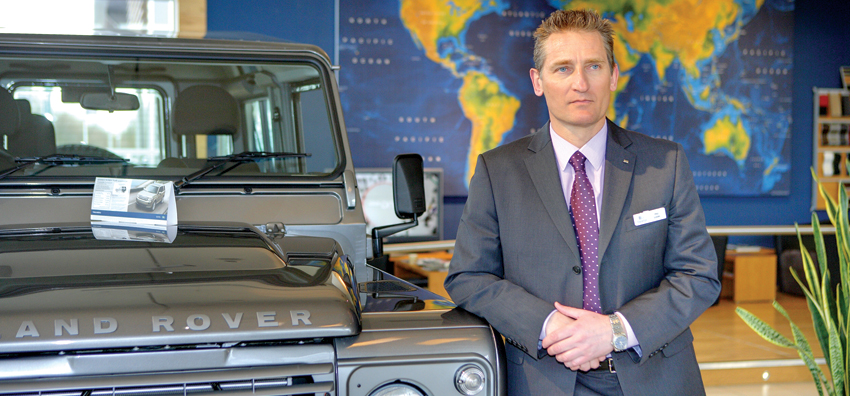 Marshall also has a very busy servicing department, but Lucas stresses it's not just for brand new cars. 'To make sure we're competitive, we have an allegiance programme for owners of cars that are three years and older where we offer a discounted labour rate.' Plus, although there are plenty of 4×4 specialists in the area, it's important owners have their cars serviced at an official Land Rover dealer. 'The head office constantly sends us the latest technical and servicing bulletins. With these often being software updates – something independents don't have access to – the cars need to be seen by a main dealer.'
Another difference he is keen to point out between Marshall and a specialist is simple customer service. 'Marshall is still a family owned business and it's very customer focused. Honesty and integrity might be seen as old fashioned values, but they're what Marshall as a company is all about.'
So with new vehicles just around the corner and – according to Lucas – others currently in development that will take the firm into new markets, it's an exciting time for Land Rover. It's also one of change. With the launch of the Evoque, Range Rover will become a separate marque for the first time in its 40-year history complete with its own branding at Land Rover's dealers.
But no matter what happens in the future or what cars the company produces, Phil Lucas and his team will continue to play a fundamental role for present and future Land Rover and Range Rover owners in Peterborough.
Marshall Land Rover
Land Rover House,
Mallory Road, Boongate, Peterborough,
Cambridgeshire, PE1 5AU
Telephone: 0844 3349067
Leave a Reply