Olivers BabyCare | Buying for baby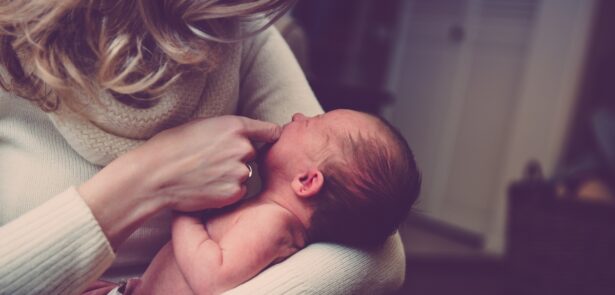 If you're due your first baby soon, then deciding what you may need for the little one's arrival can feel quite overwhelming. It sometimes seems like there's conflicting advice from a range of sources, including from friends, family and internet searches. Put simply, you just need to know what products you really need for your newborn
As soon as you become pregnant with your first child, it can feel like advice comes from all directions. Everyone wants to help and share their ideas. However, it can be too much. How do you wade your way through all the suggestions and find out what works best for you and your soon-to-be expanding family?
When it comes to the equipment you need to buy, a quick look online can leave you feeling like you've got a growing list and no idea about what will actually be useful or essential. What happens if you don't buy the right thing? Or if you've forgotten something important? It's easy to start feeling the pressure, but rest assured: everyone feels the same.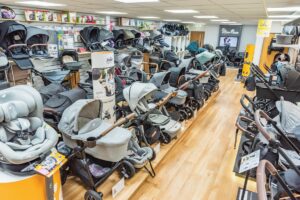 So how can you make life easier for yourself? First of all, there's a big difference between the nice-to-haves and the essentials. And nothing beats actually seeing products in real life and working out what suits you and your lifestyle best – because what is recommended by one parent may not always be the best buy for another.
If you're looking for some expert advice, then Olivers BabyCare Boutique is on hand to help. With a handy store located in Langtoft, just a short 20-minute drive from Peterborough and 15 minutes from Stamford, it's well worth a trip to try out some products and gain top tips from the team.
'Prior to launching the store, we were operating just as an online store,' explains the Managing Director Gerad Barclay. 'But once John Lewis closed in Peterborough city centre in 2021, we had an immediate uplift in customer enquiries asking if they could come and see items. We decided to open a store alongside our online marketplace because we felt it was really important that customers could come and see products for themselves.'
Olivers has quickly gained a reputation as a one-stop shop for new parents, offering trusted expertise to make life easier for families. With over 15 years' experience in the industry, the friendly team of advisors has a wealth of knowledge. They're on hand to answer all your queries and help you get exactly what you need for your little one.
Customers are keen to share their experiences. One customer reviewed:
'When we went into the store we were super impressed with the range of products available. On top of that, the store assistant was amazing. Really friendly, helpful and informative. Not pushy and was happy to answer any questions we had. This is our first child, so the information shared was really useful and helped us to make decisions on what product to buy. We will definitely be returning. Five stars from us!'
Another customer left the review:
'Our first visit to the shop was fantastic. The staff went above and beyond to make our trip worthwhile. Even when there were other customers coming in, they gave us excellent one-to-one advice and went through every single question that we had (of which there were a lot!) No pushy sales staff, but genuine honest advice given, even recommending one of the products that wasn't massively expensive. We came out of the shop with what we wanted and needed and will definitely go back again!'
Olivers BabyCare Boutique has the benefit of offering customers a wide choice of more than 4,000 products online, combined with a more personalised shopping experience in-store. While in the boutique, customers can use the large screen TV display to check prices against other national retailers, see different colour options, and choose between other variations.
Gerad says:
'There is an immediacy about what we do. You can either walk away that day with your items or, if it's a particularly large product, we can deliver it ourselves in a matter of days. Having knowledgeable staff is absolutely critical. Our team members who work in the office spend one day a month in the store, and similarly the warehouse staff get involved with taking new items out of the boxes and trialling putting them together. We fully believe that everyone who works here and interacts with our customers must understand their needs and wants. It is our company ethos.'
For example, if customers want to know if a particular car seat will fit in their car, the Olivers BabyCare store team will show them how to fit and use it, there and then. Or they can help you test prams to see if they will fit in your vehicle's boot. It's a real one-on-one, personalised shopping experience. Olivers BabyCare Boutique offers a variety of trusted products for pregnancy, sleep, feeding, travel, safety and much more.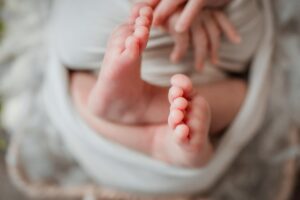 Which brings us to the question, what do you actually need for your newborn? The first thing to think about is that, if you have a car, you must have a baby car seat. This is a legal requirement, from the very first trip home from hospital. The safest way for your baby to travel is in a rear-facing infant car seat on the back seat. You should aim to buy a new car seat so you can be sure it has not been involved in an accident previously.
What else is important? Well, most newborns are asleep more often than they're awake –
sometimes up to 18 hours a day at the beginning! Finding a safe, supportive sleeping environment is critical. The safest place for your baby to sleep is on their back in the same room as you for the first six months. A Moses basket or side-sleeping crib is ideal.
You'll also need a firm mattress that fits the crib snugly, and several changes of sheets.
Whether you end up breastfeeding or bottle feeding, a nursing chair – although not essential
– is highly recommended. Your newborn will need to feed at least every three hours in the
beginning, so it's really important to have a comfortable place in which to sit and feed them.
Nursing chairs are ergonomically designed to offer you back support and a relaxed position.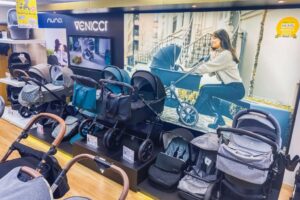 If you're breastfeeding, you can do so without any extra equipment. However, many people choose to invest in a breast pump and milk storage containers to allow you the option of feeding your baby expressed milk. A nursing pillow can be useful for new mums to help gain a comfortable position, while nursing bras offer easy access for feeding the baby. Breast pads (disposable or washable) can be placed into bras to absorb breast milk and prevent it from leaking onto your clothes. If you are planning to bottle feed with expressed milk or formula then you'll need several bottles, teats and a bottle brush, as well as sterilising equipment. In terms of clothing, babies grow so quickly that for the first few weeks you just need enough clothes to keep them clean and warm, before they move into bigger sizes.
Babygrows are ideal first items for providing warmth, comfort and easy access for the very regular nappy changes that are needed! Depending on the time of year that the baby is born, you will also need hats, mittens, and socks or booties for warmth, or sun hats for sun protection. Gro-bags (almost like a sleeping bag for babies) are ideal for nap times, because they ensure bedding stays in place and they keep the baby comfortable. You will also need to invest in reusable or disposable nappies – or you may choose a mix of both.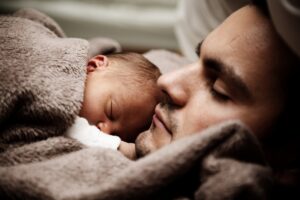 If your baby sleeps in the same room as you for the first few months, you probably don't need a monitor for a little while, because you'll hear their every move anyway. However, once your baby starts napping separately or sleeping in their own room at night, then a baby monitor really does help set your mind at rest. The best monitor for you will depend on your budget and any additional features you may be looking for – including whether you want audio or video too.
Again, a piece of equipment that's useful is a play mat. It's a great way to help with developing hand-eye coordination because it encourages your baby to reach, grab and point – and it comes into its own from when the baby is about three months old.
A bouncer chair offers a gentle rocking motion that usually has a soothing effect on babies. Sometimes, having a handy place to put your baby down for two minutes is essential so you can grab a quick cup of tea!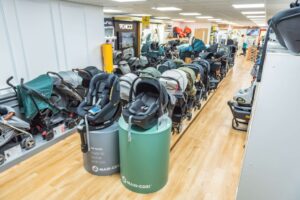 When it comes to getting out and about with your newborn, choosing the right pram for you and your family can be a big decision, because you will be using it pretty much daily for several years. Before buying, it's worth checking that the brakes work well, the handles are the right height for pushing, and that the frame is sturdy. If you have a car, look for a pram that can be dismantled easily to fit in the boot. Don't forget accessories, like rain covers, sun protection, and a travel bag to carry spare changes of clothes and nappies.
Baby carriers – also called slings – are a great way to carry your baby around so you can get things done in your house or enjoy some time out and about. Most babies enjoy being carried like this because they're warm, close to you, and enjoy the motion. Carriers should support your baby well and be comfortable to wear, so it's worth seeing if you can try them on before buying.
In addition to offering real, realistic and practical advice to new parents, Olivers BabyCare Boutique aims to help people make choices that are great value for money. With the cost-of-living crisis, every penny matters to everyone – whatever your income. The store offers products for all budgets, key workers discounts, and welcomes everyone.
Don't forget! 
Muslins
Before having a baby, these don't seem that essential. Soon after, you'll realise that you can't leave home without them! Whether it's for wiping baby clothes, cleaning baby dribble, using them as a picnic blanket in the park, or as a nursing cover – they're perfect for everyday use.
Night Light
In the early days of being at home with your newborn, it is normal for there to be frequent night wakings. So, a subtle night light is perfect for retaining a calming sleep environment, but will also enable you to check on the baby.
Bath Mat
Once you're ready to introduce your baby to having a bath, you can do this initially with an infant bathtub to hold the baby upright in a safe seated position. After that, a textured mat is useful in the bath to ensure the surface is non-slip.
Thermometer
Your baby may have a high temperature if they feel hotter than usual or have flushed cheeks. If you think your baby has a high temperature, it's best to check their temperature with a thermometer. This can help you work out whether you need medical advice.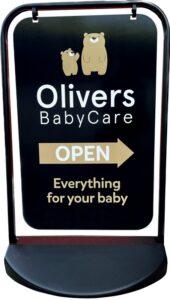 Olivers BabyCare Boutique
Open Monday-Saturday, 9am-5pm
23B King Street Industrial Estate,
Langtoft PE6 9NF
01778 562809
You can also find Olivers on Facebook, Instagram, TikTok, Twitter and Pinterest
Top buys for you and your baby
Side Sleeping Crib – Maxi Cosi Iora – £189.99
A luxury bedside sleeper with an incredibly comfortable mattress. With five different adjustable height positions, a co-sleeping slide function, and a drop-down side, the Iora is compatible with any bed.
Car Seat – Silver Cross Motion All Size 360 – £375
The Motion All Size is a 360° rotating ISOFIX car seat suitable from birth to 12 years. It is the highest rated All Stages car seat by ADAC (the car seat testing body) and also allows for extended rear facing.
Venicci Turisso 3-in-1 Bundle Travel System – £399 (saving £280)
The Turisso is a stylish, yet practical 9-piece travel system bundle, which includes the frame, carrycot, seat unit, car seat, foot muff, changing bag, adaptors, rain covers and mosquito net. It has a super simple, one-handed fold.
Joie Savvy Baby Carrier – £89.99
With an ergonomic design to support your baby and keep them close and secure to you. Made with luxuriously soft mercerised cotton, which is delicate against your little one's skin.
Ergo Pouch Cocoon Swaddle Bag – £44.95
Made from breathable organic cotton using water-based dyes, the Ergo Pouch is a 2.5 Tog Swaddle Bag, suitable from birth through to 3 months. The handy arm poppers mean you can easily transition an 'arms in' swaddle to an 'arms out' swaddle.
Munchkin Bluetooth Enabled Newborn Swing – £185
Some babies only settle when rocked or held, so this swing is here to give you a helping hand. It offers a range of white noise and soothing sounds to play, as well as the option to connect your smart phone via Bluetooth and play sounds and songs of your choice.
Callowesse Dreamy Willow Bunny – £24.99
The super soft bunny rabbit will become your little one's perfect companion. Day or night, Dreamy Willow can soothe your baby. With built-in white noise, 'mummy's heartbeat' and lullabies as well as a calming red night light.
Nuby Natural Touch Digital Electrical Breast Pump – £99
This breast pump features different digital stimulation and expression functions, for easy and comfortable use. The digital stimulation mode helps to encourage milk let-down and the expression mode then collects your breast milk. It is quiet and discreet to use.
Cuddles Collection Maternity Pillow – £22.99
Before baby arrives, this maternity pillow is uniquely designed to follow the contours of your body to ensure that you are comfortable and relaxed. It is made up of hollow fibres, providing support and comfort for your neck, back and shoulders.
Leave a Reply