Mercedes-Benz of Peterborough | History Challenge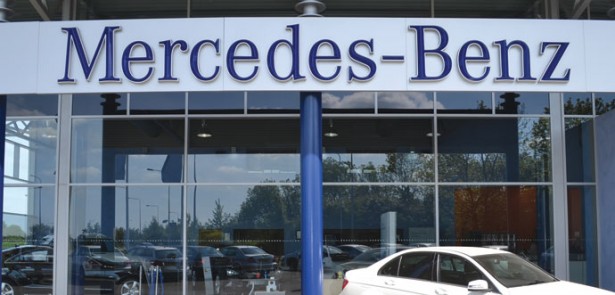 Peterborough's approved Mercedes-Benz dealer has seen some big changes recently. We talk to the dealership's new General Manager about his future challenges while still maintaining the standards of the past
Winston Churchill once said; 'The further backward you can look, the further forward you are likely to see'. If this is true, then Mercedes-Benz Peterborough will be able to see very far indeed. Firstly, 2011 is Mercedes-Benz' 125th anniversary, 125 years since Carl Benz received the patent for the world's very first car. Secondly, the German company's presence in the city goes back 60 years. This makes a long legacy for the incumbent Mercedes dealer to live up to yet it's one it is keen to embrace.
'After talking to our customers' the dealership's general manager, John Ford, told us 'it's clear some of them have been with Mercedes in Peterborough since the Fifties and so it's really important to let them know we might have changed locations and even our name but essentially we still follow the same guidelines.'
But while the past is obviously important to a brand as old as Mercedes, the Peterborough dealership is very much focused on the present. There have been some exciting developments recently, including becoming an official dealer for Smart, Mercedes' groundbreaking city car.
Ford himself only took over the role as General Manager in late 2010. He's spent most of his working life in the motor trade working with other brands, but joining Mercedes Peterborough fulfils a long held aspiration. 'Mercedes Benz has always been a company I've wanted to work for. My uncle used to own one when I was in short trousers and I've owned and restored classic models myself. I like what the brand stands for.'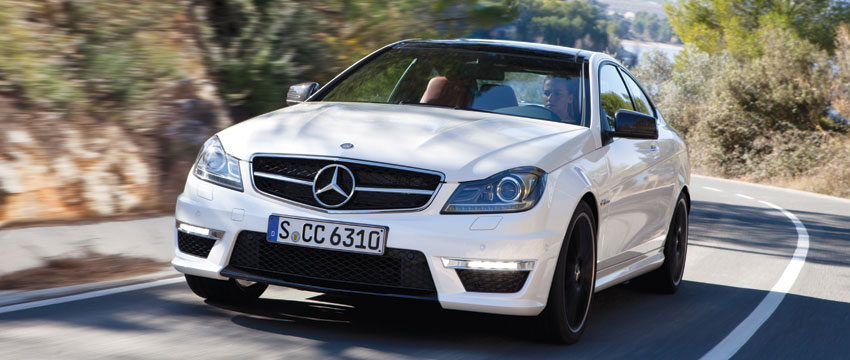 While Mercedes-Benz Peterborough has been reasonably successful in the past, Ford is clear what his objective is. 'There's been a feeling that this business has always done well on back of the brand' he says 'that those in the city will buy a Mercedes no matter what we do. I'm here to push it further, to sell the cars on their merits and to new customers rather than let the brand sell itself to existing ones'
Ford and his new team – including Sales Manager Chris Foster – realise the way to achieve this is very simple. 'It's basic customer service. It doesn't matter how good the cars are, customer satisfaction is still the most important thing. People who buy our cars want to be treated properly.' He may be loyal to the brand but Ford is realistic enough to know no manufacturer makes a bad car anymore and so it's the level of service a customer receives which determines whether they'll stay with the marque. 'When I first started here there were a couple of customers who had problems with their cars. But the way we treated them by being honest and open means they'll continue to drive one of our cars.'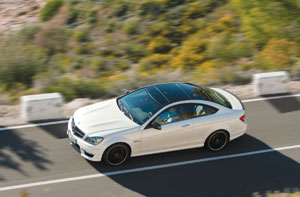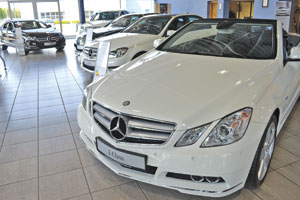 The owner/dealer relationship doesn't just end when the customer drives their new or pre-owned car off the forecourt. Aftersales can make or break it. That's why Mercedes-Benz Peterborough has introduced new ways to make servicing easier for its clients. 'We'll now collect a customer's vehicle from their home or work and leave them with a car of their choice. If they bring the vehicle in they're welcome to wait, have a coffee and read the paper or use the internet. We have full office facilities onsite if they want to do some work. We'll even run them to the office or into town. And we'll do that six days a week.'
To raise the dealership's profile it's becoming more involved with the local community, including a new partnership with Peterborough United Football Club and sponsoring a golf event at Burghley Park. 'We've also just become involved with the Society for the Blind' Ford announced. 'We're doing some charity events for it while the staff there can use our meeting rooms and office facilities.'
Thanks to some new cars that are just around the corner, the dealership's future looks to be just as exciting as the present.
As well as the CLS luxury saloon that's reaching dealers now, a new SLK sportscar is due in the summer. Ford is particularly excited about the forthcoming C-Class coupe. Mercedes has never designed a coupe based around its smallest saloon before so it should cause a great deal of attention. 'BMW have had that size of car for years and years with the 3-Series Coupe' he says 'so it will be a fabulous addition to Mercedes' line-up.'
The last few months may have seen a few changes at Mercedes-Benz Peterborough but thanks to Ford's interest in cars mixed with his passion for the brand, the German company's legacy in the city is in safe and sympathetic hands.
[youtube=https://www.youtube.com/watch?v=i9jU3HsWe84&w=615&h=415]
Mercedes-Benz of Peterborough
Cygnet Park, Phorpes Way, Hampton, Peterborough, PE7 8JA
Telephone: 01733 294900
Leave a Reply