Intercontinental Cruise Missile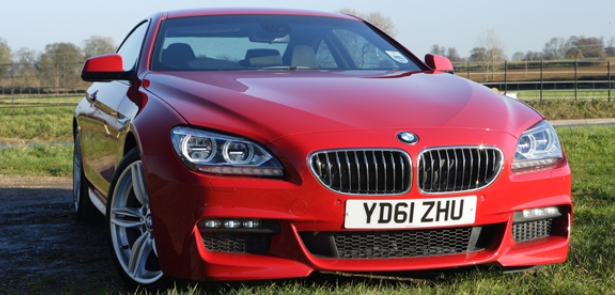 BMW has a long and glorious history of producing large coupes. Can the new generation of 6-Series live up to this, even when a diesel engine is fitted?
When this red BMW 6-Series was parked on my drive I had a sudden desire to drive to Munich. Not because it's a great location (I've been there before) but due to how far away it is from here. As a big coupe with an engine to match, it eats the miles with the same efficiency as my Dyson vacuum eats all the crap on my living room floor. Journeys become so enjoyable, so comfortable and so much fun you always want to take the long way home, even if it means going via one of Germany's dullest cities…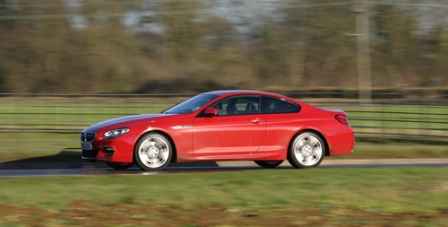 The main reason for this is simple – the glorious engine. Although the 6 has the choice of two petrols (a 320bhp three-litre straight six and a 4.4-litre V8 with 407bhp) what we have here is the 640d with a three-litre, twin turbo diesel that produces 313bhp. Now, before you start harping on that sportscars should only have petrols, I agree with you completely. The idea of the Porsche Boxster I tested in the previous issue having a diesel instead of its gloriously high revving 2.9-litre petrol fills me with dread. However, the 6-Series isn't a sportscar. It's a Grand Tourer, the kind of car you take to Munich without stopping, and for that purpose the diesel is perfect. With 464lb ft of torque it glides forward effortlessly without the driver really trying. It's all very easy.
But that's not to say it's not exciting. The 640d will still accelerate to 62mph in a stomach churning 5.5 seconds and won't stop until you reach an electrically controlled 155mph. And the noise it makes is more NASCAR than tractor, having a higher pitched wail at the top end of the rev range than you'd expect from a diesel.
An eight-speed 'box is standard. Although like wearing four different aftershaves for a night out, this might seem like overkill, it suits the big engine, always having a gear to access its torque band no matter what speed you're travelling at. Leave it in auto or push across to manual and change gear by the paddles on the steering wheel (and feel like Lewis Hamilton in the process). In auto mode there are no complaints, kicking down the second you floor the throttle for a burst of power. However, in manual mode there is pause between gears during change up. It's not as bad as some I've experienced but it doesn't feel quite as seamless as Audi's excellent DSG system.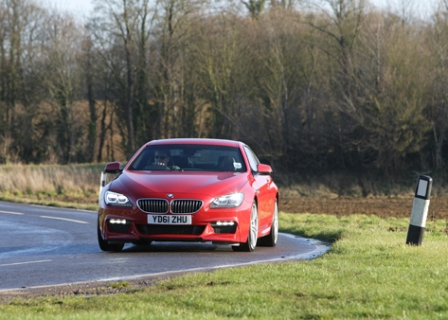 With it weighing a lardy 2220kg (compared to the Jaguar XK's catwalk model-like 1660kg), the 6-Series is not a car to be thrown down a country road. It has plenty of grip and the big motor can pull you out of a corner in an instant, but it's like a fat man riding a racing bike. There are always too many bits hanging over the side. Where it excels is on the motorway. The ride is supple enough to be comfortable and absorb bumps yet firm enough to stop it feeling like it's floating. Put it together and you get a car that was made to cruise from one side of the continent to the other.
Sadly no such journey was possible during my tenure with the 640d but that only gave me more time to admire it from the outside. It's easily the best looking big BMW coupe since the first generation of the 6-Series (the one that Bruce Willis drove in Moonlighting for those of you old enough to remember). Smoother and not as hard looking than the model it replaces, it was clearly influenced by some of BMW's famous models from the past. The rear three quarters has an echo of the 3.0 CSL of the Sixties, giving the new car a classic, timeless feel.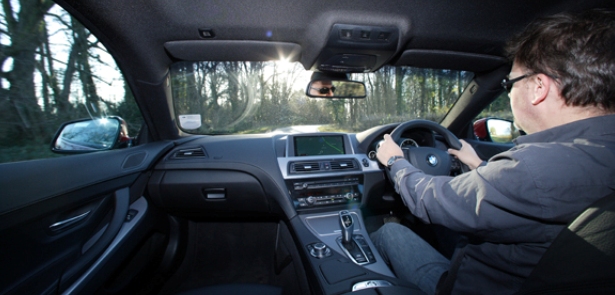 The interior, sadly, doesn't continue this. Although like all modern BMWs it's rock solidly built, using plastics so thick you could use them for house construction, thanks to lots of straight lines and very few curves the design has all the flair of a German motorway. It is, though, very simply laid out with few buttons. This is because of BMW's famous iDrive system, a single knob to the left of the driver that controls all of the infotainment systems via a massive screen (think flat TV) laid into the dash. Often criticised for being overly complicated, I think the iDrive is actually very simply and intuitive to use. And that's even with the amount of systems this 640d SE has, including air conditioning (again controlled via iDrive), sat nav and a CD player that includes iPod connectivity. It also has 19in alloys and a leather interior, although you'd expect those for the car's £62,080 price tag. That's a huge chunk of money and £25k more than the Mercedes Benz E-Class Coupe 350CDI and the same as the more sportscar like Jaguar XK.
But the XK can't compete with the BMW for running costs. Admittedly if you're buying a large GT then economy perhaps isn't on your list of requirements, but there's no denying in this day and age the advantages of 50mpg and – thanks to 144g/km of C02 – £130 road tax. And so if you really do need to drive to Munich (and not just think about it like yours truly) and want to get there comfortably, economically and quickly then the 640d is the cruise missile I'd choose to do so.
Verdict: 14/20
A fabulously and unashamedly large coupe in the traditional sense. It may not be the most dynamic of cars and it might not move you in the way a Jaguar or even a Porsche will but if you need to cross large distances knowing it's not going to go wrong any time soon, then the 640d fits the bill.
Specification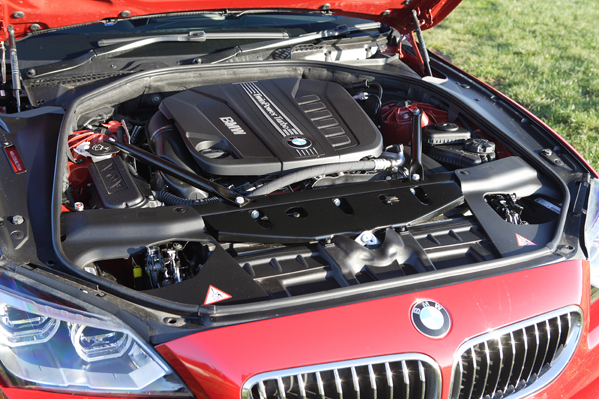 BMW 640d SE
Price: £62,080
Engine: 2993cc, six-cylinder
Top Speed: 155mph
0-62mph: 5.5 secs
Power: 313bhp
Torque: 464lb ft
C02: 144g/km
VED Rating: F (£130)
Economy: 51.4mpg
Manufacturer
Dealers
Sycamore
Papyrus Road
Werrington
Peterborough
PE4 5HW
Tel: 01733 707070
Murketts
Stukeley Road,
Huntingdon, PE29 6HG
Tel: 01480 459551
Elms
4 Sheepfold Lane
Cambourne
Cambs
CB23 6EF
Tel: 0800 046 7086
Leave a Reply