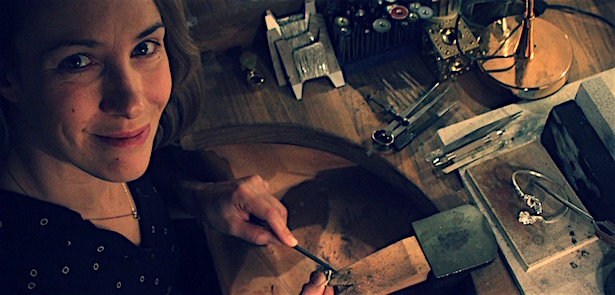 Words: Dawn Birch-James
Hand-crafted jewellery is an art form, and I have really enjoyed exhibiting and selling the work of jewellery makers in the locality and across the UK during the last decade. In this issue, I would like to introduce you to the stunning work of Peterborough based Wendy Booth of Oakland Jewellery – described in her own words…
"I've worked in the jewellery trade for many years, but after the birth of my daughter, I felt it was time to take stock, to think about what I wanted to do with my skills, and what I wanted to show her as she grew up and learned about what I did for a living. Scary as it felt, the time was right to take the plunge and start my own business.
"Oakland Jewellery is the result – over a decade working at the jewellery bench, designing, making and repairing jewellery. It's been an exciting time with all its ups and downs learning about all aspects of business. Website design, social media and accounting were all well outside my familiar skill set, but I've loved it all and of course I continue to learn.
"I particularly love to take on commission work, realising an initial concept for a client, and seeing their reaction to the finished piece. Beauty is most definitely in the eye of the beholder, and with something so slippery as design, where there is no right or wrong, it's lovely to be able to create what a client truly wants when they've been unable to find it off the shelf.
"I find inspiration in all sorts of unexpected places, often surprised by an idea when I least expect it. It's impossible to beat nature though, and I feel some of my most successful pieces are little more than frameworks for some truly beautiful natural gems and pearls.
"I take real pleasure in the practical side of jewellery and am at my happiest getting my hands dirty at the bench and seeing a piece come to life as I work. Anyone who thinks that making jewellery is a delicate job is sadly mistaken – it's more like small scale construction work!
"I'm still new to the Peterborough area, having lived in London and Surrey for the last 15 years, but I'm loving the space that it brings for both family and work. I think both need to knit together for either to succeed. I'm really looking forward to what the future holds for Oakland Jewellery as we all settle in to our new home."
Oakland Jewellery is available online at www.artintheheart.co.uk/store/oakland-jewellery
For the full art and gift range browse www.artintheheart.co.uk
Leave a Reply