How to make: rye and walnut bread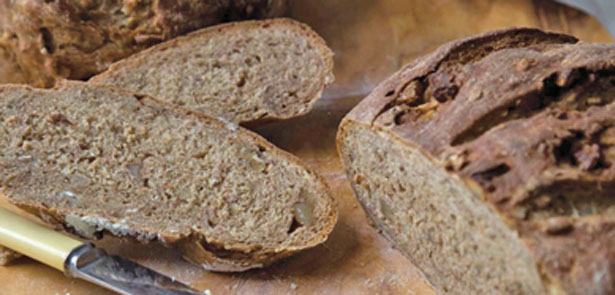 Making your own bread is so satisfying, and it really isn't difficult. Follow this yummy recipe to make a nutty, wholesome treat which, sliced and lightly toasted, is delicious as a base for proper Welsh rarebit or a soft, creamy poached egg
Makes one large loaf
Ingredients
450g strong white bread flour
225g rye flour
1 tsp salt
1 x 7 g sachet dried yeast (or 15 g fresh yeast)
1 ½ tbsp honey
200 g walnut halves, roughly chopped
Method
In a large bowl, mix together the flours, and salt. Make a well in the centre.
Re-activate the yeast by mixing it in a small bowl with the honey and 225 ml warm water. Pour the yeast mixture into the well and leave to stand for 15 minutes.
Add another 225 ml of water to the bowl and gradually mix in the flours, making a soft but not sticky dough.
Turn out onto a lightly floured work surface and knead for 10 minutes until the dough is smooth.
Add the walnuts and knead for another 2-3 minutes then return to a greased bowl, cover and leave to rise for 2 hours until doubled in size.
Knock back the dough, knead again for 2 minutes and then divide into two portions. Shape each one and place on a baking sheet. Cover and again leave to rise for 1 ½ hours.
Preheat the oven to 220°C (425°F) Gas Mark 7.
Slash the top of each loaf three times and bake for 15 minutes and then lower the oven temperature to 190°C (375°F) Gas Mark 5 and continue to bake for 20-30 minutes, until the loaves sound hollow when tapped underneath.
Leave to cool on a wire rack.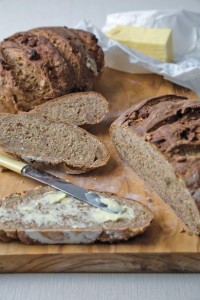 Leave a Reply