Chef's Special: Oundle Mill – Fishcakes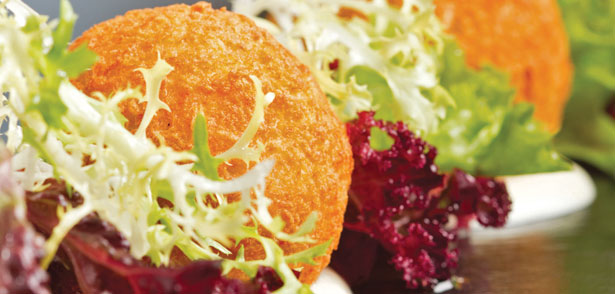 Serves 2
Ingredients
260g Diced Fish
100ml Milk
10g Flour
10g Butter

Dill stalk
Zest of 1 Lime
10g Chopped fresh Dill
Seasoning
2 Beaten Eggs
Milk
Breadcrumbs
Flour
Method
Warm milk with dill stalks, 1⁄2 lime zest, salt and pepper.
Poach fish in batches in the milk, and then drain in colander over a bowl.
Pour the juice from the bowl back into the pan with milk.
Put the poached fish in the fridge.
For the Béchamel sauce;
Pass milk through chinoise, return to a clean pan.
In separate saucepan melt butter and add the flour.
Cook the flour out (roux) gradually add the milk, low heat, stir until the roux absorbs the milk.
Once all the milk has been added, put a baking parchment disc onto the béchamel.
Cook out on low heat for 20 minutes.
Take off the heat and pour into a deep tray to cool.
Once chilled slightly, add chopped dill and remaining lime zest.
Put in the refrigerator to cool.
Once cold, mix the béchamel with the fish, add more salt and pepper to taste (the best way to taste is to warm a small amount of the mix).
Put back in the refrigerator to set.
Once set, ball out 40g and place in the freezer for a few minutes to allow outside to firm up.
To Pané:
Beat 2 eggs with 10ml milk in a large bowl.
Place flour in a separate bowl. Place breadcrumbs in a third bowl.
Double pane fishcakes; to do this you need to roll the firm balls in flour, knocking off any excess, then dip into the egg, finishing by dipping into the breadcrumbs, repeat by dipping back into the egg, followed by breadcrumbs.
Refrigerate the fishcakes until needed.
To cook;
Fry fishcakes at 180°C for 2 minutes.
Put through a hot oven (180°-190°C) for 2 to 3 minutes, until they reached a temperature of about 72°C.
Serve with lemon mayonnaise and some dressed salad.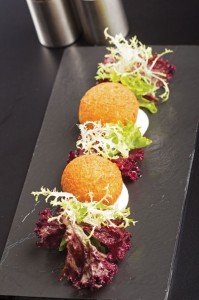 Leave a Reply