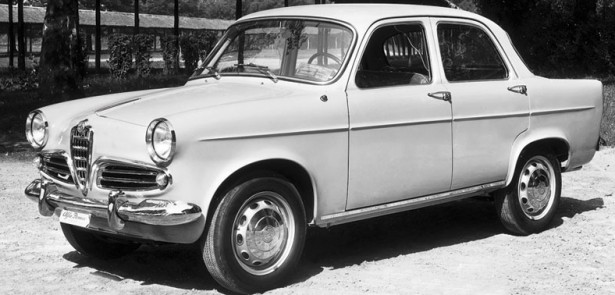 Today's Guilietta isn't the first Alfa to have that name. It was originally used in the Fifties for the Italian firm's first truly mass produced car. A handsome four-door saloon which would play a huge part in the Italian firm's development.
Although by the early Fifties Alfa Romeo had been around for half a decade, it was still very much a minor player. Its first post war saloon – the 1900 – may have been modern but it was built in tiny numbers and incredibly rare outside of Italy. But with European car manufacturing reaching its stride, Alfa Romeo needed to up its game. The result was the Guilietta. Named after Shakespeare's eponymous heroine, it had all the virtues we associate with Italian cars today. Firstly it was incredibly good looking. Sleek and compact it made its rivals – the archaic Austin A40 Cambridge for example – look and feel utilitarian by comparison. Secondly it was fabulous to drive. The steering was precise, there was plenty of grip and although the 1290cc twin cam engine produced just 53bhp, it was free revving, eager and gave a top speed of 87mph.
Yet Alfa didn't think it was enough and so in 1957 it created the Guilietta TI. Still using the 1290cc engine but now with double carburettors, power was increased to 65bhp raising the top speed to over 90mph. This helped it to become one of the first sports saloons, beating the famous Ford Lotus Cortina by half a decade.

Above: Thanks to its speed and reliability the Giulietta was successful in motorsport events all over Europe. And not just on the track – its relatively high clearance meant it was especially suitable for rallying
But it was more than just fast since it offered a spacious interior and a large boot. And although even by Fifties standards its black rubber mats, twin bench seats and single dial dashboard were basic, they did the job.
The steering was precise, there was plenty of grip and had a top speed of 87mph
All of this meant it was a huge success and more Guiliettas were sold in its first three years than the 1900's entire nine-year production run. In total 131,785 examples (92,728 of which were TIs) were built between 1955 and 1964. Yet its achievements should be measured by more than just sales figures. It turned Alfa from a tiny minnow into a major European car manufacturer. And although its production wasn't on the same scale as Fiat's (which would eventually buy the company in 1986) Alfa finally had a car that appealed to more than just its domestic market. The Guilietta was sold all over Europe and even knocked down kits of the car were sent from Alfa's Milan factory for assembly in South Africa.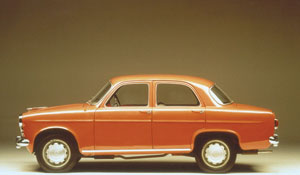 The car's influence is still being felt today since it became the blueprint for all small Alfa Romeos. From its replacement – the Guilia – to today's Guilietta, the basic concept hasn't changed. Handsome yet practical, fast yet economical.
So if you buy a new Guilietta, you're not just buying a modern five-door hatchback, you're also buying into 56 years of history.
Leave a Reply