Special Effects | Infiniti FX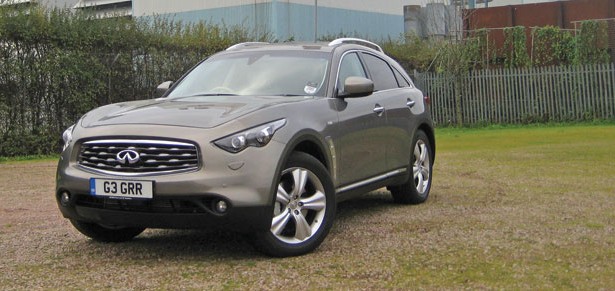 New to the UK, is the Infiniti FX special enough to take on the establishment in the already competitive and crowded SUV market or is it a niche too far?
Car designers are constantly trying to create new types of car that will revolutionise the automobile. Cars such as the 1984 Renault Espace that – as the first people carrier – changed the face of car design forever. The last new design to have a considerable effect on the automobile was the crossover. Started by Nissan with the Qashqai in 2005, as part SUV and part hatchback the amount of space it offered made it a sensible evolution. With it becoming a success, most manufacturers have created their own versions while Nissan launched a smaller but nonetheless similar car – the Juke – in 2010. Yet it's one of the Japanese company's subsidiaries – Infiniti – that has taken the concept a stage further.
But is it too far?
You've probably never head of Infiniti but as Nissan's luxury division it's been around since 1989 when it started selling vehicles in the USA. Although over the subsequent two decades it expanded into other markets such as Russia and the Middle East, it has remained unknown in Europe and the UK. But with its domestic market share diminishing, the company has needed to look elsewhere and suddenly it remembered us.
Despite only having a handful of officially appointed UK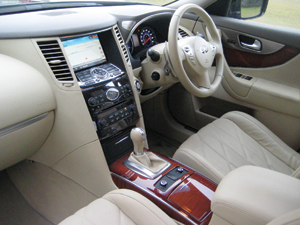 dealers, this is no toe in the water exercise with a couple of niche cars. It has launched a full range of vehicles, including two saloons, a coupe based on one of the latter and – as you'd expect from a company that hails from the States – two SUVs. While the other cars are more traditional (think BMW 3 and 5-series) the 4x4s are like nothing else. This is especially true of the flagship, the FX. With its curved roofline and long bonnet, Infiniti have crossed a coupe with a 4×4. Its resulting low stance makes it the least likely offroader since I crashed my mother's Peugeot 309 into a field.
But it still has presence. At 4.86m in length it's longer than a Range Rover Sport while the last time I saw wheels that big a Boeing 747 was resting on them. It fills the road in the same way a Challenger tank does and it's rumoured that the huge grill can be seen from space. Add it all together and it results in a car that gets more attention than if Wayne Rooney started playing for POSH. Not something X5 drivers can say.
Yet the BMW and its owners are the FX's exact targets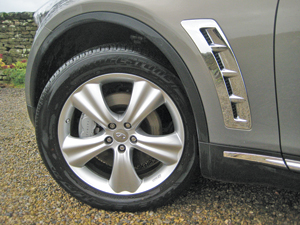 hence why its prices mirror the German car's perfectly. So the three-litre diesel you see here (there's also a three-litre V6 and five-litre V8 petrol but with fuel reaching £1.40 a litre, why would you?) starts at £45,000 for the GT, as does the BMW X5 xDrive30d SE.
That's a lot of money for an unknown brand yet the FX's interior quality easily matches that of the X5. The dash architecture may have been swiped from elsewhere in Nissan's empire (the Murano SUV for those who are interested) but the fit and finish are better than the source. It's been tightly screwed together while the leather on the seats and dash top is softer than a John Lewis sofa. The dashboard's curves make the interior more car like than most SUVs, especially the Land Rover Discovery 4's utilitarian wall of buttons.
Infiniti's infotainment system is second to none,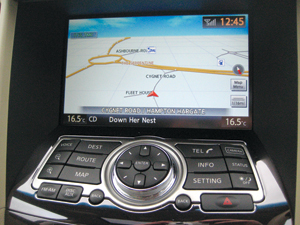 boasting an excellent 3D Sat Nav, Bluetooth phone connectivity with voice recognition, iPod connection and Bose stereo
But despite its bulk, the Infiniti's rear leg and headroom are extremely limited – a Ford Focus has more space – while the boot is tiny for a car of this size. It's just 410 litres compared to the Range Rover's 994. It really is more like a coupe than a SUV in there.
The three-litre V6 diesel is smooth, free revving and with 235bhp its pulls away cleanly, refuting its 2150kg of weight. It might not have sportscar levels of performance, but it can reach 62mph in a respectable 8.3 seconds, a similar figure to the X5 3.0 diesel. However, it's the car's mid range punch that's really impressive. Gently squeeze the accelerator pedal at 50mph and as the standard seven-speed auto box changes down to release some of the engine's 405lb ft of torque, speed is gained effortlessly, as if it were made from paper. Overtaking suddenly becomes a moment to savour and you constantly wait until you can unleash all that power again.
This big car isn't afraid of the SUV's usual nemesis – corners
Our test car – an FX30d S – was fitted with Continuous Damping Control as standard that constantly measures and adjusts the suspension to ensure each wheel gives maximum traction. This gives huge levels of grip that, when married to its limited body roll, means this big car isn't afraid of the SUV's usual nemesis – corners. Show a bend to most 4x4s and they'll topple over in fright. The FX, by comparison, always feels composed and stable, even with a hooligan behind the wheel. And thanks to the CDC the ride is supple and doesn't bounce over road imperfections like the Toyota Land Cruiser can.
But despite the Infiniti's abilities, as anyone who has ever made a pork pie milkshake will tell you, some combinations don't work. Whereas the Qashqai cleverly fused the best bits from a hatchback and SUV (space, practicality and ride height) the FX dilutes why we buy sportscars and 4x4s. As good as it is to drive, its bulk means it's no Audi TT while a car this big should offer more interior space.
So while I have no doubt the next big thing is just around the corner (part car/part submarine maybe?) I'm pretty confident it won't be a coupe/SUV crossover.
Verdict: 11/20
There's no denying the FX30d is an interesting alternative to the usual suspects but you'd soon regret not buying one over a Range Rover Sport or BMW X5. As an SUV it isn't quite good enough while its sheer size means it's no nimble sportscar. If you want an SUV, buy one. If you want a sportscar, buy one of those. But don't combine the two.
Specification
Infiniti FX30d
Price: £47,200
Engine: V6/2993cc
Power: 235bhp @ 3750rpm
Torque: 405lb ft @ 1750rpm
C02: 238g/km
VED: Rating L (£425)
Economy: 31.4mpg
Manufacturer:
www.infiniti.co.uk
Dealer:
Infiniti Reading, 25-27 Rose Kiln Lane, Reading, Berkshire RG2 0JZ. Tel. 0844 2435 780
Infiniti Piccadilly, 77 Piccadilly, London, W1J 8HU. Tel. 0203 130 6726
Reader Reviews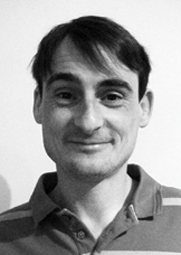 Andrew Gilson, 36, Yaxley
I really like the Infiniti FX. It's big, it's powerful and it's totally different from the sort of SUVs my friends drive. It would definitely turn a few heads at the golf course.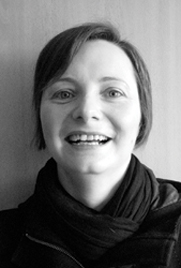 Lindsey Archer, 30, Dogsthorpe
I thought four-wheel drives are supposed to be spacious? Even children would feel cramped in the rear of the Infiniti it's so small. I think I'll stick with my Vauxhall Zafira.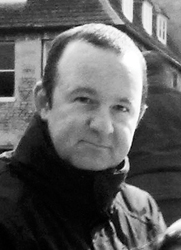 Vic Morris, 39, Stamford
Since I had to sell my coupe because it wasn't big enough for the family, I was interested in the FX. But other than more doors, it's not much more practical than my old Audi TT.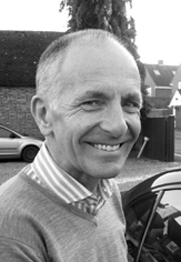 Peter Spinelli, 52, Woburn
Interesting, but who would take a risk with one of these over a Range Rover Sport or BMW X5? And they also lose massive amounts of money on the second hand market.
For more information on the Infiniti range visit the website
Leave a Reply