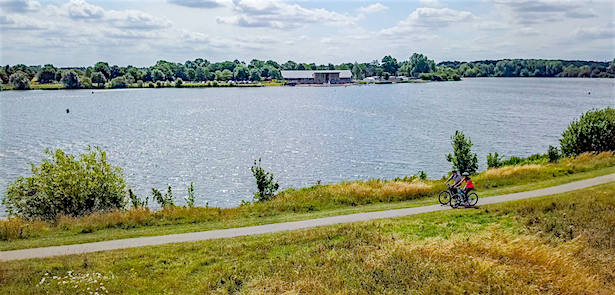 Nene Park proved to be a welcome place of escape during lockdown for many local residents. As we start to emerge from the coronavirus crisis, the hope is that the park will play its part in a greener recovery for the city, says Oliver Burke, Head of Operations at Nene Park Trust
Not even the coronavirus lockdown could shut Nene Park!
While we closed the majority of the facilities, the park is a public park with lots of pedestrian routes into it that we can't close – and nor would we want to. The park is an important place for local people and we didn't want to prevent anyone from being able to access it. A skeleton team of rangers continued to manage the park throughout lockdown – collecting litter, mowing the grass – all those sorts of things. There was a level of staff presence, which is something that's always helped people to feel safe and prevents antisocial behaviour from creeping in.
How did you walk the line between encouraging people to continue using the park, while being mindful of the need for social distancing?
We produced a simple set of social distancing guidelines, following the guidance on how people should be applying social distancing in parks. Also, our messaging encouraged people to continue accessing the park, but by foot or by bike only. That continues to be a strong message, even now our car parks have reopened, as we don't want the car parks to get busy and make social distancing difficult. Besides, we want to promote more sustainable, environmentally friendly ways of reaching the park.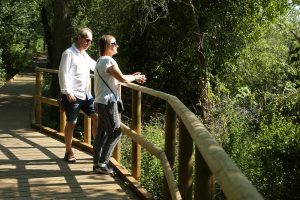 How safe is it to visit the park?
We were probably the first park in our area, at least of our size, to reopen our car park. This is because we felt we had the right measures in place: social distancing markers, hand sanitiser stations throughout the park, and clear signage. Of course, we can't get rid of all risk and people in higher risk categories will still need to make their own decisions as to whether they should be visiting or staying at home.
Contact with nature and greenspace is so important for mental health, though, particularly at this time.
That has been really clear, and while visitor numbers did drop slightly because the car parks were closed, there were still substantial numbers of people using the park, acting sensibly and being courteous to other members of the public, which was really fantastic to see. Many visitors include young families, who are using the park as an opportunity for both home learning and play. Of course, access to local greenspace has never been more important. There was a huge concern over the mental health impact on those who were having to isolate. People having access to greenspace highlighted the importance of places like Nene Park. The conversations we've had with the public during this period have been hugely positive, proving the value of the park to people's lives. Whereas the rest of the world feels quite uncertain, the park has been a real comfort.
You reopened the Nene Outdoors Watersports and Activity Centre in early June. How are you managing the extra visitors?
People can now access the full range of pay and play activities once more. Again, we had to come up with a whole set of measures to enable that in a socially distanced way. The Visitor Centre has also reopened, with measures in place to limit the number of people allowed in and payments by card only. The Ferry Meadows Café is open on a takeaway basis, and on 4th July we reopened the outdoor seating areas for both the café and Lakeside Kitchen and Bar, so people can once again enjoy the more regular catering offer that a lot of visitors look forward to when they come to the park.
What about the rapidly approaching summer holidays?
In all likelihood more people will be holidaying much closer to home. We are looking at how we can provide a range of activities that people can undertake within the guidelines, but that still enable people to enjoy the park when they are taking holiday more locally. That's proving an interesting exercise because normally we'd have things like holiday clubs, but we can't do that. Some of our more face-to-face activities will be more difficult as well. So we are getting creative in how we offer activities that are perhaps more independently led but can still be done in a way that's fun for young people and their families. Look out for news on our exciting Six Weeks of Summer activities planned.
You mentioned that the lockdown highlighted the importance of greenspaces to people's wellbeing. Do you think this will have a meaningful impact on Nene Park?
It's brought the importance of parks right up the agenda. We're mindful that we need to be working with partners across Cambridgeshire and beyond, to see how we can work together to make the most of the opportunities, but also use them in a way that overcomes some of the deep challenges on the horizon, particularly the economic impact of the virus. Some people will end up really struggling financially, so certainly as we investigate our activity programme over the summer we're bearing that in mind. As a charity we want everyone to be here, accessing those benefits.
There's been a surge in walking and cycling during lockdown. Have you noticed this?
We've noticed more people walking and cycling for the first time. With shops, pubs and restaurants closed people have had more time on their hands, so a lot of people have been getting out and active. For example, I know that Rutland Cycling, who have a store at the entrance to the park, have seen online bikes sales soar. And yes, we've noticed a lot more people cycling in the park. We now want to cement that behaviour change, so people continue to do that. There's a whole set of behaviours that people have started during Covid which would be great continued for a whole range of health and environmental reasons. That's something that is very promising as we move beyond the current crisis.
---
In the pipeline…

The team at Nene Park is excited to announce plans for a newly remodelled play area in Ferry Meadows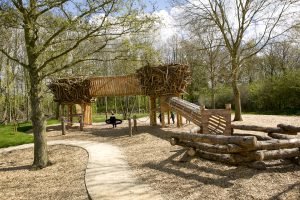 The new 'Fox Play' area will replace the existing play area at Lakeside and forms the next stage in updating the play provision at Ferry Meadows, following similar successful developments of Otter Play in 2014 and Badger Play in 2016. The aim? Natural adventurous play for all ages! In recent visitor feedback, more than 80% of respondents rated the play equipment at both Otter and Badger play areas as 'Excellent' or 'Good'. Fox Play will provide a fully accessible play area with water features, zip lines, raised walkways, climbing opportunities and plenty of new tree planting. It will be the biggest of the play areas, aimed at slightly older children, but accessible for all. By using the location of the current play space, Fox Play will be easily accessed from existing routes, and well served by parking, bins, the existing Nene Outdoors activity centre, toilets and café, as well as support from park staff. Andrew MacDermott, Head of Development at Nene Park Trust says: 'We have worked hard to try something new and respond to the feedback. We now look forward to the project becoming a reality and hope to begin construction as soon as possible.' Nene Park Trust is also continuing to work with Peterborough City Council to secure planning permission for the new Activity Centre at Lakeside. Due to the nature of the project and the current circumstances there have been further delays to a final decision on this exciting new facility for the park, but a date for a final decision is expected imminently. Keep your eye on the website and social media channels for the latest news on both projects.
---
Lots to look forward to!
After months of lockdown we're all hankering after something to look forward to. There's plenty of that at Nene Park, with the phased return of Nene Outdoors well underway!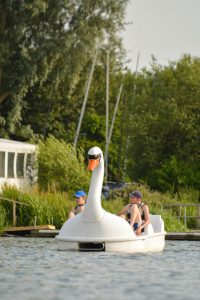 Following recent government guidance, outdoors enthusiasts are once again able to enjoy the Watersports and Activity Centre on Gunwade Lake. Visitors can hire swan pedalos, canoes and kayaks, row boats, stand up paddle boards, dinghies and bicycles daily, from 11am to 6pm, with advance bookings made online or by phone to comply with the regulations. To ensure the safety of visitors, staff wear protective equipment, while hired equipment is thoroughly sanitised between each use. Customers are asked to adhere to social distancing advice and use the hand gel provided before and after their session. Needless to say, customers displaying symptoms of the virus, or living with someone with a possible or confirmed Covid-19 infection are asked to remain safely at home. All sessions must be pre-booked at least 30 minutes in advance.
For more details or to book a session visit neneparktrust.cloudvenue.co.uk or phone 01733 234193. Day launch is also now available with your own equipment, please contact the team for more information.
Leave a Reply