Green shoots at Nene Park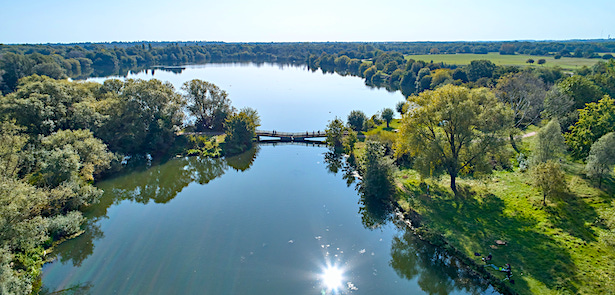 With the end of lockdown in sight and spring now upon us, there's a renewed sense of optimism in the air. Andrew MacDermott, Nene Park Trust's Head of Development, tells us what visitors to the Park can look forward to over the coming months
There's been a lot of activity behind the scenes lately. What's been going on?
We're finalising our second-phase application to the National Lottery Heritage Fund for our Your Community Greenspace project. In fact, this is something we have been working on for the past 18 months.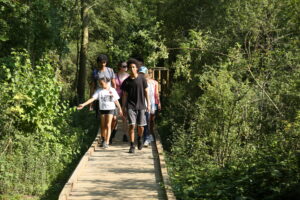 Remind us what the project is all about.
Its main focus is improving our offer to all of Peterborough's communities, by engaging with people from right across the city and the surrounding area. Over the coming months we will be putting a lot of the proposals arising from these consultations forward to planning. More information on these plans will be made available to the wider public and, if all goes well, there will be an announcement in early summer that our bid has been successful and that we can start on the delivery phase of this exciting project.
Is the bid likely to succeed?
I wouldn't like to jinx it! We received money from the National Lottery Heritage Fund for the first phase of the project – the development phase – in order to develop our plans and outline what we would like to achieve in the delivery phase. That phase is almost complete and we are looking to move on to the second phase. The next stage is still a competitive process, so it's not a dead cert, but we've developed really strong proposals and the Heritage Fund have been very positive and incredibly helpful, so I'm optimistic.
What impact did the pandemic have on the first phase. Did your plans have to change?
We did a lot of work the winter before last developing a range of pilot activities that we hoped to run, as well as designing different types of consultation to carry out in the Park and the wider city. Then there were pop-up volunteering events we hoped to organise. We had to completely change our approach when the pandemic came along, and that we did. So, while we weren't able to undertake a lot of those pilot activities, we were at least able to host a range of video calls, making for in-depth and perhaps more personal discussions with members of the wider community. We still managed to complete some face-to-face consultation though.
Covid has also meant using social media and other online means of communication to engage people and give them opportunities to feedback. At the end of the day, we've still managed to develop stronger relationships with some key community partners.
One aim of the Your Community Greenspace project is to improve opportunities for volunteering at Nene Park. How will that work?
We were lucky enough to fit in a few volunteering sessions before Covid struck, and what we did was hugely successful – for example, working with members of the local Sikh community to plant trees, or partnering with Cross Keys Homes to offer work experience to young people not in employment, education or training. I think this is really promising for what the project will bring in future years.
Ultimately, we are expecting to more than double the extent of volunteering. In previous years we've run around 10,000 hours of volunteering and through this project we expect to take that to something like 23,000 hours. Most of our volunteering opportunities are still quite traditional, conservation-based types of work. But, increasingly, we're looking at roles that suit people in a variety of ways, such as walk leaders or helping out in the plant nursery that's also proposed as part of the project. Our 10-year strategy is entitled 'Doing More with More' – and that's really the point. It's about doing more within the Park, raising its quality and giving richer experiences to our volunteers.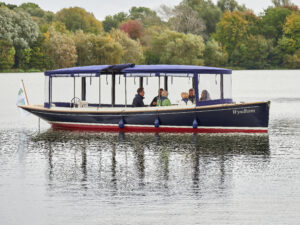 With the development phase drawing to a close, what can visitors expect to notice over the next few months?
Information will be going up about some of the proposed infrastructure works in the Park. For instance, Pontoon Bridge in Ferry Meadows is nearing the end of its life and is up for replacement. We're also looking at a number of improvements to the main welcome area of Ferry Meadows. So people may notice information about these proposals and what they entail, including images of the suggested improvements.
Visitors will see improvements to the cafe toilets – not especially exciting, maybe, but essential for a comfortable visitor experience. There will be a higher quality accessible toilet for those with disabilities, plus a new separate baby changing facility. The other toilets will all be brought up to a far superior standard.
Over at Lakeside we'll be opening another visitor hub, in what was the cycle hire space. A big part of this will be bringing local produce to our visitors in a new retail unit. This might include, for example, meat raised in the estate by our share farmers. We have been really keen to introduce farmers' market-type activities to the Park for a long time and this is a fantastic way to do that. Much of this fresh produce will also go to supply the Lakeside Kitchen & Bar overlooking Gunwade Lake. We hope to have this new hub open as soon as restrictions allow, but for the very latest on this, people can check on our website or social media.
The lakes and river are what makes Nene Park so special – not many parks can boast features like that.
Exactly! And to help visitors really appreciate these wonderful natural assets we'll again be operating our electric boat service from Ferry Meadows, not only around the lake but out onto the river, so visitors can explore further afield. This will be its first full year of operation. It is a beautiful boat and given that it's electric it means a near-silent cruise.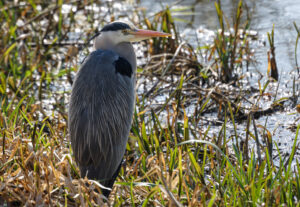 That must be fantastic for spotting wildlife!
Absolutely – and there's plenty to see! We have some very friendly otters in residence and you're almost always guaranteed to see a heron, or several in fact, and perhaps even a kingfisher. It's just incredible, it really is.
With restrictions still in place for the next few months at least, are you continuing to offer an online programme of events?
Yes, we've got a range of things online that people can access to help them enjoy the Park because, of course, face-to-face activities continue to be on hold for now. But the Park itself is still very much open, and that's important for people's health and wellbeing at this time.
The plan, though, is to reopen our watersports activities and hire fleet on 29th March. We managed that in a very Covid-safe way last year, and it worked out really well. I think people were able to really enjoy getting out on the water having spent a lot of time cooped up.
Then there's the new activity centre at Lakeside, which should be going to planning very soon. There's so much excitement around this because it ties in with our mission of getting people into the Park, getting them active, and helping them to remain active year-round.
The final news to share is that work will soon begin on the new Fox Play area at Lakeside. The plan is for it to open in the summer for our younger visitors to enjoy. While we've secured some external funding, the Nene Park Trust is equally investing a lot of money into making sure we have the best facilities for young people.
The Park is for everyone and helping visitors stay physically active is so important to us. We've all suffered during this lockdown and I think it's emphasised just how fantastic remaining active is to our physical and mental wellbeing.
---
What's reopening when?

Pay and play watersports at Nene Outdoors: 29 March
Visitor Centre & Gift Shop: 12 April
Electric boat trips: 12 April
Camping at Nene Outdoors: 17 May
---
Have your say!

The Nene Park: Your Community Greenspace project, funded by the National Lottery Heritage Fund is an exciting project for Nene Park that includes improvements to the infrastructure in the Park, new events and community projects, that will respond to the growth of the city and region. The Development Stage is almost complete, but there's still just about time to tell us what you think of the developed proposals.
Visit nenepark.org.uk/your-community-greenspace-capital-works where you can study the proposals in detail then share your feedback. Or simply scan the QR code with your phone to head directly to the survey.
Leave a Reply