How to make: chocolate and beetroot cake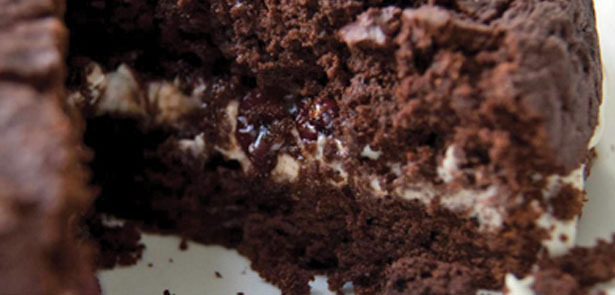 Serves 8-10
Ingredients
100 g cocoa powder
230 g self-raising flour
230 g caster sugar
125 g unsalted butter
100 g dark chocolate
2 eggs
250 g cooked beetroot
100 g dried cranberries
1 ½ tbsp cassis liqueur
200 g crème friache
Method
Preheat the oven to 180°C (350°F) Gas Mark 4. Grease and base line a 24cm cake tin.
Sift the cocoa powder and flour into a large bowl. Stir in the sugar.
Melt the butter and chocolate together in a bowl over a pan of simmering water.
Place the beetroot into a food processor and blitz until pureed, then add the egg and blitz together.
Add the butter and chocolate mixture, and the beetroot and egg mixture to the flour and mix thoroughly.
Spoon into the prepared tin and cook for 1 hour, or until a knife inserted into the centre comes out clean. Meanwhile, soak the dried cranberries in the cassis liqueur.
Remove the cake from the tin and allow to cool on a rack.
Split the cake in half. Spread one half with the crème fraiche then spoon over the cranberries and cassis. Top with the other half of the cake and leave to stand for 30 minutes before serving.
Leave a Reply