Style Diaries – Louise Dungate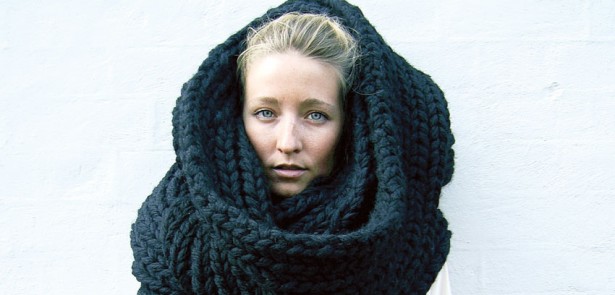 Louise Dungate, the very talented knitwear designer renowned for her larger-than-life, cozy styles, gives us a peak into her stylish world.
Who is your style icon and why?
It's hard to pick one – it changes all the time. At the moment, it's a tie between Margot Tenenbaum (from the film The Royal Tenenbaums – heavy eyeliner, side parting and fur coat) and pretty much all Scandinavians. In my next life, I would love to be Nordic and wear Fair Isle jumpers and eat salt liquorice every day.
What's one piece of clothing every woman needs in her wardrobe this This season?
A big, chunky snood. Preferably one of mine. Or something orange. I currently have an obsession with burnt orange, and have knitted myself an orange pompom hat. Although, I got my hair done at Bleach last week – and the hat looks quite mad with my pink dip dye.

Describe the best outfit you've ever worn.
In my student days, I was skint but found a backless cobalt blue lycra dress in H+M for £8 and wore it with vintage gold wedges and a brown vintage clutch. I wore it to a ball and had such a good time.
What look do you love but doubt you could pull off?
Wearing all black like the Parisians do. Annoyingly, it doesn't make me look like Anna Karina – more like a burglar or those people who help out backstage at the theatre.

What do you wear when nobody's looking?
Holey t-shirts that I love and can't throw away, and a battered knitted aran jacket with big pockets. My mum got it from a charity shop in the 70s for 5p and it's amazing.
What was your most memorable fashion faux pas?
Bright red highlights when I was 13. It looked awful and didn't match my eyebrows.
What is your most treasured piece of clothing or jewellery?
A Bex Rox gold kissing sea horse necklace that I got with wages from my first real job. It means quite a lot to me, and is one of the few pieces of jewellery that I wear everyday without fail. I also have a navy knitted jumper that I've had since childhood but only dug out recently when I watched The Life Aquatic (another Wes Anderson film) and wanted to pair it with an orange hat like the character Steve Zissou. I love it because it is the absolute perfect shade of navy and fits like a glove.
What's your favourite style blog?
I like reading a few, and go through phases. Sarah Nicole Prickett is a word genius (and I would like to be her) and I've recently discovered fuckyeahfashionknitwear.tumblr.com which is right up my street.
Where do you shop?
Between designing and knitting – I generally don't have a lot of time to shop, but I do get a fair bit of stuff online. American Apparel is one of my favourite shops (and feeds my lycra habit nicely). I also love vintage shops, Liberty, and finding bits from here and there. I normally do venture out if I need shoes as my feet decide to acquire a different size from shop to shop.
What is your most extravagant sartorial purchase?
A navy leather biker jacker by the Scottish designer Christopher Kane. I love him and it equally.
Describe your style in five words.
Mismatched, knitted, bleached, cozy and happy.
To find out more about Louise – and to shop her designs – visit her website at www.louisedungate.com
Leave a Reply