Key Feste 2017: skate expectations!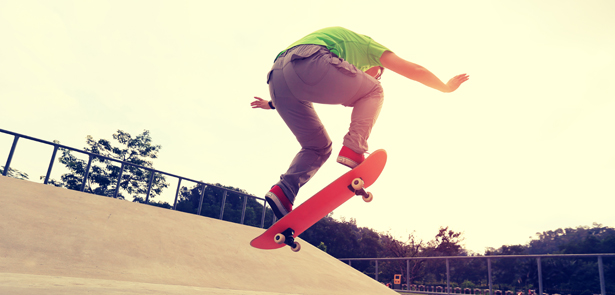 Home-grown company Castillo Skateboards will be bringing their expertise to Key Feste for the first time to help skaters young and old – as well as giving aspiring musicians and YouTubers a helping hand. Castillo director Chris Niemc reveals all...
First of all, tell us a bit about Castillo Skateboards…
We're quite a new, up-and-coming company, and we've been designing and manufacturing our own skateboards in Peterborough for the past 18 months. We are very much a local company – and we also sponsor four young guys who travel around the country entering competitions, promoting the brand. We have a pretty wide range of products – we do t-shirts, hoodies, two different designs of pro skateboards, all skate hardware like wheels, bolts and grip tape – but we also do our own artwork, and we try to support aspiring artists. We have a monthly exhibition for local artists and try to get them involved in the art on our skateboards, and we have a huge gallery on our website as well.
What will you be bringing to Key Feste?
We'll be hosting all the events and competitions that are going on at the skate park on the Embankment over the weekend. We will also be providing some skateboards that people can try out and all the relevant safety equipment, and we'll be offering tutorials, so you can come along with absolutely no experience and we'll give you the opportunity to try it and find out if it's for you. And if you've been skating for years and already quite practiced with your tricks, we hope to have an area where you can demonstrate those abilities to the public. I'll be compering the events as well – so it'll be me behind the microphone! We'll also be providing a lot of the prizes, and if you come to our marquee beside the skate facility you'll also be able to check out the Castillo merchandise, find out about editing video you've captured, learn how to add music to it, and also find how skateboarding affects the local community.
What does the video and music editing involve?
We'll have an edit suite there, so we can actually film people skating at the event, help them edit it and provide them with some license-free music so they can post it online. We'll also provide links to free editing software so they're set up to do their own editing. I'm originally a sound engineer by trade, so we're also going to have a small studio set up where we're going to offer people the chance to make music – something they can own, so they can have something on YouTube which is completely representative of themselves.
Is social media an important part of skateboarding?
It's a really big part, but you would be surprised how many people struggle to get their footage online. We're all editors and producers – we've probably got about 40 years of experience between us now – and what we've found when we've offered these kind of editing experiences is that people are often scuppered at the final stage when they try to post it to YouTube. Video without music can sometimes be a little bit boring, but if you use music you don't own you can get into trouble. So the idea is they can do some skating, do some editing, make some music if they're interested and end up with something they completely own which is ready to go online.
How can people get more involved with the skateboarding community?
If you go to our website you can see the merchandise we manufacture and sell, but also find out about the skateboard community via our blog page, where we go, where we skate, and you can message us and get involved. There's also a huge gallery of images of local skate spots and places we've been.
See also our special features on Key Feste arts highlights, Key Feste sports and Urban Astronaut!
Key Feste will run from 12:45 to 8pm on Saturday 2 Sept and 12-5pm on Sunday 3 Sept. For the latest Key Feste 2017 updates, visit: www.vivacity-peterborough.com/theatre-arts/key-feste
To find out more about Castillo Skateboards, visit: castilloskateboards.com
Leave a Reply