Key Feste 2017: overview and arts highlights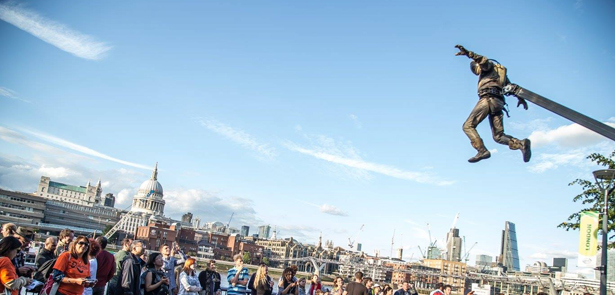 The summer festival of the year is set to take over the Embankment on 2-3 Sept – and this year, Key Feste is expanding. Vivacity is creating an arts and sport mashup, with activities and performances inside and outside the Key Theatre, at the Lido and on the river....
Vivacity's Key Feste is known for bringing Peterborough's streets and public spaces to life with street performance and art, but for 2017, Key Feste expands its horizons to celebrate both art and sports. As ever, there'll be lots of outdoor performance companies with dance, circus skills and theatre – but there will also be skateboarding, graffiti art, sports tasters such as soft archery, football, tennis, and an explorer orienteering course around the area, kayaking and martial arts. You'll have a chance to try out virtual reality software, theatre tasters and even watersports and boating activities on the river. The lido will also be open all weekend and swimming will be free for everyone.
Thanks to the Key Feste's partnership with other UK festivals through Without Walls, some of the best, family-friendly street performance companies in the country will be joining the fun – nearly all of which is FREE to everyone.
Far From the Norm will be going football crazy with a piece called 'H.O.H,' a footie inspired, high-energy interactive dance piece. Past favourites Acrojou will be row, row, rowing their boat ashore. Festival veterans Plunge Boom will be bringing their hit one-man show Smoke – devised by Ben Faulks (CBeebies' Mr Bloom) – and there will even be a visitor from space as a magically weightless Urban Astronaut (see feature) floats and bounces along our streets…
Music will be a big part of the weekend helping to create that summer festival feel. The weekend will be celebrating local talent by showcasing artists and musicians and challenging them to wow the Crowd – busking, with a prize for the most popular public vote. Local DJ's will also be on the decks by the skateboard ramps in a play-off – All Fingers to the Deck – again, with a prize for those voted the best. Those who love skateboarding or BMX will also have an opportunity to show their skills on the ramps. (Participants are encouraged to bring their own equipment – and helmets must be worn to keep participants safe.) Local skate gurus Castillo Skateboards (see feature) will be offering their expertise, too – and can even help with getting your skating videos edited and online.
There will be graffiti workshops, the chance to stencil your own custom made T-shirt, and lots of other art activities for all ages. A full programme of events and the schedule is available on the Vivacity website – but meanwhile, we present our pick of what's on offer…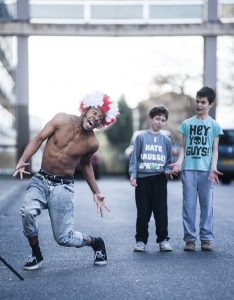 H.O.H by Far From The Norm
Football crazy? Football mad? Make sure to catch H.O.H, the interactive, immersive dance piece that is centred on the nation's favourite sport. Using hip-hop theatre and contemporary movement, it comically forces the audience to look at the nation's beloved game from a different perspective, tackling everyday socio-political issues at the same time. It's definitely Far From The Norm…
Project_Vee by Circus Geeks
Project_Vee mixes techniques inspired by legendary Soviet-era circus with a contemporary approach to outdoor performance. Roulette wheel meets juggling, with danger, skill and awe-inspiring moments as aluminium, concrete and motors mix in an unlikely way. Project_ Vee takes juggling to a different dimension. Literally!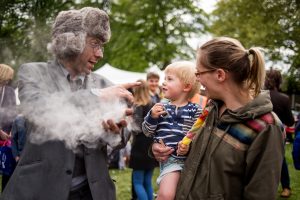 Smoke by Plunge Boom
A man moves amongst the unsuspecting public. Gradually smoke begins to creep from out of his trouser leg. He gives his leg a shake and the smoke stops. Next, it arises from his collar, then his sleeves. All the while he acknowledges this with a weary resignation, but what starts as a tiny wisp, ends up as an all-consuming plume. Can you help him out before he disappears completely?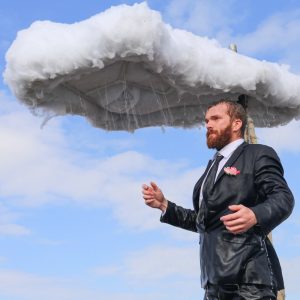 Vessel by Acrojou
Chapter 2 of Acrojou's acclaimed performance All at Sea, Vessel combines acrobatics, physical theatre and video projected onto water to create a visually stunning performance. What is a life well lived? What about the things you meant to do one day? An emotive tale to inspire and uplift, in Vessel we look through the lens of death at how to best make use of the phenomenon we call life – how to remember to remember what matters as we navigate our fast and overwhelmingly complex lives.
All at Sea by Acrojou
A storm in a tea cup, the cloud that we all carry, a boat-sized piece of one man's inner ocean… All at Sea is a theatrical piece set in a boat, which rows gently through the tides of the world around us. In limbo between life and death, a lone boatman traverses a vast ocean of memories and past hopes, accompanied by his own personal storm. The piece combines melancholic humour, striking design, and the visual poetry for which Acrojou is renowned in a moving and atmospheric row-about installation.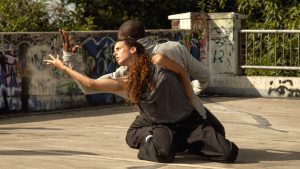 Nomadis by Humanhood
In this immersive dance piece, two nomads meet with instant recognition. Falling into the force of a vortex that brings them here, shaping the 'Now' bodies merge in curves and fall into the pulse of the encounter – an animalistic crossing where instinct is the only thing left.
First Person by Zest Theatre
Two players enter the labyrinth of a virtual world and compete for the ultimate prize: happiness. The First Person to complete the game and find happiness is the winner! It's that easy. All they need to do is follow the voice of the unseen Guide and they'll be just fine. But in our harsh world of winners and losers, is the Guide aiding their journey, or relishing in their demise?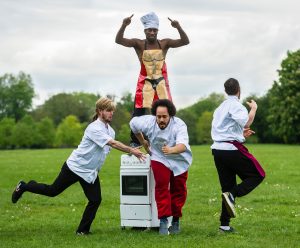 Culinary Duel by Etta Ermini
Based upon the familiar format of TV cookery shows Culinary Duel combines dance, theatre and one characterful robotic cooker set to create havoc. Recreating the family TV experience and animating its absurdity with physical humour, athletic dance, acrobatics and audience participation, members of the public are encouraged to stir and sprinkle ingredients, engage in egg cracking competitions, learn a simple dance with cooking gestures and help the chefs catch their disobedient kitchen appliance.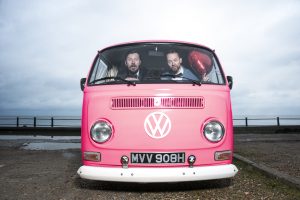 Campervan of Love
Cupid helps the world to fall in love. Now he has fallen in love himself, only to discover his powers have deserted him. Will he be able to recover them? He enlists the help of a magical Campervan of Love and a host of surprising characters. Together they set out on a chaotic road trip that takes them to the heart of what's in our hearts. A funny, musical, dancing adventure for all the family.
See also our special features on Urban Astronaut, Key Feste sports and Castillo Skateboards!
Key Feste will run from 12:45 to 8pm on Saturday 2 Sept and 12-5pm on Sunday 3 Sept. For the latest updates, visit: www.vivacity-peterborough.com/theatre-arts/key-feste/

Leave a Reply