Everything must go, with Eastern Angles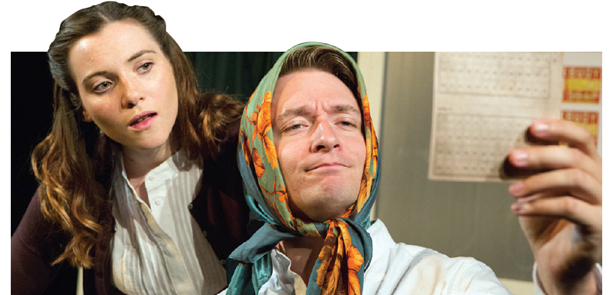 Many of us have a shared history around shops – whether it be recollections of accompanying our Mums on daily shopping trips, memories of toy shops or sweetshops, Co-op dividends and Green-Shield stamps, the personal service and deliveries from grocers, butchers, ironmongers, the effects of rationing during the war, working behind the counter, or the ever-changing face of our high streets and shopping centres
The high street has changed dramatically over the years and Eastern Angles will be exploring the subject in their show Everything Must Go! this autumn. The play is part of a reminiscence project based on care home residents' memories of shops and shopping. Director and writer, Jon Tavener, has conducted interviews and transcribed them to text which has then formed the script. We asked Jon what the interview process was like working with the residents.
He explains, "When a resident says to me before an interview, 'There's nothing interesting about my life', it is usually a strong indication that the stories I am about to hear are going to be anything but dull! The central idea behind the project is to give care home residents the chance to pass on the stories of their lives. However, as well as using their words as the basis of a play, which we tour back to the care homes, we ensure that residents receive a typed copy of their interview to pass onto their families, so that their memories are not lost to the next generations".
Inspired by these interviews, the story of Everything Must Go! follows Dot – born above a Norfolk shop in 1931, but now lives in sheltered accommodation in Suffolk. Her favourite grandson Tom is taking her out in his car to visit the villages and towns of her past. Through their journeys together, Dot remembers the shopkeepers and customers and gibes her grandson a glimpse of a time long gone, when you received 'proper service' and the shopkeeper always knew your name. Everything Must Go! originally toured last year and will return to The Undercroft, in the appropriate venue of Serpentine Green Shopping Centre, on October 6th with two performances at 3.30pm and 8.30pm.
The company will then be taking the show into care homes and schools across the East including Peterborough. On the 6th October, Eastern Angles will also be joining in with Fun Palaces – a cultural weekend taking place across the UK which sees venues and organisations opening their doors to show the vibrant culture in the community and encourage more people can get involved in the arts. Fun Palaces are led by local people for local people, sharing their own passions and skills, and is open to participation for all ages. Come along and see what is happening at The Undercroft, explore the space and see the show afterwards.
● For more information, visit easternangles.co.uk or call Box Office on 01473 211498   
Leave a Reply