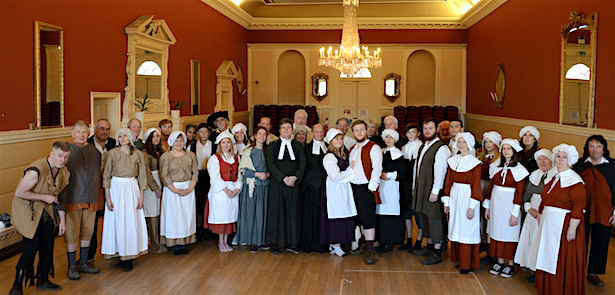 Stamford Shoestring Theatre Company brings The Great Plague to life in 'epic' true story
It's not often that 40 actors and musicians take to the stage at Stamford Arts Centre. But this spectacle is exactly what director Ken Walsh has created for his production of Don Taylor's play The Roses of Eyam, which tells the true story of events in the Derbyshire village of Eyam when a box of clothes arrives from London in 1665 with unforeseen and disastrous consequences.
The production has involved the company in painstaking research – including on location in the village itself – and study of the dialect & dances of the period. Talented folk musicians have researched the traditional music of the period, and will help to create the authentic atmosphere of 17th Century England. Even the costumes have mostly been sourced from Eyam, to ensure the cast look as much like their real-life namesakes as possible. Whilst ultimately a tragic story, the play also captures the joy and comedy of rural English village-life.
The Roses of Eyam runs at Stamford Arts Centre from Tuesday 4th to Saturday 8th June, with an outdoor performance as part of the Stamford Festival in the gardens of Stamford's historic Browne's Hospital on Sunday 23rd June. The production then transfers to the world-famous Minack open-air theatre in Cornwall starting on Monday 15th July.
Tickets for all the Stamford performances are available from the Stamford Arts Centre Box Office on 01780 763203, website www.stamfordartscentre.com. Tickets for Minack are available from www.minack.com.
Leave a Reply