Engine Room @ The Undercroft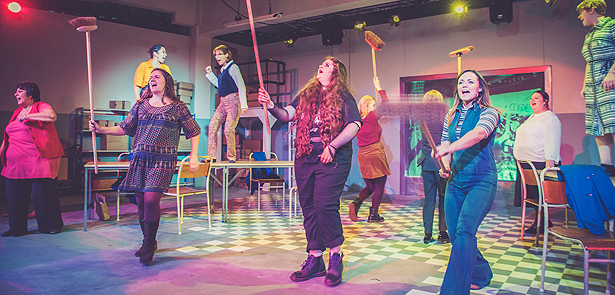 The Undercroft at Serpentine Green Shopping Centre has been abuzz with a hubbub of drama workshops, paint jams, theatrical shows, live podcasts and cabaret nights so far this year – and this autumn is no exception.
Since 2015, Eastern Angles has brought Engine Room to Peterborough – a new writing mini-festival which showcases new talent from Peterborough. Previously, Engine Room has seen shows dealing with the refugee crisis in Nativity Blues by Danusia Iwaszko, a fresh local twist on E. Nesbit's classic novel with The (Fletton) Railway Children by Julie Mayhew and last year's community play All Wrapped Up in Westwood which took interviews with employees of Freemans Distribution Centre to create a documentary musical.
As well as fully fledged shows, scripts are workshopped and some scenes are presented to an audience with a chance for immediate feedback in Q&A sessions. It is a unique way for writers to get the chance to receive an instant reaction to their work and discuss it openly.
This year, Shamser Sinha brings Taxi to The Undercroft's Engine Room. Shamser has been interviewing taxi drivers from ethnic backgrounds in Peterborough and Ipswich to form the script of the show. Some of the script was workshopped at Eastern Angles' base in Ipswich but bringing the play to Peterborough gives another chance for development and reaching a wider audience.
Already resident at The Undercroft is the youth theatre company UROCK and other young companies are using the space to workshop and premiere their shows, often with Arts Council support to make it a real space for experimentation and new productions.
Artistic Director, Ivan Cutting, says that "Engine Room has become a fantastic way of finding new ideas for plays for and about Peterborough and then exploring new audiences and ways of staging them in our versatile space at The Undercroft. O&H Hampton have sponsored all this activity by letting us take over the space at the south end of Serpentine Green which has become a great favourite with our young performers and audiences."
This year the company is joined by Scott Hurran, who is the new Artistic Associate for the next 12 months. Funded by Esmée Fairbairn he will be creating a new young writers group, working with schools and colleges, and creating new projects to help find the next generation of Peterborough talent.
"Having funding from Esmée Fairbairn is invaluable to our work in Peterborough – it's a real shot in the arm, and enables us to bring in talented young directors like Scott, who trained at Central School of Speech and Drama and RADA and is also Associate Director at Colchester's Mercury Theatre, to share his enthusiasm and expertise with groups like Goldhay Arts and children and young people from schools and colleges across the city."
Keep up to date on what is happening at The Undercroft and Engine Room by going to the Eastern Angles website on easternangles.co.uk or follow The Undercroft on Twitter: @undercroftpb.
Leave a Reply