Pet slimmers of the year!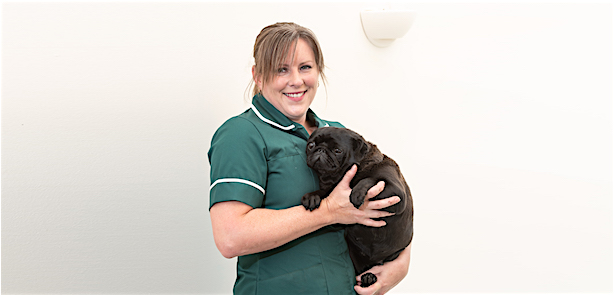 Pet obesity continues to be one of the key welfare and health issues facing pets in the UK. According to the Paw Report 2018, published by the People's Dispensary for Sick Animals (PDSA), alongside lack of exercise, treats are a likely contributory factor when it comes to pet obesity. Findings in the report state vets and vet nurses estimated that 46% of the dogs they see in their practice each week are overweight or obese. It adds that 91% of owners give treats to their dog, with cat owners at 81% and rabbit owners at 83 per cent. The practice teams for Best Friends Veterinary Group are keen to educate pet owners on diet and exercise with pets. We speak to Cambridgeshire pet owners, who go to Best Friends' practice in March, about their experience with pet weight loss.
"She was like a balloon on legs. Losing this weight is the best thing to have ever happened to her."
Eight-year-old Patch belongs to Narina Charles, from Jubilee Walk, in Wisbech, and the black cat once weighed 6.6kg (14.5lb).
In 2017, Mrs Charles took Patch to Best Friends Veterinary Group's practice in March, where she was diagnosed with a bladder infection.
Head veterinary nurse Sara Rolfe was concerned about Patch's size and advised Mrs Charles that Patch needed to lose weight to improve her health and well-being.
Mrs Charles said: "I didn't really used to think about what I was feeding her but I was told I was feeding too much.
"Now I really control the amount she eats a day and she is a lot happier for it.
"Treats would have been a problem for her. Now my husband and I really ration these with just the occasional bit of chicken. It's important to get advice from vets if you think your pet may be overweight."
Another cat lover, Eileen Franks from Tipps End, Cambridgeshire, is also now the proud owner of a slimmer moggy called Chico.
"She had gone right up to 9.4kg, or 21lbs, when Sara at Best Friends advised us that she was overweight.
"I was often feeding her bits of ham, so this wouldn't have helped. Now she only eats small portions of dry food and we restrict her treats.
"As she is a house cat, she doesn't get out too much, but she does like a little run around in the outdoors in the spring and summer. Hopefully she continues to lose weight as the year progresses."
Ten-year-old Chico is now a more chipper 6.4kg and much more mobile in herself.
Signs to look out for in a healthy pet include a shiny coat and healthy skin, effective digestion, healthy teeth and gums, good energy levels and a happy disposition.
Another of Best Friends' practice, in Wisbech, runs weight loss clinics to advise pet owners on these matters.
Run by veterinary nurse Hannah Crowson since 2016, the clinics have proved successful. One black Labrador called Daisy has shed 18kg (39lb) in one year and is now a healthy 35kg (77lb).
If you want to speak to the Best Friends team about a weight check for your pet, please call the main hospital in Peterborough on 01733 562904 or visit www.bestfriendsgroup.com for further information.
Leave a Reply