Life inside the practice doors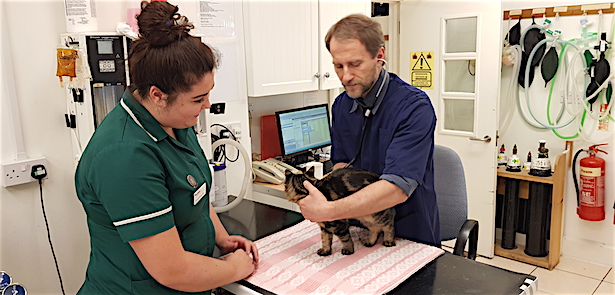 They are a familiar sight on the main streets of cities, towns and villages, but just what is daily life like at a veterinary practice?
According to the latest PAW Report, compiled annually by the charity PDSA, 49% of adults in the UK own a pet. All these furry friends need to be loved and cared for throughout their young and elder life. Veterinary practices have a vital role in ensuring pets are fit and healthy, no matter what age, so they continue to provide endless fun and love to their owners.
We spent a morning with the nursing team at the Wisbech Best Friends Veterinary Group to discover what goes on.
"Are Cheese and Pickle here?" Not the everyday words you would most link to a veterinary practice on a crisp autumn morning in Cambridgeshire.
These are the names of the four-month-old kittens who are booked in for neuteuring at Wisbech Best Friends Veterinary Group.
The furry duo are two of the four pets scheduled for surgery at the practice that morning. The team has started work early to make sure everything is ready for the hours ahead.
Situated in Wisbech's town centre, on a normal day there will be two vet surgeons, three vet nurses and two receptionists in the practice team.
It all begins at 8.30am when the practice opens its doors and the numerous items of equipment are switched on ahead of the morning consultations.
The two nurses in today are Georgia Battams and Jade Clark. Their immediate duty is to ensure everything is prepared and ready to go for when surgery starts at 10.30am. This includes checking on animals as they arrive, and, as in the case of cheese and pickle, they can have imaginative names to remember.
Georgia, who joined Best Friends after qualifying as a nurse in London, said: "We want each pet that comes in to the practice to be as settled and calm as possible when with us. Each pet must have a pre-consultation check-up, this means giving a general examination including taking its temperature. The nurses do this but if the pet hasn't been to the practice before then this is the surgeon's role. Then we have to get all the medication ready and the operating room prepped for surgery.
"It's a great job to do with lots of satisfaction. I particularly enjoy monitoring the pets whilst they are under anaesthetic in theatre. Their life is in our hands, so the nurse must constantly check for vital signs when under the anaesthetic including their heart and pulse rate, oxygen saturation in their blood and eye movement, while the surgeon operates."
Most of the pets that arrive at the practice are cats and dogs, but on occasion the team get to care for guinea pigs, rabbits, hedgehogs, baby bats and birds.
Interesting cases they have dealt with recently include successfully treating a bulldog that had an infected tail and a stray cat called Catita who had mastitis, which developed after she cared for a new litter. There was also a nine-week-old puppy called Watson who had a minor illness. The owner couldn't afford to look after the terrier, so he was signed over to a nurse, and he is now living happily at their home.
It's a busy day for the practice team. Once surgery is over the afternoon consultations start before the doors are shut at 6.30pm.
Best Friends Vet Group run more than 25 other practices in Peterborough, Cambridgeshire, Lincolnshire, Essex, Northamptonshire and Leicestershire.
Best Friends Vet Practices teams are always on hand to offer help and advice throughout the whole life of your dog or cat – if you have any questions please call the main Broadway hospital in Peterborough on 01733 562904 or visit www.bestfriendsgroup.com for further information.
Leave a Reply