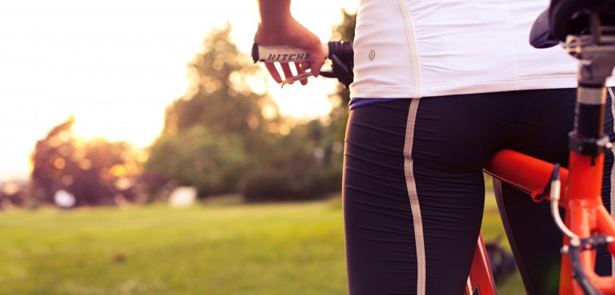 British Cycling Ride Leader, Breeze Champion and Director of Rutland Cycling, Sally Middlemiss, gives us her top tips on getting into cycling and where to find friendly local women's rides
Women's bikes are purpose designed to fit a woman's frame and body shape. For example, the frame geometry may feature a shorter reach to the handlebars, while the bike may come with specially designed 'contact points' to make them more comfortable. Of course, we all have different body shapes and women can ride any bike they want to, including a men's bike. But for many women, the introduction of womenspecific bikes has meant a more comfortable and enjoyable ride.
• Leisure and fitness
Hybrid or traditional bikes are ideal if you want to focus on improving your fitness or generally enjoying the great outdoors. They won't go as fast as a road bike or cope with tough terrain like a mountain bike, but do allow for a variety of terrain. A traditional ladies bike is best suited to paved roads and typically has a step-through frame, making it easy to get on and off. A hybrid bike usually has more gears and some models come with front suspension for a smoother ride. If you're looking to ride that little bit faster or further, or are recovering from injury or illness, an electric hybrid bike is an ideal option, offering the advantages of a regular bike, while reducing strain by giving you an assisted electronic boost.
• Commuting
Hybrid or traditional bikes are also great for commuting as they sit the rider in a stable position with good visibility. Commutingfocused bikes are designed with ease of use in mind, require less maintenance and may include extras like mudguards and dynamo lights.
• Roads and racing
Road bikes are for you if you're looking to venture further afield or take part in a race or sportive. The larger wheels and narrow tyres are more efficient on tarmac, so covering longer distances is quicker and easier. They are also very light and responsive and climbing hills is more comfortable. 'Flat bar' road bikes with straight handlebars, like a hybrid bike, are available if you prefer a more upright, stable position but want to travel fast on tarmac.
• Off-road trails
Mountain bikes are capable of handling a wide variety of terrain and offer an entry point into the exciting world of off-road cycling. Most will feature some sort of suspension to absorb shocks and bumps. Electric mountain bikes are the next big thing in off-road riding. Discover just how much fun it is to have some turbo boost in your back pocket – conserving more of your time and energy means you can conquer that big hill, challenge yourself to ride harder and faster, and get more riding into your session.
Choosing a bike
After deciding the style of bike you're after, it's time to visit a bike shop to try a few different models. Remember, the main considerations should be the terrain you want to ride on, the style of riding you want to experience and your body shape. In the end, it's down to personal choice and fit, so spend time trying out different bikes until you're happy. At Rutland Cycling we have the largest cycle hire and demo fleet in the country, including electric bikes, so come along and take a few out for a spin.
Rutland Cycling Ham Lane, Orton Meadows, Peterborough PE2 5UU. 01733 371013, www.rutlandcycling.com
Bike rides you can join
Free women's bike rides
We've teamed up with the British Cycling Breeze Network to get more women cycling for fun. The rides are free to join with your own bike, or you can hire a bike and equipment from just £5. All rides are led by volunteer Breeze Champions. For information on all rides and events visit www.rutlandcycling. com/events
Mums and tots rides
Join this ride with your little ones for a gentle pedal around Ferry Meadows. Dates: 4, 18 Aug, 1, 15, 29 Sept. Booking essential at:
Breeze midweek pedal
A leisurely ride around Ferry Meadows on trafficfree tracks. Dates: 3, 17 and 31 August, 14 and 28 September. Booking essential:
Breeze weekend pedal
Scenic ride around Ferry Meadows, along mainly traffic-free trails. Easy pedaling, suitable for beginners. Coffee and cake stop at the end! Dates: 12, 26 August, 9 and 23 September. Booking essential:
Leave a Reply