When two fuels are better than one…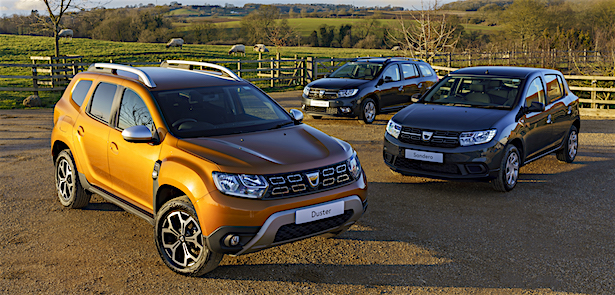 Dacia delivers lower running costs with its new bi-fuel system – a UK first
Dacia is launching a new factory-fitted dual-fuel solution across its range of award-winning Duster, Sander, Sandero Stepway, Logan MCV and Logan MCV Stepway models, the only manufacturer in the UK to do so. The all-new 1.0-litre turbo Bi-Fuel 100 engine combines petrol and LPG fuel to deliver reduced fuel costs, lower emissions and improved performance without compromising on quality.
On average, customers could save around £594 per year by opting for the new Sandero Stepway Bi-Fuel model. In the Sandero, the new powertrain is capable of up to 39.8mpg with CO2 emissions as low as 116g/km when in LPG mode, a drop of nine per cent compared to its petrol setting. Meanwhile, the Duster returns up to 35.3mpg and CO2 emissions of 129g/km when using LPG, a reduction of 11 per cent when driven solely on petrol.
The engineering quality and low running costs are further underlined with service intervals mirroring those of the standard petrol and diesel engines with an oil change every 18,000 miles or two years and light annual service. At the same time, the cost of LPG is half the price of petrol and diesel at 0.63p per litre and is available in more than 1,400 filling stations in the UK, with numbers continuing to grow.
The main change to vehicles is the additional, high-strength steel LPG tank in place of the spare wheel, which is 32 litres in the Sandero, Sandero Stepway, Logan MCV and Logan MCV Stepway models and 34 litres in the Duster. Despite the additional fuel tank, boot space remains the same, ensuring practicality and convenience are not compromised in any way.
The LPG technology has been tried and tested across Dacia models in Europe for several years. The success can be seen in Italy where one in three Dacia vehicles are fitted with the system. The dual-fuel technology allows owners to choose between running the vehicle on petrol or LPG at the flick of a switch for a combined range of up to 620 miles (1,000 km), meaning drivers could travel from Brighton to Inverness without refuelling.
Filling up with LPG is as simple as adding petrol, with a filler flap and protective cover situated at the rear of the vehicle, on the opposite side of the petrol filler unit. The car can be manually switched between LPG and petrol by pressing a dedicated switch in the cockpit at any time or automatically when one of the tanks is empty.
The adaptation is carried out within Dacia's factories on the same production line, making sure there are no delays on delivery times and a straightforward single point of contact for any warranty or maintenance requirements.
At the centre of the latest powertrain offering is the development of an all-new 1.0-litre turbo Bi-Fuel 100 engine, which engineers have worked on extensively and been able to achieve enhanced torque in LPG mode compared to petrol at 170Nm and 160Nm respectively.
Luke Broad, Head of Brand for Dacia UK, says: "The Dacia range is all about delivering value for money without compromising on quality and running costs, and the introduction of LPG models to the UK reinforces this ethos. The technology is proven in Dacia products and the new 1.0-litre Bi-Fuel engine is an impressive piece of engineering which has been developed to fulfil all of the criteria expected of models like the Duster, Sandero and Logan MCV. With this new LPG engine, plus our petrol and diesel powertrains, we have the perfect Dacia model for any customer, no matter what they are looking for."
All Bi-Fuel models come with a three-year or 60,000-mile warranty as standard.
Smiths Dacia
Bretton Way, Bretton, Peterborough PE3 8YL.
01733 307823, www.smithsdacia.co.uk
Leave a Reply