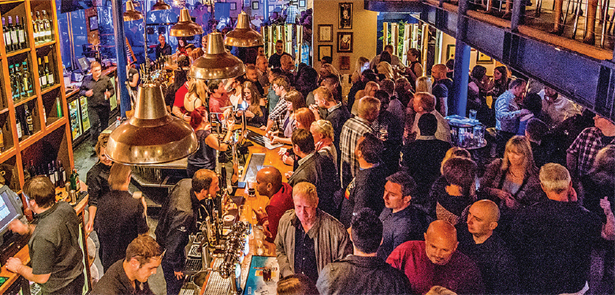 Yes, summer's only just finished and already we're talking Christmas. But now's the time to book ahead if you want to guarantee your best Christmas party yet!
The Brewery Tap on Westgate is renowned for it's popular mix of award-winning ales, Thai food and lively music programme. It's the ideal venue for good times with friends, family and work colleagues –and rip-roaringly raucous Christmas parties are no exception! With summer days fading and autumn stretching out ahead, now's the time to start thinking about where you'll be for your Christmas party. The Brewery Tap has plenty of space for parties of all sizes, anything from a handful of friends to 200 guests. Enjoy a set menu or a buffet with a twist. Get your groove on to the resident DJs or one of The Tap's visiting bands. And, of course, sample a few of the many tasty ales, lagers and wines on offer.
Party time!
Whether booking a private party or simply turning up with friends, The Tap's the place to be this December, with live DJs spinning their tunes every Thursday, Friday and Saturday night from 9pm – a sure Four menus will be on offer over the Christmas period. The Christmas set menu for four or more to share includes Thai favourites such as massaman beef curry and pad Thai noodles, together with freshyet- festive dishes like the coconut and lime turkey. There's a vegetarian festive menu too, for two or more to share. The Christmas set menu is £24.50 per person, while the vegetarian alternative is £20.90. Larger bookings of 20 or more guests can enjoy either the Christmas buffet or finger buffet menus, with tasty treats such as spare ribs, Thai fries and char-grilled marinated pork satisfying even the hungriest revellers. All menus come with a festive dessert specially prepared by the chefs. Prices start at £13.50 for the finger buffet.
Book your night
If you'd like to book a party, it's best to get in quickly. The party-perfect Tap Room is ideal for up to 110 guests and includes its own private bar, a dedicated member of staff and a great sound system. If you'd like your own band or DJ, no problem – that can be arranged too. Room hire quotes can be provided on request, with prices starting at £100. Many local companies return for their Christmas party year after year and, of course, smaller group bookings of any size are always welcome in the restaurant. Just make sure you book as soon as you can – staff at The Brewery Tap love to be fully booked but hate to turn people away!
The Brewery Tap
80 Westgate, Peterborough PE1 2AA. 01733 358500, www.thebrewery-tap.com
NYE at The Tap
Tickets have gone on sale for New Year's Eve at The Tap. This year Peterborough favourites Groove Cartell will be performing from 10pm then on into the early hours of 2018. Tickets cost just £10 per person in advance or £15 on the door (but only if there are any left!).
Leave a Reply