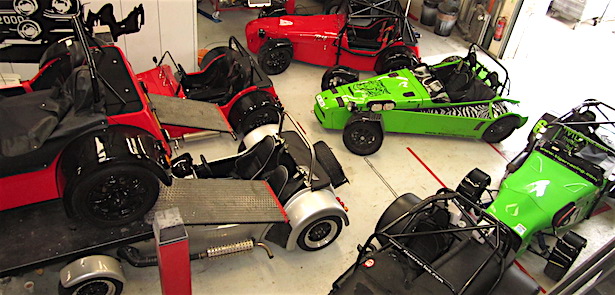 Fuel your love of sports cars!
Tiger Racing is the creation of owner Jim Dudley, who set up his first garage back in 1970, the same year he took his first Lotus Seven for a spin at Brands Hatch motor racing circuit in Kent. Throughout the 1970s Jim pursued his love of racing, taking karts and saloon cars onto the tracks with success along the way. He then went on to open a number of crash repair centres and VW specialist garages with his brother Phil.
It was 1989 that saw Tiger Sportscars launched and in 1995 Jim received his first major order for 50 cars for the Japanese market. The company hasn't looked back, with six further models being designed and produced alongside the Tiger models. Jim and his family – wife Sue, daughters Joanne and Laura, and son Paul – also own the historic ERA (English Racing Automobiles) racing car marque, producing two further models under this marque.
Today's Tigers can be bought in kit form, as either a part-kit or a full-kit with nothing else to purchase. The cars can then be built at home, at your leisure, safe in the knowledge of full back up from the factory. Don't fancy building one yourself? No problem – you can also buy Tigers fully built as a new car, complete with current registration plates.
Tiger Racing is home to many other classics too, and is well-known for its exemplary repair and restoration service of all different makes of classic car. If you have a classic, you can rely on Tiger to take good care of it for you.
Tiger Racing
Unit 10, Anglia Way, Wisbech, Cambs. PE13 2TY.
01945 466200, www.tigerracing.com
Leave a Reply