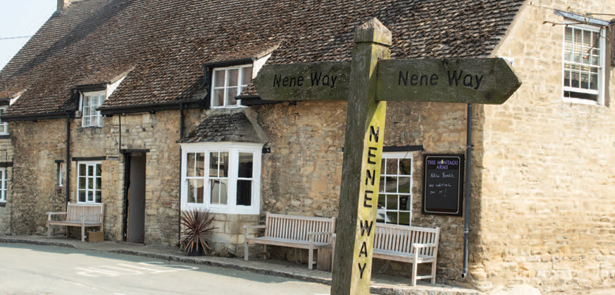 The 400-year-old pub in Barnwell – affectionately know as 'The Monty' – is a labour of love for landlord and owner, Ian Simmons
Those who have followed The Monty's progress over the last couple of years have seen it take on a new lease of life thanks to the vision and loving care of owner Ian Simmons. In that time, he has added a brand new cellar, turned the old cellar space into the 'cellar bar', linking the main bar straight into the garden. There's also a new play area and picnic benches, and while it retains all its character and hidden nooks, it's become a great family pub.
Ian took over The Monty back in 2017 but his connection with it goes back much further. 'When I left school and my family was looking to relocate to Northamptonshire, we actually stayed in the field behind The Montagu Arms for two weeks whilst they were house hunting', he says. Clearly this was the start of something special… 10 years later – 23 years ago now – Ian and his partner Lisa took over the running of that same pub, which was to become the hub of their lives for the next ten years.
'We got married in the village, had a couple of kids, a couple of dogs and many great times.' They moved on to other pubs, and other projects, but that special connection with The Monty remained – and when the opportunity arose to buy the pub outright, they jumped at it. It was, as Ian puts it 'like coming home'. The pub serves lunch and dinner every day, with a happy hour at 6-7pm on Mondays. On Wednesdays you can have two courses for £15, and of course there's a traditional lunch menu on Sundays, which always includes roast beef and one or two other roasts. So give it a try – you might well feel like you're coming home too.
The Montagu Arms Barnwell, Nr. Oundle PE8 5PH
01832 273726 www.montaguarmsbarnwell.co.uk
Leave a Reply