Stepping out with Nordic walking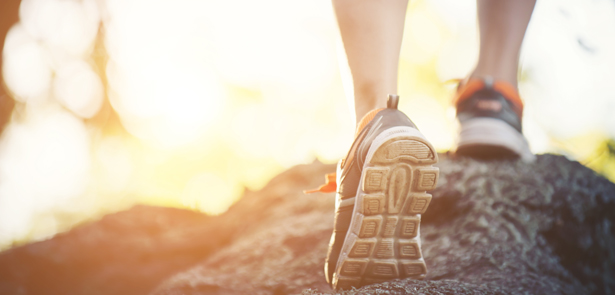 Simple to learn and cheap to do, Nordic Walking not only keeps your heart and lungs in top condition but ensures upper and lower body muscles remain in good shape, too. There are now ten million Nordic Walkers all over the world – and Vivacity is now offering beginners' classes to prepare newcomers for its regular walks, as well as a new intermediate walk for those who want to start out at a slower pace. We talked to Vivacity Health&Wellbeing Manager Sarah Leadbetter about how it's helping Peterborians, of all abilities, walk their way to fitness
How does Nordic Walking differ from ordinary walking?
Nordic Walking is walking with specially designed poles. The poles mean that you are constantly pushing off with your arms, so you're exercising your biceps, triceps and pectoral muscles. Your core is also continuously engaged whilst you're Nordic walking. It turns walking into a 98% body work-out.
Why set up the Learn to Nordic Walk course? Is it difficult to learn?
It's not difficult at all – but there is a technique to it. We set up the sessions because we were having quite a few people coming through who hadn't done it before, and when they joined the mainstream walks there was a big difference in ability between them and others who had been coming for a while. We just needed to bridge that gap and help get people up to speed. The courses have just four or five people at a time, so we can really concentrate on getting their technique correct and after those four weeks progress them into a mainstream walk.
What does it cost?
The Learn to Nordic Walk course is £15 for Vivacity gym members, and £35 for non-members. After that, the walks are free to Vivacity gym members, or £4 for non-members. You can just pay as you go if you wish, and we can provide poles free. However, we're also looking at launching a Vivacity Nordic Walking Only Membership from March, so that people can get access to all the Nordic Walks at a reduced cost – essentially paying for the equivalent of one walk a week (£4) but with the freedom to join in as many as they want to. And when people join that membership, they get the Learn to Nordic Walk course for free.
How has Nordic Walking developed in the two years since you introduced it?
It's been really popular. The Hampton walk is busy, and the Regional Pool, Central Park and Bushfield walks each have a good cohort each week. We also trialled one at Royce Road and that went really well. We had to cancel the Werrington walk recently as numbers for that were low, but the others are growing. Overall there's been lots of interest since the launch, and numbers have been steadily increasing each month. They average out at around 68 attendances a month, although some months it's as high as 80. We're hoping that the launch of the new membership will encourage an even wider range of people to try the walks.
Can anybody do it?
One of the great things about it is that it's adaptable to most levels of ability. Kerry McCondach, our Walks Co-ordinator, was diagnosed with multiple sclerosis several years ago and so couldn't work out in the gym or marathon train as she used to. She said she wasn't sure she could do Nordic Walking at first, but is now a qualified Nordic walker and leads several of the walks! So, it really has been beneficial for her. It's actually very beneficial for people who maybe aren't so steady on their feet – walking with poles gives you added confidence. People who have slight mobility issues, such as arthritis, are finding huge benefits from the use of the poles and the support they provide. Often people find they are able to move much quicker, and extend the degree to which they are working their cardio-vascular system and increase their fitness more than if they just went out for a normal walk.
So, yes, anybody can do it – and walking generally can help with many health conditions. Kerry has recently been doing a walk at the Robert Horrell Centre at the hospital, just for cancer patients. That is going really well and they're loving it. But, until now, between that and the mainstream walks there has been a gap – some people with mobility issues, going through treatment or simply less used to physical exercise have been wanting to join a mainstream walk but finding them a bit too taxing. So, Kerry has introduced a lower intensity Nordic Walk, so people can get into it at a lower level and progress through to the main walks if they want to.
Are there levels of ability within the groups?
There are always faster and slower people in the group – which is fine, because they're all catered for. They kind of break into their own level groups, and Kerry oversees that and keeps it all together. It's a case of you doing it at your own pace – and then there's the social side as well. There's always a lot of chat and it's really good fun!
Walking for Health – and fun!
For those who prefer more traditional walks, enjoy a healthier lifestyle with Vivacity's FREE walking scheme – a fun way to meet new people, increase self-confidence and improve current fitness. Suitable for all ages and abilities, with ten local walks available each week. ● For more details visit www.vivacitypeterborough. com/sport/walking-for-health
Nordic Walking – the benefits
Nordic Walking is unique in that it provides benefits for everyone, whatever their age, from those who are super fit to those with specific medical problems ● Tones the upper and lower body ● Uses 90% of skeletal muscles ● Burns 46% more calories than ordinary walking ● Great for the heart and lungs ● Reduces pressure on knees and joints ● Ideal for neck, shoulder and back problems ● Poles help to propel you along, making it easier to move faster than normal without feeling the effort
Try Nordic Walking for yourself!
Vivacity operates a number of Nordic Walks across Peterborough as an extension of their successful Walking for Health Scheme, with advanced walks as well as specific courses for beginners. There is no need to wear special exercise clothing, it can be done anywhere, its suitable for any age and fitness level and its very sociable. All equipment is provided FREE of charge and our friendly instructors will show you the correct technique to get the most benefit out of the exercise. All of the regular Nordic Walks (except the introductory course) are FREE for Vivacity gym members and only £4 for nonmembers. For absolute beginners the Learn to Nordic Walk course is required before joining a regular walk.
The Nordic walks
● Bushfield Leisure Centre A friendly, energetic and vibrant walk from Bushfield through to Ferry Meadows. We'll offer plenty of walking technique advice throughout. Day: Monday Time: 9.30am-11.00am Meet at: Bushfield Leisure Centre Level: Advanced
● Central Park A lovely Nordic park walk with introductions into hill walking technique. A faster paced and fun walk in peaceful park surroundings. Day: Tuesday Time: 13.30pm-14.30pm Meet at: Butter Cross Cafe, Central Park Level: Intermediate/Advanced
● Regional Fitness and Swimming Centre A friendly walk taking you from our Regional site through the Embankment. Develop different techniques like hill climbing, grass and road. Day: Wednesday Time: 9.30am-10.30am Meet at: Regional Fitness and Swimming Centre Level: Intermediate/Advanced
● Hampton Leisure Centre A friendly Nordic walk with introductions into hill walking technique. A faster paced and fun walk in the built up area of Hampton. Day: Thursday Time: 9.30am-10.30am Meet at: Hampton Leisure Centre Level: Intermediate/Advanced
● Learn to Nordic Walk Course For all people wishing to learn and try out Nordic Walking, this is a four-week course, £35 for non-members and £15 for members.
● For booking and information please contact Kerry McCondach on 01733 864738.
● For more details visit www.vivacity-peterborough.com/nordicwalking  
Image: www.freepik.com/free-photo/marathon-girl-recreation-young-spring_1088151
Leave a Reply