Spring recipes: Lee Clarke's ultimate asparagus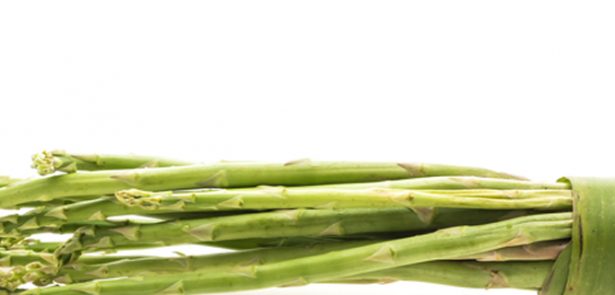 Within a year of opening in 2011, Clarkes Restaurant had secured a recommendation in the revered Michelin Guide. When head chef Lee Clarke went it alone in 2016 with new restaurant Prévost, his food was back in the Michelin within six months. This year, Lee is sharing some of his secrets in a series regular food features in The Moment – focusing this issue on English asparagus
Asparagus is here and it is always a great start to the UK vegetable season. Vine Farm at Deeping St Nicolas has always been my local asparagus farm of choice, and here is one of my favourite recipes:
Ingredients
● 1 fresh lemon (for juice)
● baby leaf salad (rocket, watercress and bull's blood beetroot leaves)
● 4 tablespoons white wine vinegar
● 4 large hens' eggs
● 2 bunches medium asparagus spears, peeled half way up and trimmed removing woody bits
● 3 tablespoons rapeseed oil and knob of butter for frying
● 10 pieces of thinly sliced air dried ham – we use Cumbrian oxspring ham but prosciutto is good too.
Preparation
1. Pour enough water into a large deep pan to reach a depth of six and inches. Bring water to slow simmer over medium heat. Add four tablespoons vinegar to the pan. Carefully crack each egg into individual ramekins/tea cups. Whisk the water and carefully slide one egg at a time into the simmering water, and cook for about six to seven minutes. Using a slotted spoon, very gently transfer eggs to a tray with a cloth on it to absorb any water.
2. Cut the ham carefully in half and wrap around asparagus, not overlapping more than twice. Try to keep the ham as tight as possible.
3. In a large frying pan spread asparagus in a single layer and drizzle with three tablespoons oil, then start to fry on high heat. As soon as ham becomes crispy turn asparagus over and cook the other side. Sprinkle with salt and pepper, add a knob of butter and squeeze the lemon juice over the roasted asparagus. Pinch the asparagus – if it feels soft, it is ready. This should take about four to five minutes once the pan is hot. (This is also a great time to taste one just to make sure they're cooked…)
4. Evenly share out the asparagus using a slotted spoon, place one to two eggs atop each serving of asparagus and ham. Drizzle with pesto (optional – see below) and garnish with baby salad leaves.
Rocket and walnut pesto (optional)
● 50g roasted walnuts
● 75g Lord of Hundreds cheese or parmesan, grated
● 100g fresh rocket leaf
● 2 cloves of garlic
● 1 large shallot finally diced
● 150ml olive oil
● 150ml rapeseed oil
● 50ml walnut oil
Place all the ingredients in blender and pulse together until you have a chunky puree. Place pesto in jar and refrigerate. This will last a few days and is great with pasta too.
Image: www.freepik.com/free-photo/cuisine-season-food-green-vegetable_1044703
Leave a Reply