A slap-up Sundays dinner!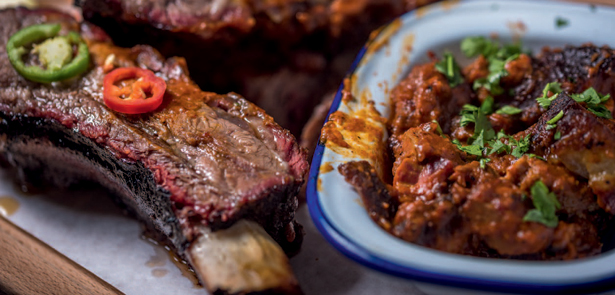 Sundays is one of the few independent restaurants in Peterborough city centre, offering British traditional roast dinners since opening 2004. And that spirit of independence is evident in everything they do. All meat and produce is seasonal and sourced direct from local farms, with absolutely everything freshly prepared on the premises – even down to the pickles. In 2016 they launched their BBQ Nights, using genuine American cooking methods and equipment to create smoky, melt-in-the-mouth dishes. We spoke to founder David Beever from Sundays about the restaurant, its green credentials and how its BBQ menu is making waves...
First of all, where did the idea for Sundays come from?
We've run a successful hog roast business from the farm for about 25 years or more and the restaurant was an extension of that. We still do lots of hog roasts for a variety of events – at the Heritage Festival, for example – but as wonderful as pork rolls are, you can't just sell those every day. So, we looked at various ways of putting that in a high street environment, then one day I just woke up and thought 'Why don't we do Sunday dinners every day?' Evrything on the menu is at-in or takeaway, too, so you can even take away your roast lunch.
You're passionate about sourcing locally – has it always been that way?
Yes. It was never a gimmick. I grew up on a farm, and that was always where you got ingredients from. Apart from a couple of weeks when our chicken farmer is between flocks and we have to buy in some eggs, everything that we use is direct from farms. We know the provenance of it, and it supports farmers directly as well, rather than them losing out to wholesalers. We actually grow our own potatoes, because there's a specific variety that we like: Picasso – good sugar content, not too starchy, good for par-boiling and roasting without going too fluffy. But we worked out that 90% of our ingredients are sourced from within a one-hour round trip of the restaurant. We did try sourcing the coffee locally, but that was one area where we had to admit defeat! We work closely with PECT, though, and have even won awards for our green and sustainable practices. All our veg peelings go back to our cows, for example, and we've also planted around 1,600 trees this year.
Does the menu change with the seasons?
We go through different varieties of cabbage depending on the time of year, and when cauliflower is in season we'll have cauliflower cheese. Right now we don't have parsnips, but we do have swede and carrots. And there's always a period late in the summer when we have a glut of beetroot, so we'll do roasted beetroot for a couple of weeks. It would be easy to have frozen veg, but we just don't want to go down that route. For barbecue nights, my mother-in-law does all the pickles and sauces, and again, we'll pickle carrots, cauliflowers – literally whatever's in season. When we did our Christmas barbecue platter – smoked turkey served with cranberry – we even pickled Brussels Sprouts, which were really good!
How did the barbecue menu come about?
We wanted to offer something different in the evenings. A couple of years before I had been travelling across the States and really loved the food, so I had that in the back of my mind. It's still meat and vegetables, but cooked in a completely different way using a smoker that we imported from Oklahoma, with hickory pellets to give it that rich smoky flavour. It's all about the time, really, cooking things very slowly. All the rubs for the meat are something we also do completely from scratch. It's quite a tight menu, but everything we do, we do well – usually brisket, ribs and pulled pork. Sometimes we have smoked beef short ribs, which are absolutely phenomenal. I honestly don't think you can get anything better to eat in Peterborough – with apologies to Lee at Prevost!
This is quite different from the type of barbecue one usually sees in the UK…
There's actually hardly anywhere in the East of England where you can get freshly smoked St Louis cooked ribs. But we've had great feedback. There was a guy the other day who had our ribs and started asking a lot of complicated questions. It turned out he was a competition smoker, and said our ribs were definitely competition standard, and the best he'd ever had commercially.
Sundays
3 Cumbergate, Peterborough PE1 1YR
01733 554334
www.sundaysroast.com
Leave a Reply