Plug in to Renault's All-New Hybrid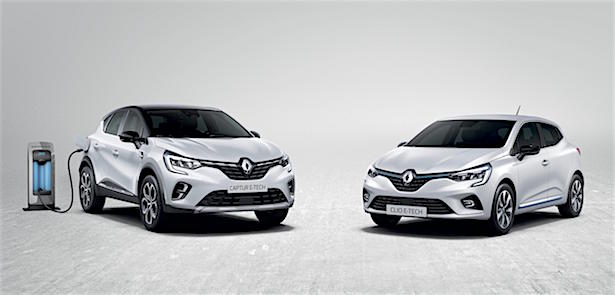 Now appearing at Smiths Renault, Peterborough: a new E-TECH version of one the most popular Renault models: say hello to the All-New Clio Hybrid.
The award-winning supermini Clio has offered no-compromise versatility for 30 years now, but for 2020 it takes things one step further. While offering the highest power output in the Clio range, the Hybrid is all about efficiency and usability and is available across a range of models – Play, Iconic, S Edition as well as a range-topping Launch Edition – with the R.S. Line trim option.
Launched alongside the All-New Captur Hybrid, this electrified version enhances the Clio's appeal even further for those looking for strong performance and low running costs. The petrol hybrid setup offers a smooth and responsive drive with all the benefits of an economical hybrid drivetrain, capable of completing most urban journeys in zero-emissions electric mode. This benefits from technology shared across the Alliance (the 1.6-litre engine and two electric motors, plus clutchless gearbox), and even features technology influenced by the Renault Formula One Team. Energy management and braking system knowledge has also been shared, allowing both All-New Clio and All-New Captur E-TECH models to recuperate energy lost during braking and deceleration.
While it retains the old Clio's sleek profile which proved to be such a big hit with owners of the previous car, the new version is more distinctive than ever thanks to a series of design enhancements, from the more pronounced front bumper right through to the new vibrant Valencia Orange exterior tone.
Inside, E-TECH-specific blue details feature to match the distinctive exterior of the All-New Clio. Sharing the modern and user-friendly Smart Cockpit arrangement with the Captur, the Clio's revolutionary interior design lends it a truly premium feel, backed up by the latest technology available with full smartphone integration, crisp infotainment and driver displays and a choice of interior colour options. Vision Grey interior design elements bring a sophisticated feel to E-TECH models, with the blue interior colour pack complementing the colour scheme with a blue air vent strip and stitching on the gear lever.
All models fitted with the E-TECH Hybrid powertrain get a 7-inch TFT 'Smart Cockpit' digital driver's display with Hybrid-specific graphics and displays, while retaining the generous standard equipment across all models from Play to R.S. Line, continuing the Clio tradition of offering exceptional value.
The new Launch Edition comes with unique features to stand out even more. For the exterior, a blue colour pack features blue detail on the front grille, black lower skirt with blue stripe, blue side detail and blue chrome on the 17-inch Viva Stella Diamond Cut alloy wheels. A new Blanc Quartz metallic paint is exclusively available for the Launch Edition specification, with Urban Grey also available across other models. The exterior is finished off with a shark fin antenna and black door mirrors.
Under the bonnet of All-New Clio Hybrid models is a 1.6-litre petrol engine and two electric motors, driven via an F1-inspired clutchless automatic transmission. Key benefits of the efficient hybrid powertrain are effortless responses and easy driving, with the All-New Clio able to travel for 80% of urban journeys on battery power alone. This affords All-New Clio impressive fuel economy returns of 64.2mpg and CO2 emissions as low as 98g/km, while also being able to travel up to 38mph in all-electric mode.
A focus on economy doesn't mean performance has been compromised, though. The All-New Clio Hybrid is the most powerful in the line-up with 140hp. The petrol engine mobilises a maximum torque of 144Nm, whilst the electric motor generates 205Nm. The HSG (High-Voltage Starter Generator) delivers an addition 50Nm resulting in excellent acceleration – especially at speeds of between 50mph to 75mph where the battery assists with sharper responses than a conventional petrol or diesel engine, enabling a 50mph to 75mph time of just 6.9 seconds.
These characteristics make the All-New Clio Hybrid a perfect choice for those seeking an efficient urban runaround that's just as at home out of town. For peace of mind, both All-New Captur and All-New Clio E-TECH models also benefit from Renault's comprehensive 5-year, 100,000-mile warranty and a 8-year, 100,000 mile warranty for the traction battery.
Smiths Renault
Prices start OTR from £19,595 for the Clio Hybrid, with deliveries starting in September
Find out more at www.smithsrenault.co.uk or phone 01733 307823.
Leave a Reply