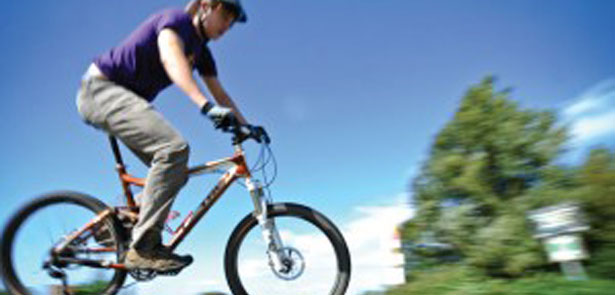 Whether for day-to-day commuting or a weekend thrash around the bridleways, a good bike will bring many years of faithful service
Cycling has seen a surge in popularity in recent years thanks to successes at the London Olympics, a proliferation of cycling sportives and the realisation that cycling to work is often quicker and cheaper than driving! If you are considering a new bike this winter then there are a few things you'll need to bear in mind. Firstly, are you after a commuting bike or a weekend bike? What sort of terrain do you plan to cycle on? And how often do you plan to use it?
Commuting vs leisure
For commuters, a simple bike with no suspension is best; it will be a lot easier to look after and there's less to maintain. A bike costing around the £400 mark will buy you a reliable workhorse suited to daily commutes of five to ten miles at a time – a lot more cost effective then filling up with petrol every week. Mountain bikes are well suited to the rough terrain to be found on tracks, bridleways and other off-road routes. Good suspension will dampen down the worst of the bumps and make your riding experience a lot smoother. These bikes also have wide tyres for plenty of grip in all conditions and enough gears to ride just about anywhere. If you want an all-purpose bike a hybrid could be the answer. Hybrid bikes are essentially a catchall term for anything between a road bike and a mountain bike. At the road bike end of the spectrum, for example, a hybrid may simply be a racing bike with straight handlebars to it, allowing for a more upright cycling position. For a comfortable ride look for a bike with suspension at the front and on the seat post.
Tyres and brakes
Road bikes have slim, smooth tyres to reduce friction and ensure fast, effortless momentum. If you plan to take your bike onto rougher roads then the tyre needs to be wide to give better grip, while only a knobbly tyre will do for true off road adventures. Some tyres offer the best of both worlds, with a smooth centre to the tyre and knobbly sides for additional grip when needed. For day-to-day commuting, standard V-brakes work perfectly well and will be easiest to maintain. For mountain biking, disc brakes offer the best results for what will often be wet and dirty conditions.
Accessories
Essential accessories include lights, a lock and a helmet. The police advise spending at least 10% of the value of your bike on security. Popular D-locks cost around £30-40 and do a sound job in most situations. When locking up your bike remember to fit the lock through both the frame and the rear wheel and, importantly, lock it to something, not just to itself. If your front wheel is quick release it can be detached and also locked up, or invest in a cable extension to loop right round to the front of the bike. Helmets are generally made of polystyrene and are designed to deform on impact to disburse the energy absorbed in a crash.
Most helmets now come with a CE mark, a European standard that guarantees they're up to the job. If your helmet does take a hard knock be sure to replace it as its integrity may have been compromised. Aside from lights, additional accessories you might like to consider are a multi-tool, spare inner tube and pump, especially if you have a reasonable commute. By carrying spares you will avoid a long walk home should a puncture strike – and the occasional puncture is inevitable!
For sound, independent advice, Bristow Cycles is a good place to start. The team will measure you up and ensure that the bike you are considering is suitable for your needs, height and stature. Test ride your shortlist and receive the one-to-one service and time to make a considered investment.
Bristow Cycles 46 Church Drive, Orton Waterville, Peterborough PE2 5HE. 01733 231755, www.bristowscycles.co.uk
Leave a Reply