Olive Grove Nurseries: pizza with added pizzazz!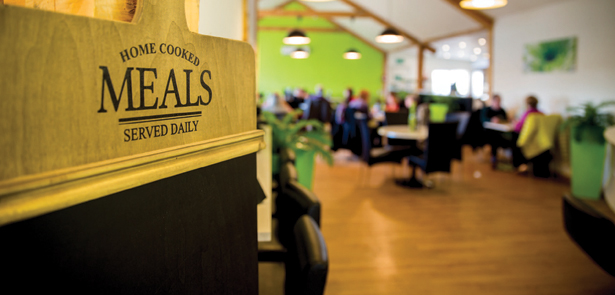 They've been busy at Olive Grove Nurseries but the construction work has been worth the effort, creating a brand new dining out destination that's sure to impress  
The team at Olive Grove Nurseries, near Oundle, has had a busy end to 2015, transforming the coffee shop area into a fully-fledged destination to wine, dine and relax. 'It's been a lot of hard work,' explains co-owner Tim Thackeray, 'but the result is that we can now legitimately say we have a more than just a coffee shop – we've got a bistro!' Tim and his wife Jackie, who set up Olive Grove Nurseries just five years ago, have acted on the seemingly insatiable appetite for quality eating venues by creating this new space. Building work has seen the original coffee shop expanded to fully enclose what was an outdoor seating area. The result is a single large space with a harmonious look and feel that offers a comfortable place to sit and dine all year round. Bi-folding doors open out onto a courtyard, which will provide a welcome link to the outdoors on those warm summer days. 'We've also invested in a new quiet space for couples or friends to come along and enjoy coffee and cake,' adds Tim. 'This has been created by covering over the old decked area, ensuring a separate intimate seated area within the building.'
Cooking up a storm
Work has also seen the installation of a new hot kitchen. The kitchen has transformed the food offer at Olive Grove Nurseries. 'We've gone from only being able to offer pizza to serving up pizza and pasta. The pasta is bought in through our deli and is of exceptional quality. We then marry this with our own home-made sauces.' The new kitchen is open plan, which means diners can watch the chefs at work as they prepare their meal. 'It adds a bit of theatre,' says Tim. 'There's a wood-fired pizza oven, griddles and so on. They can see the chefs at work and watch the food reach the pass. It makes for a very warm, friendly and unstuffy environment.' Up to four chefs will be chopping, sautéing, baking and preening their dishes at any one time. The nursery's delicatessen is also lending its gastronomic flair to the bistro. 'Having a deli on site means we are able to put on quite a few hot starters too. So last weekend, for example, we had scallops on a black pudding as a special.' The deli has been expanded as part of the transformation to become one of the most extensive in the region. 'There's everything you'd expect from a good, high-end deli, with lots of specialist food products. It's increased in size by a third and has proved an instant hit.'
New for 2016
This year sees the introduction of something new for diners at Olive Grove Nurseries. On Friday and Saturday evenings bistro-goers can indulge in live music while they tuck into their food. 'It means that people can come in for their meal while enjoying a little entertainment, which will make evening dining extra special. I don't believe there any many people offering live, quality background music like this, so we're creating a bit of a venue here.' Tim and Jackie plan occasional themed nights too, with jazz band evenings and forties evenings for example. With a license until 11pm, diners will be able to make a relaxed evening of it, dipping into the extensive wine menu collated for the nursery by a specialist importer. The Friday and Saturday evenings will feature a 'dine for two for £35' deal, with a shared flatbread for starters, followed by a choice of pizzas or pastas, accompanying salad, plus a bottle of wine all included. 'If anybody's like me, they like to know roughly what they are going to spend on a night out. This deal means we can offer good value for money in an interesting environment.' The bistro seats 100 but Tim insists it's quality over quantity: 'It's a quite a big seating space but my priority is to create a lovely ambience with attention to detail, so if that means we need to limit the number of covers to achieve that, so be it.' The new bistro at Olive Grove Nurseries is already proving a huge success and with Tim and Jackie's plans for 2016 it is sure to become a local destination for lovers of good food in a genuinely special setting.
Olive Grove Nurseries Oundle Road, Polebrook, Northamptonshire PE8 5LQ. 01832 275660, www.olivegrovenurseries.co.uk
Leave a Reply