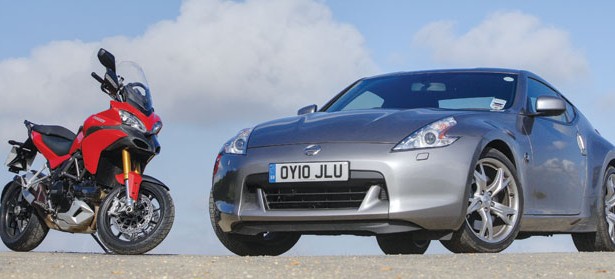 Bikes and cars are chalk and cheese aren't they? What delivers the biggest thrill of ownership and performance? And are they really that much different? What would you prefer if you had both for a week? The Moment lived with two such performance icons for seven days.
It was an interesting one: a week in the life of 'owning' two real performance machines during the same period. What would we prefer, two or four wheels, car or bike? Many people have done this sort of thing before – car versus bike. Of course we all champion our favoured mode of transport and many such tests have been carried by the press, mainly based on performance. It's the classic tale-of-the tape: acceleration, speed, agility. What's fastest, what stops quickest, which is best. Read a car magazine and you'll undoubtedly find the four-wheeler will win, in a bike magazine, well, you get the picture.
But performance statistics don't give a true measure of what's really the best. After all, it's not always the boxer with the hardest punch that wins, or the guy with the quickest hands, or the one who is most agile. It's often a subjective blend of performance, brain, feel, and character. It's an unquantifiable 'something', which we can't put our fingers on. With my background, you'd think the result would be a forgone conclusion, and that I'd plump for the bike and save face and the industry's pride, but then maybe not. Both machines were chosen for a number of reasons. They had to have a modicum of practicality, so no out-and-out sportsbikes here; they needed a minimum of two seats and gizmos aplenty.
We chose the Nissan 370Z sports coupe and Ducati's Multistrada 1200 S Sport.
What are the differences between two and four wheels?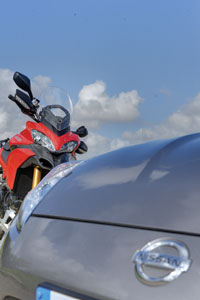 Two wheels and four wheels – they're like chalk and cheese, really. When you buy a motorcycle you're buying with your heart and in many cases it's a purely leisure-based purchase. With most car purchases, you're buying with your brain and sometimes it's a distress purchase. That's because most of us have to have a car and even the most hardened biker cannot argue that the world's most practical motorcycle is going to lose out in some areas (weather protection, storage space) compared to even a not-so practical car.
There are some similarities of course. All of us want the best deal possible, but that's where it ends. The whole ownership of a motorcycle is a more tactile one: we clean it, polish it, we love it. That's not to say there are not niches in the car world where owners do the same; perhaps classics, modified cars, sports or luxury cars, but for most car owners you use it, abuse it and groan when you have to take it back to the dealer. Bikers go back to their dealers often, normally at weekends and usually just for a cup of coffee and a chat…
Our choices then were dictated by these criteria: both machines need to have some practicalities but – to a degree – a sporty nature so that you get maximum enjoyment from the road ahead.
There are more similarities than you think between these two machines. For many years motorcycles and performance motorcycles in particular have shunned the use of snazzy electronic aids. They've either been too big or too costly. Even something we take for granted on four-wheels – ABS – has only been around on bikes since 1989 and that system was large, obtrusive and heavy. Today, sportsbikes are only just coming with an ABS option but with it are coming (mainly courtesy of racing) other rider aids, such as traction control, electronic suspension, semi-automatic gearboxes and changeable power maps. With four wheels, where adding the odd kilo or two isn't so important, we've enjoyed these sorts of delights for a while now. So, while you may argue the Multistrada S isn't an out-and-out sportsbike, it's got more than enough punch and pose to take on the 370Z – enough gizmos too. Both share traction control, ABS, advanced suspension (electronically adjustable on the bike) an attractive information-laden dashboard and keyless ignition. Both also have only two seats, both are relatively new (2010 for the bike, 2009 for the car) and both replace earlier machines launched in 2003.
Performance
Yes, OK we do need to talk about this but it's not the be-all and end-all of our test, so we will not dwell on it. Weight and power are important in the world of performance bikes and cars. The Ducati Multistrada weighs just 220kilos 'wet' that's with all fluids in the bike and 90% of its fuel capacity. Power from the 1198cc V-twin is around 148bhp with a top speed of 160mph. Depending on how good you are with the clutch, 0-60 should be around three seconds, possibly less. Bikers don't normally talk in such terms: 0-60 is for cars, bikes are pretty much always going to beat a car to 60mph. Instead bikers look more at elapsed ¼ mile times and terminal velocities.
In comparison with the bike, the 3700cc V6-powered Nissan 370Z pumps out 326bhp with a limited top speed of 155mph. 0-60 is just over five seconds. In the car world, it seems weight isn't such an issue and it's not always given as freely on spec sheets. But, it seems the 370Z has a base kerb weight (we're British, so we prefer that to curb) is around 1470kilos. If you want fuel economy, there's really only one choice here – the bike. With all the weight cars need to drag around, it seems that anything approaching 30mpg in the real world of sports coupes is a result. For a sportsbike figures start in the high 30s and 40mpg is easily attainable. Ducati actually claim 57mpg for the Multistrada at a steady 75mph and with the price of unleaded at the moment, that's well worth considering.
History and pose factor
Important point this, but other than having a vehicle to get from A to B, the 'feel' we get from ownership, the buzz from having something special in the garage or on the drive is worth so much. In the two-wheeled world, to have a Ducati is to own something very special.
For many bikers, it's a dream to own a machine from Bologna. They've got a mystique and a pure-bred quality about them that few machines can match. Ducati for many years has been strongly linked with the sportsbike market, but with new categories offering more sales, they've been looking at expanding into other sectors for a number of years now. Of course, Ducati have tried to do sports-tourers before with the ST family in the late 1990s and the original Multistrada launched in 2003 tried to do the job of a comfortable, upright mile-muncher, but it was too damn ugly. The new model isn't.

The new 2010 Multistrada isn't a full-on sportsbike, so it lacks perhaps some of the 'cool' factor of the 1198 family, but it has the heart and soul from that very bike, a glorious liquid-cooled, desmodromically-valved V-twin engine.
The biking world has really been impressed by the Multistrada. It's not quite the do-it-all Swiss Army bike of, say, the BMW R 1200 GS (think Ewan McGregor, Charley Boorman and 'Long Way Round') instead it's way more suited to on-road than off-road. And my week with the 'Strada had me convinced: in real terms it probably offers 85% of the performance of a sportsbike, but with a real-world user-friendliness and practicality (for bikes) that means you can enjoy more performance on Britain's blighted byways.
In comparison, the 370Z is an updated and bigger/better 350Z, which was launched back in 2003. As someone who knows much more about bikes than about cars, I figured the 370Z was an awe-inspiring bit of kit, but the four-wheel snobs I encountered said otherwise.
While half of the people I saw in my seven days with the awesome 370Z were equally impressed with the looks, presence and sheer power of the squat beast, others – mainly those who expressed some knowledge about cars – dismissed it. The most popular theme was that Nissan was simply 'doing a Porsche'. Some felt the styling was 911-esque, and suggested you squint to see the similarities. I didn't get it, as there are many differences – including the obvious of where the engine is positioned. The 370Z seems more aimed at the Porsche Cayman anyway (which is more expensive than the 370Z) but remember: Nissan itself has a glorious past of building sports cars, especially the Z family, which stretches back more than 40 years. The first Z-car was the 240 Fairlady, a fitting name really for this most feminine of sports coupes, and over the years the Z-cars have increased in power, presence and – it seems – muscle for us to arrive at the 370Z. Some of us, and me included, love Japanese sports cars, just as I love Japanese bikes. They've brought something to the party that the Europeans have not. I love 1980s Toyota MR2s in the same way that I love 1980s Suzuki GSX-Rs, or 1990s Subaru Imprezas in the same way I love Yamaha R1s. And, I still lust after a 1980 280ZX with a T-Bar roof. So let's not hear that Nissan or Japanese manufacturers in general don't have style or history, please.
The buzz we get from ownership of having something special on the drive or in the garage means so much.
Looks and quality
Let's keep this short and sweet. With the car, you have a purposeful, squat shape, wider in track than the 350Z, shorter, more taut, but still with the hunched form of a sprinter ready to leap away from the blocks – this is essential Z-car. Quality is superb, with deep, lustrous paint and bright 19-inch alloys. I loved it, even if some would say the overall design is a little stilted compared to European machines – especially in the cabin – but even the quality here is very good. The steering wheel feels substantial, chunky, as does the rest of the cockpit and the leather upholstery is excellent quality. OK, so it's not perhaps got the visual impact of some European designs, past and present, but it still looks smart and organised in the cockpit, with the 'podded' look to some of the gauges atop the dash being pleasingly retro in look.
The Multistrada in comparison is something very new, some kind of Meccano arachnid, or a trellis-framed pterodactyl. Like a stripped carcass, all of its muscle is there for show and it's not unattractive: the V-twin engine and the bones of that trellis frame are there to be seen and admired. The snouted look is a nod towards the brand-leader in the adventure class – the BMW R 1200 GS – but the rest is pure Ducati design and that means a blend of innovation and organic beauty. Both car and bike score well when it comes to quality. Ducatis pre-1997 before a cash-injection from a US company suffered, but since they've gone from strength to strength, with latest models – especially range-toppers such as the Multistrada S – proving the point. The Japanese on two or four wheels have always shown the way when it comes to quality and the Nissan is no exception – it reeks of quality. So much so, that I worried about snagging the leather seats when I got in and out of the car.
Praciticality
Let's not beat around the bush here, neither of these machines are the most practical. Despite being big, wide and butch, the 370Z doesn't even try to have rear seats, although the cabin itself is spacious and comfy enough for driver and passenger. The boot (which comes with a 'trunk carpet' in this spec') comes with six cargo net hooks and the door pocket bins and glove box can hold a fair amount of useful stuff.

Passenger accommodation on the Ducati is better than some bikes, but not as good (obviously) as the car. You need your passenger to be into the same mode of transport as the rider if you're to seamlessly track through the bends. My passenger for an hour's ride during my week with the bike reported that the seating position was roomy enough, and the grab-rail accessible but the rider needs to be smooth with that V-twin powerplant (or perhaps put it in a lower-power mode) so the passenger isn't nervously slipping backwards or pecking the back of your helmet under acceleration and braking.
Passenger comfort on the Ducati would be improved if I had the 1200 S Touring model of the Multistrada. The pair of panniers fitted as standard to this model adds to the under-seat storage (3-litres) and the right-hand glove box, which can hold wallets/phones etc. I have seen the Touring version and the luggage – while an improvement on standard – is still a little wanting. Due to exhaust routing, the right-hand pannier is much smaller than the left-hand one (which can get a full-face helmet into it) but the position of the panniers apparently also helps the passenger feel a little more secure.Both machines have two 12-volt power sockets – especially useful on the bike for powering up sat-navs, but I have to mark the bike down for the lack of stowage space, before giving a point back for the ability to filter through congested traffic!
Value for money
You would think the bike would win hands-down. It's cheaper, but let's look how much cheaper. To this specification with Scratch Shield Metallic paint and luxury floor mats, the Nissan weighs in at a considerable £33,877.80. That made me gulp but then as a champion of motorcycling the Ducati almost made me weep. Latest figures show the Ducati starts at £14,295: that's almost £15K for a motorcycle. Obviously, exchange rate works against the Japanese when you see that the much less desirable or capable (on-road) Yamaha Super Tenere is £13,500 but a BMW R 1200 GS Adventure is around £11,500 – and is better off road. You pays your money…
In comparison the 370Z is something of a bargain. Yes, it's hard to utter that statement in relation to a car costing £30,000, but compared to its rivals, it's a bit of a steal. Nissan knows this only too well, as they market the 370Z cleverly in the UK to show how their car provides more bhp per £ than its German rivals the Audi TT and the Porsche Cayman. Of course, it's all relative. So if you're in the market for a muscle-bound coupe, the Z is battling for top honours on spec, and also very reasonable on price. But, if – like me – you would find it hard to justify that amount of money on a second car, then it's still an eye-watering amount, but the car still wins!
The Gizmo's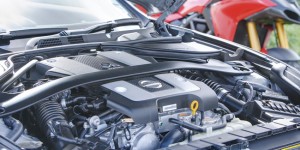 Many of us want the latest and trickest things these days and both these vehicles deliver.
The Ducati Multistrada is a motorcycle that is riding at the top of the technological tide at the moment. The bike has four modes of operation: Sport, Touring, Urban and Enduro. You select these by using the indicator cancel button on the left bar to navigate through a menu in the very hi-tech looking dash. Sport unleashes the full 148bhp which gives instant urge at the throttle, very similar to Ducati's full-on sportsbikes. The electronics also make the Ducati Traction Control come in later, and make the suspension firmer, so it's perfect for billiard-table smooth roads. In Touring, the power stays at 148bhp, but the delivery is much smoother, suspension less harsh and the DTC comes in a little earlier. Enduro and Urban peg the power down to around 100bhp with the associated alterations to the suspension and traction control. Electronic suspension isn't new in this class – as BMW uses their Electronic Suspension Adjust system on a wide-range of their bikes, but it is more sophisticated, allowing the owner to change the settings in each category to their tastes and return them to the default settings should they make a pig's ear of things.
The dash is a thing of beauty and looks like something you'd see on a MotoGP bike. So much information is on display, although it's a little cluttered. Ignition is keyless. So you can walk away and the bike should shut down. To start the bike up with the key in your pocket, simply flick the starter switch down to fire up the dash, then flick up to reveal the starter button which thumbs the motor into action.
The mighty 370Z features a similar keyless ignition and a plethora of dials and dashes, but it's the Synchro Rev Control which is most impressive. It momentarily blips the throttle for you when you change gear, and it can even handle the odd botched gearchange, which – until you're smooth with the short throw of the gear lever – is often! I was impressed.
The car just about claws back a point in the gizmo stakes for having a stylish Bose stereo system and on-board sat-nav. For the purposes of my test, I fitted the Multistrada with TomTom's very capable Urban Rider (£249) which works as well as the Nissan's on-board system and features a glove-friendly touch screen.
All of us want the latest toys or gizmos – and both of these machines deliver
The Road
The B1166 can be a challenging road, covered with bumps, potholes and with road edges often falling away at the sides, which can drag an unwary motorcyclist to the edge of the road. But it's an enjoyable ribbon of Tarmac and one that both machines performed well on.
The 370Z has that tail-happy feel of a rear-wheel drive muscle car, but with all the driving aids on, it simply gets on with the journey. That V6 motor gives a real harsh growl. It's attractive and addictive and gives a glorious soundtrack as you hunt down the peak horsepower as 5000rpm and peak torque slingshots you around the rev-counter and towards the next gear-change. While engine noise is nice, road noise isn't and here on the B1166 there's plenty of gravel and road detritus that's being spun around the inside of those rear wheel arches. It's the sort of sound you'd expect from a washing machine full of gravel and it made me wince in sympathy a number of times and eventually it makes you want to keep the traction control on to minimize both the sound and any potential damage. Next time I'll turn up the excellent Bose stereo so I can't hear it.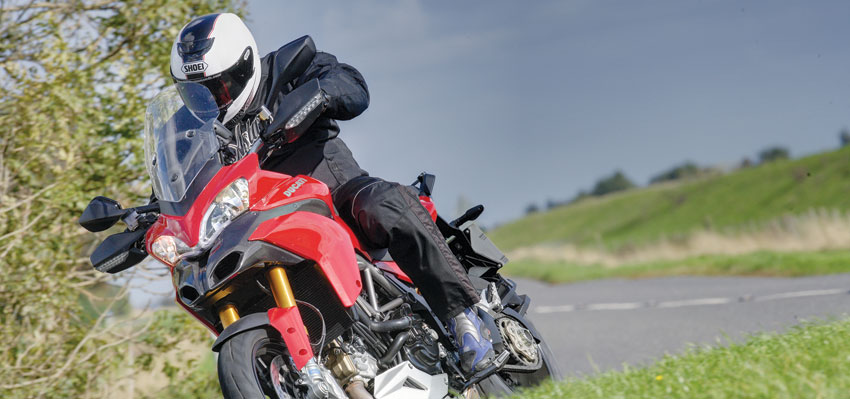 With the Ducati – and any motorcycle – input from the human on-board is vital to a smooth, safe trajectory through the bends. Let out the light clutch on the Ducati and pull away. It's easy to make the front go light, which – while good for show – is not what we want on this road. With a donor motor from the 1198, there's plenty of torque here and from as little as 4000 revs there's a willingness to pull towards the redline. Downchanges are good too, thanks to the slipper clutch which ensures you never lock up the rear wheel if you go down one too many gears. All of this is mated to an intense V-twin cacophony which is a delight to hear and would be all the more rewarding with a set of louder, open pipes on.
While the motor is impressive, it is the suspension which is the real winner here. Compared to many trailie-style machines, this one really excels on Tarmac, giving more feedback and confidence, while the switchable suspension giving you an option when the road ahead turns nasty – as it sadly often does in the UK and the B1166 is no different.
Brakes on both machines are excellent, although the Multistrada's ABS-equipped Brembos would be hard pushed to beat the large ventilated discs on the Nissan. Driving the 370Z is a comfortable proposition, despite a typical coupe's lack of vision compared to more staid and practical four-wheelers. The Multistrada is comfortable too, to a point. The upright seating position and suspension travel gives greater comfort in the saddle and from the ripples in the road compared to a full-on sportsbike, while the two-position screen does a good job of keeping wind-blast from over-exercising your neck muscles.
The mirrors on both machines are excellent. Surprising considering V-twin machines are normally notorious for having vibrating mirrors that you can see little in, so well done Ducati. Ultimately both of these machines give you a real thrill, but for me (and listen to the car drivers howl) I would still plump for a bike over a car any day thanks to the greater involvement you get from piloting a two-wheeler. It's more visceral, more demanding and makes you a better road user. Fact.
Verdict
I've been lucky to ride some amazing motorcycles in my professional career as well as drive a number of performance cars, so I am not a blatant motorcycle apologist – I love cars too.
So, I swear to you now, that these are my original scores and both machines eventually tied on 27. Obviously, secretly, I hoped that the bike would nick it by a point or two, but without any re-count I guess I have to leave it at that.
But I just can't. I'm sorry, you were right and I have to revert to type. I'm a biker and bikes are the most breathtaking, involving, rewarding and exciting modes of transport money can buy, so, I award the Ducati Multistrada an extra, vital half point for pushing motorcycle technology and boundaries just that little bit further and for being better on fuel.
There, the bike wins, fanfare, please…
Ducati Multistrada S
Price: £14,295
Performance
Power: 148bhp @ 9250rpm
Torque: 87.5lb.ft @ 7500rpm
Top speed: 160mph (est)
Engine: 1198cc 90-degree V-twin, 8 valves, DOHC, fuel-injected, liquid-cooled six gears, wet-clutch, chain final drive
Weight: 192 kilos (dry) 220 kilos (wet – 90% full of fuel)
Local Ducati Dealership
St. Neots Motorcycles 29-39 St Mary's St, Eynesbury
01480 212024
Nissan 370Z
Price: £33,877.80 (as tested)
Performance
Power: 326bhp @ 7400rpm
Torque: 270lb.ft  @ 5200rpm
Top speed: 155mph
Engine: 3696cc V6, 24 valves, DOHC, fuel-injected, liquid-cooled six gears, wet-clutch, shaft final drive
Weight: 1470 kilos
Local Nissan Dealership
Marshall Nissan
699 Newmarket Road, Cambridge
0844 3349296
Leave a Reply