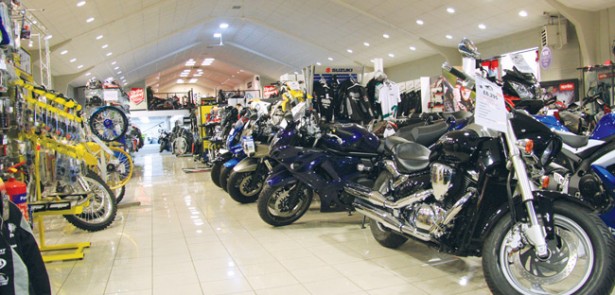 Wheels Motorcycles are Peterborough's newest and largest one-stop motorcycle shop. Wheels is situated opposite the Peterborough Greyhound Stadium in Fengate and is the result of two of the trade's most trusted local dealerships, Taz Motorcycles and Stamford Superbikes merging in October 2010.
Wheels stock everything from the full Suzuki range, with its legendary GSX-R sports bikes, right down to Vespa's excellent commuting scooters and pretty much everything in-between. The vast showroom is crammed with the latest Aprilia and Suzuki ranges and there is a huge clothing section. Wheels boast the largest selection of market leading Alpinestars riding kit in the UK along with other established brands in their range, like Richa and Rev-it., so there's something for every budget.
And should you fancy getting down and dirty, Wheels also are the region's only Suzuki Off Road Centre, stocking everything from full-on motocross bikes to quads, enduro and kids' bikes, plus all the suitable clothing and protective gear. Before you think it's all about being an experienced motorcyclist, novices are very welcome.  Wheels even has a branch of Goldstar Motorcycle Training based in-house to help any learners achieve their CBT and full bike test pass, and they also stock plenty of 125cc and 33bhp novice-friendly machines.
Their workshop is also fully equipped and MoTs are carried out on the premises. Like most motorcycle dealerships and in contrast to a car dealership, Wheels is also one of the hubs of Peterborough's motorcycling community. So, with a tasty snack wagon in residence many bikers will simply pop by to grab a cuppa and enjoy some chit-chat in the car park. Wheels welcome this and promises that once the weather improves they also plan to hold some track event days too.
It's true to say that in today's tough times new bike sales are down, but Wheels stock an impressive selection of used machinery that is constantly changing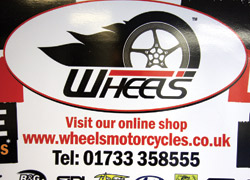 on a daily basis as people purchase more used bikes instead of new.
Wheels can be found at First Drove, Peterborough. PE1 5BJ.
The sales hotline is 01733 358555 and their website is www.wheelsmotorcycles.co.uk. They're also open 7 days a week!
Leave a Reply