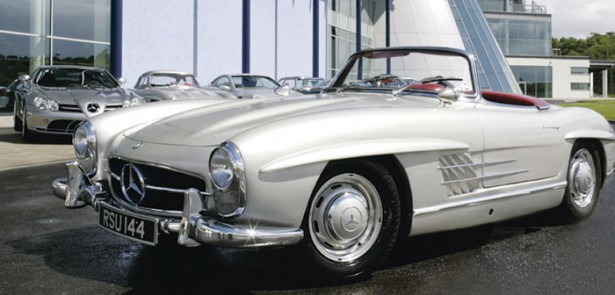 The Mercedes-Benz 300SL was a fast and sensational looking sportscar of the Fifties. Yet it's also remembered as being the first glamorous Mercedes, the first one that was bought for its image and not just reliability.
Glamour was not a word you could associate with Mercedes-Benz in the immediate post-war years. Although its cars were strong and robust, they were saloons based on pre-war models and so not terribly exciting. And then in 1952 the German company produced a handsome two-door coupe for long distance sportscar racing and everything changed.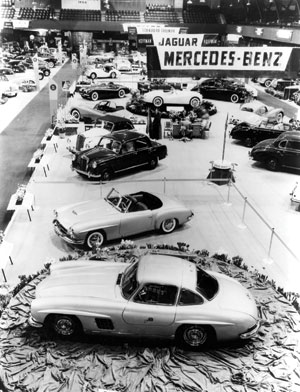 It was constructed around a lightweight tubular chassis, part of which passed through what would have been the lower half of a standard door. As a result it was given distinctive doors that were hinged from the roof. It may have officially been named after its three-litre engine and Sport Leicht (Sport Light) but the 300SL was soon known simply as the Gullwing. The car was immediately successful, winning both the Le Mans 24 hours in France and Mexico's notorious Carrera Panamericana.
On the back of these triumphs, Mercedes' official American importer – Max Hoffman – suggested to the company's management that a street version of the 300SL would be a commercial success, especially in America. He'd watched as sportscars from other European companies – such as the Jaguar XK120 and MG TD – had become popular yet Mercedes had nothing to rival them with. After some initial apprehension, the board agreed and in 1955 introduced a road going version. Apart from more chrome, it was visually similar, even retaining the charismatic Gullwing doors.
It became popular with movie stars
Beneath the bonnet, though, it was different. The 300SL was one of the first road cars to feature direct injection, doubling the power of the carbureter version from 115bhp to 240bhp. This resulted in a top speed of 165mph, making it the fastest production car of the time. This, along with its sensational looks, made it the automobile to be seen in. Despite being difficult to drive and (due to its wide door sills) awkward to enter, it became popular with movie stars. Zsa Zsa Gabor and Sophia Loren both owned one. In 1957 the beautiful 300SL roadster replaced the Gullwing, becoming the first in a long line of SL roadsters that continues to this day. Despite a comparatively small production run (only 1400 coupes and 1858 roadsters were built) the 300SL became an icon and helped shape Mercedes' future. It went from a manufacturer of staid saloons to one that produced elegant vehicles. The glamorous image of every current Mercedes Benz, from the C-Class saloon to the E-Class Convertible, is thanks in part to the 300SL. And it may be almost 50 years since the racing version's debut, but it still has an influence on the company and its current designs. Mercedes says the new SLS with its gullwing doors is a direct ancestor.
So although less than 2000 were built, the 300SL's impact on one of Europe's largest car manufacturers has to be counted by the millions.
Leave a Reply