Jaguar: 75 Years of Grace, Space and Pace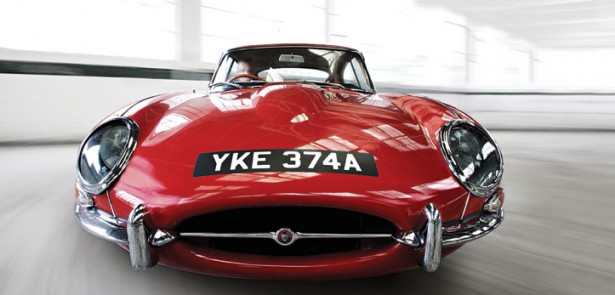 It was exactly three quarters of a century ago that the Jaguar name was introduced. THE MOMENT looks back on the life and times of one of Britain's best-loved motor manufacturers, and how it established itself as part the UK's national fabric
This year MARKED the 75th anniversary of a name that has become synonymous with luxury British motoring; Jaguar. Although the origins of the car company date back further – to 1922 – it wasn't until 1935 that the Big Cat name was first applied to one of its cars. And, from that point onwards, the glamorous and fast products of this West Midlands marque started to become renowned the world over.
In the country of their origin though, they became even more, a part of the national consciousness, living up to the famous advertising slogan of 'Grace, space, pace' in a way that few other rivals could match. The heyday of Jaguar was in the 1960s – personified by such desirable models as the Mk2 and the legendary E-type – and although it fell on troubled times during the 1970s, it managed to weather its financial and industrial storms to re-emerge as a confident and competent major player in the international prestige and sports car market. Despite being owned by the American giant Ford from 1989 until 2007 and, since then, by Indian conglomerate Tata, there remains something quintessentially very, very British about a Jaguar.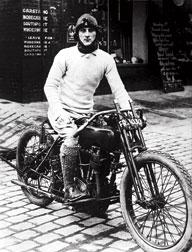 The name of one person is linked more closely with Jaguar than any other; that of Sir William Lyons, who founded the firm and stayed so closely associated with it, up until his death in 1985, that he was known as 'Mr Jaguar' even after his (partial) retirement. He once commented that "The car is the closest thing we will ever create to something that is alive," and what emerged from his inspiration and imagination certainly lived up to that philosophy.
Lyons was born in Blackpool in September 1901, the son of an Irish immigrant musical instrument shop owner and his wife, the daughter of a mill owner. The reign of Queen Victoria had been over for only a few months, and the new Edwardian era would see burgeoning interest in science and technology, typified by the growth of the fledgling automobile, invented less than two decades previously. After attending school – where Lyons enjoyed fixing bicycles and motorcycles, despite being disparagingly told by his headmaster that he would "never get anywhere messing about with engines" – he took up an engineering apprenticeship with Crossley Motors, and then went to a local Sunbeam dealership to work as a salesman.
In 1921, the Lyons family got a new neighbour, a motorcycle enthusiast called William Walmsley. Lyons was intrigued by the sidecar Walmsley had made to go with his motorbike. He asked to buy one of his own and was so impressed that he suggested the two should set up a company producing them as a commercial proposition. Swallow Sidecars was founded in 1922, operating from a tiny factory just down the road from Blackpool football club ground.
The same year saw the launch of the Austin Seven, the first cheap British car to properly bring motoring to the masses. Success for Swallow Sidecars prompted expansion and diversification, with the Seven playing an important role in these plans as Lyons decided to move into coachbuilding bodies for the diminutive and inexpensive Austin. The resultant Austin Swallow was a handsome and stylish take on the British people's car. Soon demand was outstripping supply, and so Lyons decided to up-sticks to much larger premises in Coventry, then the heart of the UK automotive industry. The move happened in 1928 and would signal even greater success for the company, with production jumping from 12 to 50 cars a week.
Unstoppable growth

And it continued; in 1929 the Swallow Coachbuilding Company – as it was then named – started putting its attractive bodies on other chassis other than Austin, most notably the Standard company. The growth of the company seemed unstoppable and Lyons' aspirations grew with it. Why stop at just building bodies for other people's cars, he reasoned? Why not become a car manufacturer in his own right?
The good relationship with Standard paid dividends and Lyons was able to commission a custom-built chassis and engines from the firm. Dubbed the SSI, the elegant and expensive-looking coupe was displayed at the 1931 British Motor Show, alongside a smaller counterpart known as the SSII. Both met with immediate acclaim; not just for how smart they looked but also for how cheap they were compared to similar-looking rivals with much heftier price tags.
The new direction prompted another name change, to SS Cars, just in time for the advent of the model that would truly catapult the company to stardom, as well as see the adoption of a name which would go onto have great and long-lasting significance before long.
In 1935, the SS90 was launched as a rakish, long-bonneted two-seater sports car, capable of 90mph (hence its title). It was closely followed by the SS100 which couldn't actually manage 100mph despite its title, but 94mph was close enough for something that looked so absolutely gorgeous. It deserved more than just a number and so the name 'Jaguar' was also bestowed on it, the appellation being chosen by Lyons as it was the fastest creature with a name that could be applied to a car. Given that certain members of the upper motoring classes were still suspicious of how SS' cars could be so good yet also so cheap, it's probably just as well that 'Cheetah' wasn't used…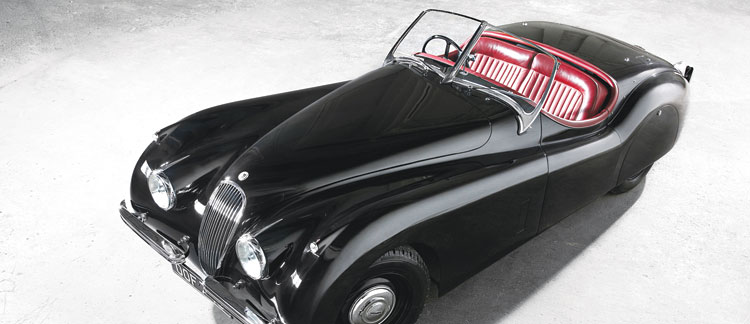 All subsequent models up until World War Two became known as SS Jaguars, with the now famous 'Leaping Cat' mascot adopted soon afterwards. Except – and whisper it softly to proud Jaguar owners – it's not actually a Jaguar at all. Penned by artist Frederick Gordon Crosby, it had first appeared on an MG in 1930 as a tiger, but seemed to have been inspired by a French item from the 1920s which was described as a panther. Whatever its origins, the design would find its most famous home adorning the bonnets of Coventry-built cars for decades to come.
The car is the closest thing we will ever create to something that is alive. William Lyons
Officially Jaguar
During the war, SS turned to military aviation work but escaped much of the destruction that visited Coventry during the worst days of the blitz, although its factory was damaged. Once hostilities ended, a more pressing consideration was how to stop SS Cars' reputation being damaged by its name; memories of the Nazi SS were still vivid for the struggling postwar world and, with masterful understatement, William Lyons himself described them as "a sector of the community not highly regarded." With the Jaguar name so closely associated with the marque already, the decision was taken to formally change the company's title to that instead. Jaguar Cars Ltd officially came into being on April 9, 1945.
It was almost as if the shift of identity utterly revitalised the firm, because the postwar products of Jaguar would bring it to international prominence and make its fortune as well as cement its reputation. An important task was the development of a new engine; the six-cylinder XK unit that would stay in production right the way through until 1992 and become almost as well-loved as the vehicles it powered. To showcase it, Jaguar came up with what was effectively a concept car for the 1948 London Motor Show, dubbed the XK120. A limited run of just 200 cars was envisaged, but that was before the stunning two-seater sports car became the sensation of this first postwar motor show. Easily capable of 120mph and with looks that made it the sexiest car on the planet by far, the XK120 became an instant star, bought by the rich and famous.
The saying goes that racing improves the breed, and in Jaguar's case, this was certainly true. For its first attempt at the Le Mans 24-hour race, in 1951, it revamped the XK120 into a lightweight racer. It was known as the XK120C – the 'C' standing for Competition – but before long, the name C-type became more associated with it. Tuned and lightened, the C-type blasted to victory at Le Mans, and subsequent racing victories proved that Jaguar also had the sporting substance to match its style. Further Le Mans laurels were scooped in 1953, 1955, 1956 and 1957. However, against the backdrop of these victories was personal tragedy for William Lyons. His 25-year old son, John, joined the family firm in 1955 and it was widely expected he would go on to take over from his father. Educated at the prestigious Oundle School, close to Peterborough – where he'd created his own styling models – just prior to the '55 Le Mans, he was killed in France en route to the event in one of Jaguar's support vehicles. The race itself also turned out to be disastrous; a major crash, in which Jaguar was initially implicated (although later officially absolved of blame) killed over 80 spectators. William Lyons' knighthood in the New Year's Honours list of 1956 must have been meagre comfort.
Away from the world of motorsport and pace, Jaguar's other credentials of grace and space were being fulfilled by its stately Mk VII, VIII and IX saloons, in many ways rivalling Rolls-Royce and Bentley for prestige and luxury. It almost seemed that Jaguar could do absolutely no wrong with its road cars.
The Leaping Cat design would find its most famous home adorning the bonnets of Coventry-built cars for decades to come
A new dawn
Jaguar escaped the remains of British Leyland in 1984 – one of the many privatisations of the Thatcher era – and was bought by Ford in 1989. Access to Ford's global resources and technical expertise promised the marque an invigorated future under the Blue Oval umbrella. The range expanded considerably with the X-type and S-type, both of which were nods to the compact saloons of the 1960s, especially the S-type with its retro-themed design. But the standout model of the Ford era was the XK8, a breathtaking return to sports car form, launched in 1996. It replaced the XJS (the hyphen had been dropped with a facelift in 1991) and was hailed as far more of the E-type mould. Of course, its resemblance to the Aston Martin DB7 didn't exactly harm its attraction either. Ford had also purchased the prestigious British supercar manufacturer in 1989, and the XK8 and DB7 were parallel developments; stemming from the same platform and with the same designer. That a Jaguar could easily be mistaken for an Aston Martin from a distance no doubt won it a lot of additional fans, whose finances couldn't quite stretch to owning an example of James Bond's favourite marque.
Ford sold Jaguar, along with Land Rover, in 2007, to Tata Motors of India. The new broom has been responsible for introducing the XF (a replacement for the S-type) and XJ, both of which have turned their back on Jaguar's previous design trends with their radical looks. They've impressed critics and customers alike and, while there may be little to link with Jaguars of old, they are thoroughly modern and contemporary designs comparable to the best of their rivals from anywhere in the world.
Despite troubled times for the global car industry as a whole, Jaguar's new owner and new models have given it new optimism and confidence for the future. Would founder Sir William Lyons be proud of the vehicles which continue to bear the name he bestowed upon his cars 75 years ago? There's no doubt he would be, for they stay true to his ethos of incredible looks, exciting performance and good value for money. Grace, space and pace continue…
Jaguar's golden era
And, during the next decade, it definitely couldn't. The 1960s was Jaguar's golden era, when it made not just its greatest cars but arguably the greatest car of all time. But we'll get to that in a moment. Things started well with the Jaguar Mk2 saloon, launched in 1959 for the 1960 model year, and to all intents and purposes a revamp of the preceding MkI. Except a lot of revamps often don't improve what they're titivating. The Mk2 certainly did though; with the most powerful 3.8-litre XK engine installed, it had enough horses – 220 of them in fact – to claim the title of the fastest production saloon car in the world. And it looked pretty damn good too, with curves and chrome in all the right places.
That took care of Jaguar's saloon aspirations, although the Mk2 would soon be joined by the larger S-type and 420, and the leviathan Mk10; the latter's major claim to fame being that it was the widest British mainstream production car ever built. With the XK120 having evolved through the XK140 and into the XK150 model, by 1961 it was time to take the sports car world by storm again. And the car to do this was the iconic E-type.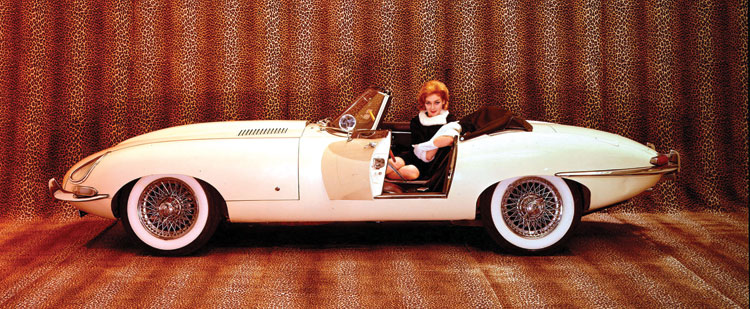 Often cited as the most beautiful car ever built, the landmark Jaguar E-type was one of those cars which deserved all the praise heaped upon it. And it got dollops and dollops of it. Almost unbelievably sleek and sexy, and with the ability to reach 150mph – impressive enough now, astonishing then – the E-type looked like a million dollars, but only cost a mere £2000. It instantly became the most desirable car of its era and that image has hardly diminished since. Almost 50 years after its birth, Jaguar's silky sculpture is still regarded as pure auto-erotica.
Given the lofty highs of the 1960s, Jaguar's faltering reputation during the 1970s seems an extraordinary decline. Jaguar merged with the British Motor Corporation – Austin, Morris and associated companies – in 1966, and was then sucked into the bigger British Leyland combine in 1968. Industrial unrest, financial crises and quality control issues followed; as a small part of a large morass, Jaguar seemed powerless to extract itself from the mess that surrounded it. This was despite fielding one of the best executive cruisers of the decade, the XJ6, which replaced all of Jaguar's 1960s' saloons at a stroke. Here was a vehicle so well-designed and timeless that its basic look would be perpetuated on all big Jags up until 2009. Although there was constant technical update, to keep it competitive with BMW and Mercedes-Benz rivals, the family resemblance remained. A 2009 XJ saloon alongside an original 1968 model clearly demonstrated a slow but elegant evolution.
Less of a success, at least initially, was the heir to the E-type throne; the Jaguar XJ-S of 1975. This changed tack to become less outright sports car and more sophisticated grand tourer, with a more sedate appearance, despite its infamous rear 'flying buttresses'. It eventually found widespread acceptance, but its appeal was less instant than the E-type's had been.
JAGUARS AS CLASSICS
Just as Jaguars were terrific cars when new, so as historic vehicles, they're among the most sought after of all British classics. Models such as the E-type, XK120 to 150 and Mk2 can fetch impressive sums of money, with well over £50,000 likely for something like an early E-type convertible in excellent condition. But you don't always need deep pockets to experience the magic of a Jaguar.
Local classic car specialist Paul Angus runs The Shilling Years, which operates out of premises near Thorney, just outside Peterborough, along with The House of Carriages. Although both dealers sell all types of historic vehicles, they've had their fair share of Jaguars for sale, and generally have one or two in stock at most times. "Jaguars make great classics, blending true British style with luxury and performance," says Paul. "However, although it's possible to spend a small fortune on the sporty and glamorous models of the 1950s and '60s, other Jags are far more reasonably priced." He cites cars like the S-type and MkX as among the bargains of the back catalogue. "In the case of the MkX, you do get a great deal of car for your money, for it was the widest Jaguar ever built and was very sumptuously trimmed." But it's among the XJ saloon and XJS sports models where it's easiest to find good cars for not much money. "Both these types lasted a long time – the XJ shape from 1968 to 2009, the XJ-S from 1975 to 1996 – and because they were around for such a long time, in so many different variations, prices vary a lot. A fine example of an XJ40 or X300 saloon, for example, can cost just a couple of thousand if you're lucky." At the time of The Moment going to press, he had a 1979 Jaguar XJ6 for sale for £3495, complete with a liquid petroleum gas conversion. "That's a typical example of what you can get for far less than you might spend on a more modern, humble runabout. And with the change to LPG fuel, you'll even get Morris Minor running costs too!"
The Shilling Years, near Peterborough.
Tel: 01733 211000 or 07968 753545
www.theshillingyears.co.uk
House of Carriages, near Peterborough.
Tel: 07712 434134
www.houseofcarriages.co.uk
Leave a Reply